TOP INDIE SONGS: 10 TRACKS TO KEEP YOU WARM THIS WINTER
Photo by Toro y Moi
There's a lot I could talk about in this week's introduction. The Taylor Swift versus Damon Albarn beef. The ongoing Neil Young, Joni Mitchell, and Joe Rogan Spotify drama. The fact I've only just discovered Barry Manilow is on Twitter. But, you know what? This isn't the place for such discourse, so instead, I'mma crack on with the latest edition of We Are: The Guard's Top Indie Songs. Whatever streaming service you choose to listen to these tracks through, I hope they bring you joy, happiness, or simply keep you warm under all of that snow. Check out brand new bops from Toro y Moi, Warpaint, Rex Orange County, and more below!
-
TORO Y MOI – POSTMAN
Toro y Moi is back, baby. Just over three years on from the release of Outer Peace, the Columbia native also known as Chaz Bear is returning this January with the fun, delightfully groovy "Postman." The first taste from his forthcoming seventh album, Mahal, "Postman'' is a low-key bop about the anticipation of receiving mail, only to be disappointed by the arrival of bills. With bass stretching and contracting like rubber bands behind Toro y Moi's scratchy vocal yelps, "Postman" is a party in a box.
WARPAINT – CHAMPION
Six years on from the release of Heads Up, Warpaint is finally back this 2022 with the glimmeringly beautiful "Champion." Featured on the Los Angeles act's forthcoming fourth album, Radiate Like This, "Champion" is a shimmering dapple about tapping into inner strength that comes anchored by an itchy, knotty club current. "'Champion' is about being a champion to oneself and for others," explains Warpaint. "We are all in this together, life is too short not to strive for excellence in all that we do."
REX ORANGE COUNTY – KEEP IT UP
It feels like it's been a helluva long time coming, but Rex Orange County is finally making his return to music this Monday with "KEEP IT UP." The first single to be shared from his forthcoming fourth album, WHO CARES, "KEEP IT UP" is a delightful ditty about staying optimistic in the face of uncertainty. "Keep it up and go on/Yeah, you're only holding out for what you want/I know that it's so frustrating/It's enough, keep it up," urges Rex over creamy bursts of piano courtesy of Benny Sings. Glorious.
THE SMILE – THE SMOKE
Earlier this year, The Smile made their debut on the blogosphere with "You Will Never Work in Television Again," and today, Radiohead's Thom Yorke, Jonny Greenwood, and Sons of Kemet's Tom Skinner are returning with "The Smoke." While "You Will Never Work in Television Again" was a furious post-punk fusillade, "The Smoke" makes for a far sexier, slinkier cut, with horns rubbing up against Thom as he sings of protest: "Easy, easy/It begs me while I'm sleeping/I desire a second chance/I have set myself on fire."
DOG ORCHESTRA – FIREBALL ME
In December, Dog Orchestra made their return with "I was happy once," and this January, the We Are: The Guard duo returns with another cinematic rhapsody forged in the furnace of late-night Berlin in the form of "Fireball me." "I'm always on fire with you/Burning in slow motion/Sever my ties for you/And secondhand emotion," sing Dog Orchestra against a clubby backdrop of pulsating laser beams. A burning comet of lust and desire, "Fireball me" is the latest wide-screen entry to Dog Orchestra's oeuvre.
SOAK – LAST JULY
Derry's SOAK is a master at channeling a kind of breathless teenage nostalgia through her music, with Bridie Monds-Watson once again honing in on that rush of a feeling on her latest single, "last july." The first single to be taken from her forthcoming third album, If I Never Know You Like This Again – a collection of "song-memories" written and recorded during lockdown – "last july" is a soaringly riffy paean to summer romance: "If now's not a good time/Then bury me in last July."
SQUIRREL FLOWER – YOUR LOVE IS A DISASTER
The last time we heard from Squirrel Flower, she was bravely covering "Unravel" by Björk. This January, Ella Williams is back and as devastating as ever on "Your Love Is a Disaster." Featured on her brand new EP, Planet – a seven-song collection described as "an exercise in self-trust and experimentation" – "Your Love Is a Disaster" is a raw, intimate plunge into melodrama. With ambient city noise occupying the empty space around Ella's reverby hymn, "Your Love Is a Disaster" is a crushing ode to ruin.
DORA JAR – LAGOON
Doja Jar is a creator of fantasies and secret worlds, with the rising singer-songwriter and producer once again bringing her brightest daydreams to life on "Lagoon." Featured on her forthcoming EP, Comfortably in Pain, "Lagoon" is a playful curio "written from the perspective of a lonely mermaid who craves connection and intimacy." "She is afraid the depths of her heart are too deep for anyone to truly understand her," adds Dora of the cut, which resembles the vivid love child of ELO and Kate Bush.
ALIX PAGE – TRUE + HONEST
She recently made her debut on We Are: The Guard with the unspeakably pretty "Radiohead," and this January, Alix Page is showing a fuller, rockier side to her sound on "True + Honest." According to Alix, this certified chugger was written when she was 16 years old. "I had just gotten out of a situationship that ended way too easily for me to trust that the other person really meant anything they said," adds Alix of the song, which hears her bittersweet blues coming caked in noise and distortion.
GIRLHOUSE – A LONG DECEMBER (COUNTING CROWS COVER)
Just a few days on from playing her first full-band show at The Basement in Nashville, Girlhouse's Lauren Luiz is back this Monday with a cover of "A Long December" by Counting Crows. Written by Adam Duritz after one of his close friends was hit by a car, "A Long December" is an ode to finding hope in tragedy that feels extra potent this time of year. Girlhouse captures this duality to perfection on her chugging take, with Lauren engulfing "A Long December" in fuzz and surging her voice skyward.
-
Don't forget to follow We Are: The Guard's Weekly Chart for more! xo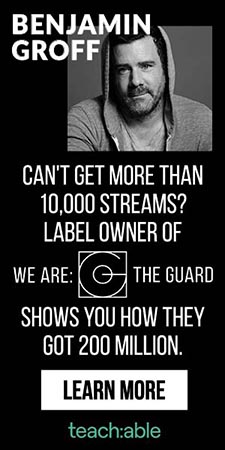 Jess Grant is a frustrated writer hailing from London, England. When she isn't tasked with disentangling her thoughts from her brain and putting them on paper, Jess can generally be found listening to The Beatles, or cooking vegetarian food.