TOP INDIE SONGS: 10 TRACKS TO GET YOU THROUGH THE WEEK
Photo by Aleiagh Hynds
I'd like to begin this week by offering my congrats to Glass Animals, who, after two years of buzz, has finally topped the Billboard Hot 100 with "Heat Waves." It certainly feels like a long time has passed since we first covered it in Best of Indie in July 2020. The song we led with that week? Sufjan Steven's 13-minute polemic "America." Perhaps that's going to be the Internet's next big sleeper hit? I guess we'll have to wait and see! Check out the latest edition of We Are: The Guard's Top Indie Songs, featuring Jordana, Sunflower Bean, girlhouse, and more!
-
JORDANA – PRESSURE POINT
Jordana recently delivered knotty noughties nostalgia in the form of "Catch My Drift," but today, the Grand Jury act is turning toward more modern mechanisms on "Pressure Point." The latest single to be lifted from her forthcoming sophomore album, Face the Wall, is a hyperpop-tinged jolt of adrenaline that finds Jordana exploring paranoia over a choir of fractal backing vocals and glitchy drums: "Wakeup, countdown/The freakout is over now/Hold tight/I'm cracking the joint when I hit my pressure point."
SUNFLOWER BEAN – ROLL THE DICE
Sunflower Bean is back with an electrifying new cut from their forthcoming third album, Headful of Sugar. "Roll the Dice'' follows on from "Who Put You up to This?" and hears Julia Cumming and co continuing to examine the cutthroat systems that tie our failed society together – namely late-stage capitalism – amid a cacophony of fuzz. "The traditional routes toward success and stability in America have severely narrowed," says Sunflower Bean. "The only way to get ahead is to take big risks and roll the dice."
GIRLHOUSE – PAUL BLART MALL COP
Between her dry, witty lyrics and sludgy guitars, girlhouse has always hidden a bottomless well of despair, with Lauren Luiz finally parting the tide for everybody to see it on "paul blart mall cop." With girlhouse singing about crying in parking lots as distortion rages around her like an ocean squall, "paul blart mall cop" is among the Portland native's most honest cuts to date: "A mall cop pulled up and asked if I was broken down/I didn't know that what he said would have a different meaning now."
SUPERORGANISM (FEAT. CHAI & PI JA MA) – TEENAGER
It's been a minute since we last heard from Superorganism, but the maximalist mutants are making their much-anticipated return today with the fizzy, CHAI and Pi Ja Ma-featuring "Teenager." Lifted from their forthcoming sophomore album, World Wide Pop – a 13-song collection that also includes collaborations with Stephen Malkmus, Dylan Cartlidge, and Gen Hoshino – "Teenager" is an anti-adulting hyperpop anthem about never growing up: "Teenager, teenager, I'm gonna grow up and be a teenager."
MXMS – WAVE OF MUTILATION (PIXIES COVER)
From Nirvana to Christmas carols, Ariel Levitan and Jeremy Dawson of MXMS are no strangers to applying their funeral-pop touch to songs originally written and recorded by other artists. On "Wave of Mutilation," however, Ariel and Jeremy are going a step further. With Ariel's vocals arching beautifully over Jeremy's broodingly briney swell, MXMS succeeds in completely transforming Frank Black's ode to suicidal buisnessmen into an unspeakably haunting hymn that emerges from the seabed like a ghost ship.
MILOE – WHERE U ARE
Miloe arrived like a much-needed ray of sunshine in September 2020 with "Winona" – an ode to the Beetlejuice-starring actress of the same name. Just under two years on, the Congolese-American act is returning this Monday with the blissful "where u are." The follow-up to Greenhouse EP is a heat-soaked delight that hears the Loma Vista signee continuing to give voice to the African diaspora and the immigrant experience, with Miloe's joyful grooves coming underpinned by a deep sense of longing.
SON LUX (FEAT. MITSKI & DAVID BYRNE) – THIS IS A LIFE
Son Lux has given us the first taste of their forthcoming score for Everything Everywhere All at Once – the Daniels-directed, A24-distributed science fiction starring Michelle Yeoh, Stephanie Hsu, Ke Huy Quan, James Hong, and Jamie Lee Curtis. A collaboration with Mitski and Talking Heads icon David Byrne, "This Is a Life" is an opulent orchestral dirge that hears Son Lux bringing tragicomedy to the cosmos: "This is a life/Slow and sudden miracles/View of other worlds/From our window sills."
CHARLIE HICKEY – NERVOUS AT NIGHT
The last time we heard from Charlie Hickey, he was putting his spin on 8485's "Hangar," but the Saddest Factory act is returning the focus to his own music today with "Nervous at Night." Featured on his forthcoming debut album of the same name, "Nervous at Night" is a John Hughes-ey jewel about anxiety and adolescence, with Charlie's poetry as expressive as ever: "Nervous at night, and in the morning/I feel sick, I must have always been/Wish I could say it was something you did/But I know wishеs don't exist."
SIR CHLOE – MERCY
Bennington, Vermont's Sir Chloe takes time out from touring with alt-J and Portugal, the Man to share their cathartic new cut, "Mercy." Produced alongside the GRAMMY Award-winning John Congleton, "Mercy" is an exploration of grief and religion through a Cobainian lens. Opening like a disarming lullaby, with Dana Foote's vocals softly encircled by distant guitars before erupting into something far more intense and pleading, "Mercy" is an essential addition to Soft Grunge mixtapes everywhere.
ETHEL CAIN – EVERYTIME (BRITNEY SPEARS COVER)
"Everytime" by Britney Spears is one of the greatest ballads of the 21st century, with this haunted Spotify Singles cover from Ethel Cain only serving to underline that fact. Originally penned by Britney following her split from Justin Timberlake, "Everytime" very much lends itself to Ethel's funereal goth-pop, with the "Crush" singer taking the In the Zone highlight and turning it to the color of mourning. "I think Britney wrote a very lovely song and it was an honor to put my spin on it," says Ethel. Listen.
-
Why not follow We Are: The Guard on Spotify for more music? xo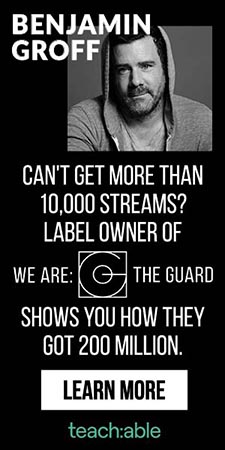 Jess Grant is a frustrated writer hailing from London, England. When she isn't tasked with disentangling her thoughts from her brain and putting them on paper, Jess can generally be found listening to The Beatles, or cooking vegetarian food.