TOP INDIE SONGS: THE 10 BIGGEST BANGERS OF THE WEEK
Photo by Sophia Ragomo
Hi, everybody, and thanks for joining me for the latest edition of We Are: The Guard's Top Indie Songs! There was no column last week as I was away on vacation, but I'm pleased to say I'm back in action this Monday with some big bangers for you to sink your teeth into between devouring everything Kate Bush (Hint: The Dreaming is probably my favorite album). Check out the following songs from The Greeting Committee, Flipturn, McCall, and more, below!
-
THE GREETING COMMITTEE – KIDS (MGMT COVER)
"Kids" by MGMT is one of those songs that's grown to near-untouchable status over the last decade or so, but Kansas City five-piece The Greeting Committee is reminding us nothing is off limits on this crashing cover. Featured on the recent deluxe edition of their sophomore album, Dandelion, "Kids" here is given a thunderous indie-rock reinvention courtesy of the Harvest Records signees, with The Greeting Committee's Addie Sartino lending the Oracular Spectacular cut new purpose with her loose, full-bodied twang.
FLIPTURN – WHALES
Coinciding with the announcement of their debut album, Shadowglow, Fernandina Beach's Flipturn is sharing the deeply moving "Whales." The follow-up to "Brooklyn Baby" hears Flipturn continuing to tap into their heartland core to offer a tender ode to emotional collapse. "'Whales' overall is about giving so much to something; somewhat blindly putting your heart into it, only to be let down most of the time," adds Flipturn's Dillon Basse, with roiling guitars resemblant of whale song encircling his soft vocals.
MCCALL – PERFECT TIMING
Ever since she made her debut on We Are: The Guard with "Nothing Even Wrong," McCall has continually proved herself to be one of the most extraordinary artisans in the game, with the Los Angeles singer-songwriter once again establishing herself on "Perfect Timing." Coming alongside the announcement of her debut album, ...to be a dream..., "Perfect Timing" is a joyous dose of post-breakup relief that hears McCall unleashing her powerhouse vocals atop some of her most striking sound design to date.
SOCCER MOMMY – NEWDEMO
Soccer Mommy's Sophie Allison continues the rollout to her third album, Sometimes, Forever, this Monday with the phantasmagorical "newdemo." Coming after "Shotgun," "Unholy Affliction," and "Bones," "newdemo" is a floaty acoustic beauty that hears Sophie concluding dreams are "a lie that you wish would come true." "I didn't want to make something super depressing without any sense of magic," reveals Sophie of the cut, which surges to "A Day in the Life"-esque heights thanks to its orchestral flourishes.
BEACH BUNNY – ENTROPY
Back in May, Beach Bunny shared the jangly, blues-esque shuffle "Karaoke" alongside a video starring Better Call Saul actor Bob Odenkirk, and this Monday, the Chicago outfit is back with "Entropy." The latest single to be taken from Beach Bunny's forthcoming sophomore album, Emotional Creature, "Entropy" is a sugar-coated blast of early-noughts pop-rock that hears Lili Trifilio catching feelings for a friend: "Yeah, somebody's gonna figure us out/And I hope they do 'cause I'm falling for you, whoa."
MYD – DOMINO
It's barely been a year since he dropped his debut album, Born a Loser, but Myd is already back in our ears this Monday with the thudding "Domino." Produced alongside Jungle's Tom McFarland, "Domino" is a big dance-floor banger that hears Myd pairing his signature chill vibes with Jungle's penchant for retro-tinged disco-pop grooves. The final result is nothing short of dazzling, with Myd coming for everybody's summer mixtapes with that chorus: "Domino/It's a heat that flows/A bright light/Across your soul."
SASAMI (FEAT. J MASCIS) – TRIED TO UNDERSTAND
We Are: The Guard regular SASAMI takes time out from touring with HAIM to share a brutal new version of "Tried To Understand." Originally featured on her sophomore album, Squeeze, "Tried To Understand" here gets a feral, pummeling remix with help from none other than Jazzmaster-wielding legend J. Mascis. "This rawer cut with J. Mascis is kind of a peek into the different dimensions and moods one composition can inhabit," says SASAMI. "It's the less cute version of what spinning out can sound like."
HETHER – DIRTY CLAWS
Ahead of going on tour this fall with kooky-pop legend Remi Wolf, Hether's Paul Castelluzzo is back today with the scuzzy "dirty claws." Featured on his recent project, play it pretty, "dirty claws" is a distortion-caked psychedelic freakout that hears Hether's influences such as Robert Johnson coming to the fore. With gritty riffs dripping in Hether's vampiric lust, "dirty claws" is a bizarro blues banger of the highest order: "You hold me tight/It's my neck you bite/But the only thing wrong/Was your dirty claws."
LISS – NOBODY REALLY CARES
Just a few weeks on from teaming up with inimitable Nilüfer Yanya, Liss is making their return today with the joyful "Nobody Really Cares." Coming a year after the tragic passing of the Danish band's frontman, Søren Holm, "Nobody Really Cares" hears Liss continuing to celebrate the life and exceptional talent of their late vocalist. With Søren's words about embracing inner vulnerability coming wrapped up in a glorious dose of George Michael-esque pop sunshine, "Nobody Really Cares" is, ironically, full of feeling.
YOT CLUB – DOWN BAD
Nashville's Yot Club finally dropped his debut album, off the grid, on Friday, and to celebrate, Ryan Kaiser is back with the dizzyingly driving "down bad." According to Ryan, "down bad" was written while he was struggling with his sleep pattern. "This eventually forced me into having a pretty negative view of myself, so when someone expressed interest in me I would think 'damn you must be down bad,'" explains Yot Club of the cut, a propulsive surf-rock chugger that mainlines straight for the adrenal glands.
-
Follow We Are: The Guard on Spotify for more! x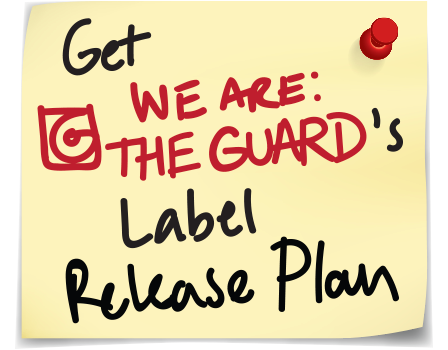 Jess Grant is a frustrated writer hailing from London, England. When she isn't tasked with disentangling her thoughts from her brain and putting them on paper, Jess can generally be found listening to The Beatles, or cooking vegetarian food.