THE 10 BEST INDIE SONGS IN THE WORLD THIS WEEK
Photo by SJ Spreng
There aren't many things in life I'm sure of, but one of them is this: Everybody f*cking loves the Foo Fighters. We Are: The Guard was devastated to hear the news about Taylor Hawkins on Friday, and judging by the tributes that poured in this weekend, the rest of the music industry was, too. RIP, legend.
Check out the latest edition of Best Indie Songs, featuring BEL & girlhouse, Soccer Mommy, Fontaines D.C., and lots more below.
-
BEL (FEAT. GIRLHOUSE) – PBR
It's no secret we're massive fans of BEL and girlhouse here at We Are: The Guard, so it goes without saying we're thrilled to see both women teaming up this Monday for "PBR." Coming after BEL's "Big City" and girlhouse's "paul blart mall cop," "PBR" is a soaring marvel about disconnection, with the two artists taking their mental anguish and transforming it into a superpower. "Ah, and it hits me/I don't think I wanna be here," sing BEL and girlhouse in the anthemic chorus capable of cracking the sky open above us.
SOCCER MOMMY – SHOTGUN
Soccer Mommy's Sophia Allison is generally known for her sweeping melancholy, but the 24-year-old is enjoying the feeling of love coursing through her veins on "Shotgun." The latest single to be unveiled from her forthcoming third album, Sometimes, Forever – an 11-song collection as produced by none other than Oneohtrix Point Never's Daniel Lopatin – "Shotgun" is a heady grunge rush that delights in the minutiae of a young relationship: "Cold beer and ice cream is all we keep/The only things we really need."
FONTAINES D.C. – SKINTY FIA
Fontaines D.C. continues to count down to the release of their third album, Skinty Fia, by sharing the portentous title song. According to Fontaines D.C. frontman Grian Chatten, "Skinty Fia" is an ode to "a doomed, paranoid relationship with influences of alcohol, drugs, and paranoia." This sense of foreboding is evident throughout the song's near-four-minute runtime, with shards of guitar scraping up against hip-hop-esque drums as Grian's mumbling monologue vibrates with an intense sense of ruin.
BEABADOOBEE – TALK
Coinciding with the announcement of her forthcoming sophomore album, Beatopia, Filipino-British grunge princess beabadoobee is back this March with "Talk." "I wrote 'Talk' just after my first album. I was obsessed with Tuesday because I thought it was the best night to go out, not too much chaos but just enough to have a good time," says beabadoobee. With her bubblegum choruses breaking through walls of distortion, "Talk" is the kind of sugar rush that could keep you going right through until the small hours.
DOG ORCHESTRA – I THINK I'M IN TOKYO
Just a few weeks on from crashing down to earth with their burning comet of lust and desire, "Fireball me," We Are: The Guard's Dog Orchestra is making their return today with "I Think I'm in Tokyo." The latest single to be taken from the Swedish duo's forthcoming EP, Spoon,  "I Think I'm in Tokyo" is a metropolitan trip through the neon-lit streets of Japan. "Come find me/I'm in a horror picture show," sings Dog Orchestra in the synth-swept chorus – forming a vivid but desperate plea for human connection.
LET'S EAT GRANDMA – LEVITATION
Having got 2022 off to a positively ecstatic start in January with "Happy New Year," Let's Eat Grandma continues to immerse us in glitter on their latest single, "Levitation." Featured on their forthcoming third album, Two Ribbons, "Levitation" hears the British duo singing about hope and friendship atop a ping-ponging, Visions-esque production: "The time is right/I keep on wishing for the moment that I need tonight/And though I've had a catastrophic Saturday/I'm dressing up to look a million dollars anyway."
OLIVER SIM – ROMANCE WITH A MEMORY
Oliver Sim follows in the footsteps of The xx's Romy Madley Croft and Jamie xx in launching a solo career this March with "Romance With a Memory." "I'm thrilled, excited, ecstatic, over-caffeinated, and overjoyed to be sharing 'Romance With a Memory' with you all. Terrifyingly, this is the first song I've ever released under my own name," writes Oliver of the cut. Produced alongside Jamie xx, "Romance With a Memory" is a mutant-funk ode to unrequited love that hears Oliver tapping into his inner Purple One.
BARRIE – JERSEY
It's been three years in the making, but finally, Barrie's sophomore album, Barbara, is here. Written while Barrie Lindsay was coming to terms with both the devastating loss of her father to cancer and the joyous experience of meeting and marrying her lover – Gabby's World frontwoman Gabrielle Smith – Barbara is a stunningly cathartic ride. Case in point: Album opener "Jersey." A letter of devotion that twirls on its axis like a long-lost Pixies cut, "Jersey" is music for feelers and dreamers everywhere.
THE GREETING COMMITTEE – HOW LONG? (TUNE-YARDS REMIX)
The Greeting Committee's sophomore album, Dandelion, has been on repeat here at We Are: The Guard ever since it dropped in September. Clearly, we aren't the only fans, with Oakland indie legends Tune-Yards taking time out from their busy schedule to offer up their spin on Dandelion cut "How Long?" Listen as Tune-Yards brings their typically playful, bombastic touch to "How Long?," with Merrill Garbus and Nate Brenner throwing fistfuls of fun at Addie Sartino's paranoid soliloquy.
HATCHIE – LIGHTS ON
Ahead of the release of her sophomore album, Giving the World Away, next month, Hatchie has unveiled the glistening "Lights On." Coming after "This Enchanted" and "Quicksand," "Lights On" hears the Aussie doubling down on her diamonté-encrusted electronic-pop, with Hatchie drawing influence from the maximalist anthemia of Siouxsie and the Banshees as she sings about a love that gets her higher than the stars: "Oh, 'cause I can't stop thinking about your touch/Don't stop, it could never be too much."
-
Don't forget to follow We Are: The Guard on Spotify for lots more. xo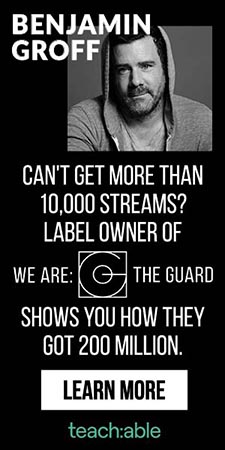 Jess Grant is a frustrated writer hailing from London, England. When she isn't tasked with disentangling her thoughts from her brain and putting them on paper, Jess can generally be found listening to The Beatles, or cooking vegetarian food.