TOP INDIE SONGS: 10 TUNES YOU NEED TO HEAR THIS WEEK
Photo by Nick McKinlay
Hello, everybody, and welcome to the latest edition of We Are: The Guard's Top Indie Songs. Or, as I prefer to call it: 10 Songs That You Probably Missed This Week as You Were Too Busy Listening to Kendrick Lamar!
KENDRICK.

— St. Vincent (@st_vincent) May 13, 2022
kendrick !

— rex orange county (@rexorangecounty) May 13, 2022
i feel bad for the mfs who dont like kendrick lamar lmao y'all might wanna log off for a week

— Omar (@omartalksrap) May 9, 2022
Check out the following tunes from Julia Jacklin, BEL, Day Wave, and even more below!
-
JULIA JACKLIN – LYDIA WEARS A CROSS
Just over three years on from the critically acclaimed Crushing, Julia Jacklin is back today with news of both a third album, PRE PLEASURE, and its lead single, "Lydia Wears a Cross." Produced with Arcade Fire associate Marcus Paquin, "Lydia Wears a Cross" begins with Julia recalling a childhood spent struggling with Catholicism. "We sit back to back/Listening to Jesus Christ Superstar soundtrack," sings Julia over a lo-fi drum machine, before slowly panning out to reveal something fuller and more impactful.
BEL – CAKE
Earlier this year, BEL's Isabel Whelan made our indie dreams come true when she teamed up with girlhouse on "PBR." Just under two months on, the Los Angeles starlet is continuing to make our mixtapes glisten with "Cake." Written with James Keeley, "Cake" is an ode to infatuation, obsession, and, ultimately, rejection. "Met at the party and we wеre hittin' it off/Next time you saw mе, you didn't know me at all," sings BEL in the second verse with all of the sadness and shimmer of a sunset. FFO: SOAK.
DAY WAVE – LONER
Ahead of the release of his sophomore album, Pastlife – a 10-song collection featuring collaborations with KennyHoopla and Hazel English – Day Wave's Jackson Phillips is back with the sad, scintillant "Loner." Coming after "Pastlife," "Loner" is all about learning to go with the ebb and flow of an anxious mind. "Sometimes those anxious times can feel very lonely, but the feeling of letting it fade away can be almost euphoric," adds Jackson of the cut – his voice radiating over Cure-esque riffs and insistent drums.
ETHEL CAIN – HARD TIMES
Every once in a while, a song comes along that feels bigger than any blog post, think piece, or music review. "Hard Times" by Ethel Cain is one of those songs. Featured on her recent debut album, Preacher's Daughter, "Hard Times" is a song that finds Ethel detailing her painful bond with her father. "I thought good guys get to be happy/I'm not happy/I am poison in the water and unhappy/Little girl who needs her daddy real bad," sings Ethel at one point – her gorgeous country twang levitating as if a haunted specter.
THE SMILE – THIN THING
Back in April, The Smile unveiled one of our favorite tunes of the year in the form of "Free in the Knowledge." The London Contemporary Orchestra-featuring ballad showcased a gentler, more reflective side to The Smile's sound, but today, Thom Yorke, Jonny Greenwood, and Tom Skinner are back on the bangers with "Thin Thing." A knotty, borderline mathy cut about rabbit holes and mushroom men, "Thin Thing" cranks up the energy and barely stops for breath. A Light for Attracting Attention is out now.
PHOEBE GO – WE DON'T TALK
She's previously fronted Snakadaktal and Two People, and this month, Phoebe Go is turning the focus to solo life with "We Don't Talk." The first taste of her forthcoming debut EP, Player, "We Don't Talk" is a lush rocker that – according to a statement – "muses on pushing through, riding on rough textures, grit and determination, kicking the Phoebe Go project into gear." With guitars loosely chiming beneath Phoebe's slack delivery, "We Don't Talk" is a dreamy reminder to keep on keeping on.
YB. – CHANGE YOUR MIND
He's already earned support from the likes of triple j and Queensland Music Awards down under, and this May, Ghanaian-Australian artist Yb. is hoping to take his success further afield with "Change Your Mind." "'Change Your Mind' in its essence is about emotional acceptance," reveals Yb. "Written into the song, is a series of challenging feelings and realizations." With Yb. thoughtfully intertwining perspectives over turquoise-blue riffs, "Change Your Mind" is a glinting, sparkling song of reassurance.
MALLRAT – TO YOU
Love is a risk, but Brisbane, Australia's Mallrat is willing to take it on "To You." Featured on her recent debut album, Butterfly Blue – alongside the previously featured "Teeth" – "To You" is a cosmic psychedelic lullaby about not being afraid to feel everything, everywhere, all at once. "I've given so much away/My lovin' is gone to waste," sings Mallrat on a cut that meets at the intersection of Tame Impala and Kacey Musgraves circa Golden Hour. "But I've got a lot to give/And that's how I like to live."
PETER MCPOLAND – SLOW DOWN
Coinciding with the announcement he's going to be supporting Twenty One Pilots on their Icy Tour, We Are: The Guard regular Peter McPoland is back today with the soaring "Slow Down." Lifted from his recent debut EP of the same name, "Slow Down" starts out sparse, with the Vermont act singing of a lost love over bare acoustic strums. It's once the chorus hits, however, that "Slow Down" really comes into its own, with The Beach Boys-esque vocal layers transforming "Slow Down" into a lofty rock-star odyssey.
LEITH – SATELLITE
Introducing Leith, the Canadian native capturing the equal parts thrilling and terrifying experience of being in your 20s on "Satellite." Featured on her recent debut EP, Birthdays in July, "Satellite" is a dizzying ode to a quarter-life crisis Leith penned after relocating to London in order to pursue music full-time. "Who knew that 25 could be so f*cking mean/Who knew that 1,000 cries could turn into a scream?" questions Leith on the cut atop a heady synth-pop production that channels Lorde circa "Ribs."
-
Follow We Are: The Guard's Weekly Chart on Spotify for even more! xo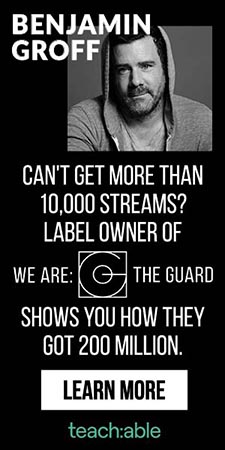 Jess Grant is a frustrated writer hailing from London, England. When she isn't tasked with disentangling her thoughts from her brain and putting them on paper, Jess can generally be found listening to The Beatles, or cooking vegetarian food.