NEW INDIE MUSIC: THE 10 BEST SONGS OF THE WEEK
Photo by Seannie Bryan
BRING ON FESTIVAL SEASON!
Every electronic festival for the next month. pic.twitter.com/TtYRAZTHma

— Phantoms (@phantoms) June 14, 2022
Check out the latest edition of We Are: The Guard's New Indie Music, featuring Blondshell, Bartees Strange, Whitney, and more, below!
-
BLONDSHELL – OLYMPUS
Introducing Blondshell, the Los Angeles singer-songwriter immersing us in the roil of heartache on her debut single, "Olympus." Produced by Girlpool and Yves Tumor associate Yves Rothman, "Olympus" is a heavy chugger about being weighed down by a toxic, abusive relationship. "I wanna save myself you're part of my addiction/I just keep you in the kitchen while I burn," laments Blondshell's Sabrina Teitelbaum in the pre-chorus, before her airy, breathy voice gets engulfed by an intense churning of guitar.
BARTEES STRANGE – WRETCHED
This Monday, Bartees Strange's Bartees Leon Cox Jr. continues his meteoric rise through the indie-rock ranks with the gargantuan "Wretched." The latest single to be unveiled from his sophomore album, Farm to Table, after "Heavy Heart," "Cosigns," and "Hold the Line," "Wretched" is a firmament-breaching banger that feels calibrated for festival season. "This song is about the people who've always stood by me, even when I was wretched," reveals Bartees Strange in a press release. Huge, huge stuff.
WHITNEY – REAL LOVE
"Reentry anxiety" has proven to be a very, very real thing in the days following the pandemic, but Whitney's Julien Ehlrich and Max Kakacek are learning to embrace the fear on the gleaming "REAL LOVE." "I've been running away from and self-medicating my anxiety for as long as I can remember, but for whatever reason, it felt like it was time to dive straight into it," explains Julien. With Whitney's vocal harmonies flooding in like sunlight come the chorus, "REAL LOVE" is pure, cathartic radiance.
CLAUD – GO HOME!
Following months of touring the world, Saddest Factory's Claud is craving the safety and simplicity of domestic life on the aptly titled "Go Home!" "'Go Home!' is about falling into that hole of feeling awkward and uncomfortable in your own skin that all you crave is going home and sliding into whatever is familiar," says Claud in a statement. A bright, melancholy poppy burst of whimsy and nostalgia, "Go Home!" is a reminder that sometimes it's okay to retreat to and recover in our comfort zones.
JAWNY & BECK – TAKE IT BACK
Back in May 2021, JAWNY dropped "Take It Back," a song I compared to the ramshackling rock of Beck. Just over a year on, and JAWNY is not only touring with the "Loser" legend, but also duetting with him on a new version of The Story of Hugo EP cut. "I think it's no secret that Beck has been a giant influence on me. Getting to work with him on this record was nothing short of a full-circle moment," says JAWNY, with Beck's bonus verse and vocal harmonies blasting "Take It Back" into the Odelay abyss.
BEABADOOBEE – 10:36
There isn't long to go until beabadoobee's Beatrice Laus ships us to Beatopia, but before then, the Filipino-British pocket rocket is back with "10:36." The follow-up to "Lovesong," "10:36" is a sugary blast of cheerleadery alt-rock that beabadoobee wrote in lockdown. "It's basically about how I have this weird dependency on human contact to sleep," notes Beatrice in a statement, with the Dirty Hit signee longing for skin-on-skin contact atop a scratchy guitar riff akin to The 1975's "Give Yourself a Try."
JULIA JACKLIN – I WAS NEON
Last month, Julia Jacklin announced her third album, PRE PLEASURE, with the lead single "Lydia Wears a Cross," and today, the Australian sensation is returning with "I Was Neon." While "Lydia Wears a Cross" made for a slow, impactful listen, "I Was Neon" hears Julia cutting to the chase with a pointy guitar riff and chugging drums. "Am I gonna lose myself again?/I quite like the person that I am/Am I gonna lose myself again?" questions Julia on the cut, an ode to loss-of-self that drives like a tank.
JOCKSTRAP – GLASGOW
Every time I listen to Jockstrap, I feel like I'm diving into Aladdin's cave, with the British duo showcasing a new side to their strange, precious sound on "Glasgow." Featured on their forthcoming debut album, I Love You Jennifer B, alongside "Concrete Over Water," "Glasgow" is a folky acoustic fantasia as surrounded in lush string arrangements. "'Glasgow' is our coming-of-age, moving-forward, long-distance, traveling, beautiful bosk, wonderful thicket song," notes Jockstrap. Listen.
DAISY THE GREAT – EASY
Breaking up is hard to do, but eventually it gets easier. Just ask Daisy the Great, the New York City duo capturing the highs and lows of separation on the delightful "Easy." "The song is about learning to trust yourself, finding joy in loving yourself, feeling hope," explains Daisy the Great. "At the same time, it's about how sometimes even when something isn't right, it still hurts to let it go." A joyously groovy sigh of indie-pop perfection, "Easy" is a balm for broken hearts everywhere.
PAPICHULOTEEJ – OVERDRIVE
I've said it before, but there's something about summer that feels full of promise and possibility, with papichuloteej honing in this on the propulsive "Overdrive." "Met her last summer/On a night just like any other/I try my best to see where I'm running/Crash course, but I ain't see it coming," sings the Las Vegas emo star, immediately setting the breathless tone of "Overdrive." It only gains momentum and pushes up the heart rate from there on out, with the driving beat urging us to seize opportunities with both hands.
-
Follow We Are: The Guard's Weekly Chart on Spotify for more! xo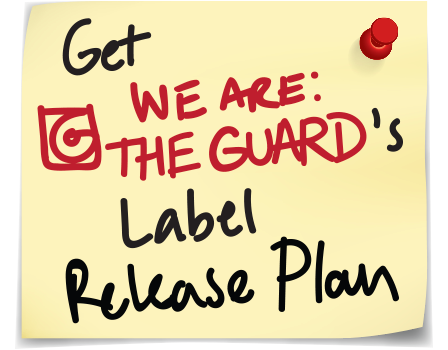 Jess Grant is a frustrated writer hailing from London, England. When she isn't tasked with disentangling her thoughts from her brain and putting them on paper, Jess can generally be found listening to The Beatles, or cooking vegetarian food.