THE 10 TOP INDIE SONGS TO SEE OUT SUMMER
Photo by Shingi Rice on Unsplash
Lorde is back, and so, too, is the obligatory Twitter Discourse. Whatever your thoughts are on Ella Yelich-O'Connor's Goop Era, at least we can say one thing: Nature and the music community are healing, people! Check out the latest edition of We Are: The Guard's Top Indie Songs, featuring Bakar, James Blake, Future Islands, and even more.
as someone who's the same age as lorde

i wouldn't give a shit what 18 year old me thought, I'd probably bully him tbh https://t.co/OBicrT6sgu

— Eddy Burback (@eddyburback) August 20, 2021
me and the girlies streaming lorde in the 2010s vs. now pic.twitter.com/nyaepatrNH

— Jill Gutowitz (@jillboard) August 20, 2021
every music blog covering lorde this morning pic.twitter.com/JanAettdVG

— noah (@homoah) August 20, 2021
-
BAKAR – THE MISSION
With the ongoing crisis in Afghanistan making for deeply devastating viewing, Bakar is making his timely return this Monday with "The Mission." Produced by Zach Nahome and SebastiAn, "The Mission" is a cinematic, wide-screen banger that hears Bakar centering his Islamic faith with pride. "This is ultimately about peace but so often our symbols and flags have been hijacked for the wrong purposes," reveals Bakar of the song, which infuses Drive-era synth-pop with an intelligent political consciousness.
LORDE – MOOD RING
New Zealand's Lorde continues to go in pursuit of bodily and mental wellness on the deeply dreamy "Mood Ring." "'Mood Ring' is a song about trying to feel spiritually connected in our modern world, and all of the little tools and systems that we all use to try and feel that," says Lorde of the second single to be unveiled from Solar Power. With early 00s acoustic flourishes pairing with Lorde's soft salutations, "Mood Ring" is an endlessly ethereal offering that also hints at Lorde's dark humor.
JAMES BLAKE – LIFE IS NOT THE SAME
Just a few weeks on from announcing his forthcoming album Friends That Break Your Heart with the ascendant "Say What You Will" and its FINNEAS-starring official video, British vibe conjurer James Blake is back today with "Life Is Not the Same." The song hears James teaming up with Take a Daytrip – who recently produced Lil Nas X's "INDUSTRY BABY" – to offer a moody, ticking spin on his choral-pop. "Life is not the same/If we're miles away," sighs James in the chorus, his voice rich with vibrato.
FUTURE ISLANDS – PEACH
It feels like only yesterday Future Islands were dropping their sixth album As Long as You Are, but the beloved Baltimore indie-rockers are already making their return this Monday with "Peach." Coming ahead of their tour of North America and Europe, "Peach" is the kind of soaring, synthy rhapsody that goes down so well at Future Islands live gigs. With Samuel T. Herring's existential musings coming set against a driving pulse, "Peach" is certainly shaping up to be a treasured fan favorite.
DAY WAVE – BEFORE WE KNEW
Day Wave's Jackson Phillips has always felt destined for superstardom, with the Oakland, California musician taking a step closer to success with "Before We Knew." The follow-up to last year's Crush EP hears Jackson rendering his sun-bleached indie-pop sensibilities through his most anthemic, ambitious lens to date. "I feel like tapping out but/I can't let you beat me/I won't go alone," sings Jackson over scintillant strums on the cut, which sounds like it ought to be sung by an arena of fans.
MILOE (FEAT. JAMILA WOODS & VAGABON) – WINONA
"Winona" by Miloe had "Song of the Summer" written all over it. The only problem? It was released smack-dab in the middle of fall. The song is getting another shot at the title today, however, thanks to this brand new remix featuring We Are: The Guard favorites Jamila Woods and Vagabon. Needless to say, Jamila and Vagabon breathe fresh, feminine life into the nostalgic nod to the Beetlejuice actress, with the three artist's voices intertwining like sunrays over a dappling ocean of synthesizers.
REMI WOLF – GRUMPY OLD MAN
Remi Wolf is nothing short of addictive. Coinciding with the announcement of her debut album Juno – a 13-song offering named after the dog she adopted during lockdown – the Palo Alto musician has shared the vivid, technicolor "Grumpy Old Man." Written about, I quote, "some of the most benign things that can make me irritated and defensive, which makes me feel old, fragile, and careless," "Grumpy Old Man" is an infectious bop that hears Remi locking into a rubber-band indie groove.
PHOEBE BRIDGERS – KYOTO (THE MARÍAS REMIX)
"Kyoto" by Phoebe Bridgers gets a luxurious revision this Monday courtesy of We Are: The Guard regulars The Marías. "I remember seeing Phoebe years ago at an open mic here in Los Angeles, and I knew right off the bat that she was really special. Working on this remix was a sort of full-circle moment for us," pens María Zardoya of the spin. Featuring Phoebe's slowed-down vocals coming set against a sweeping of delectable disco synthesizers, this remix is nothing short of a multisensory experience.
P.S. Check this out, too!
GINGER ROOT – FLY TOO
With summer slowly drawing to a conclusion, Huntington Beach, California's Ginger Root is seeing out the final weeks of sunshine in glossy style on his latest single "Fly Too." "Autumn's set in, gone is summer/Caught in the wind for so long," begins "Fly Too." Featured on Ginger Root's recent EP City Slicker – a six-song collection "based on the American adaptation of the fictitious Japanese film from 1981 entitled 街のやつ" – "Fly Too" is a silky groove about escaping the metropolis for more paradisiacal climes.
DUA SALEH – DASHERY
This. Goes. Off. Following on from the release of ROSETTA EP in 2020, Dua Saleh is making their dramatic return today with "dashery." Produced by Tickle Torture and Psymun, "dashery" is quite unlike anything Dua has ever put out before. With a pounding industrial beat searching like a mechanical hound behind the Minneapolis act as they spit out pure fire ("Badger haberdashery/She likes to call me daddy"), "dashery" sounds like an intense blend of Nine Inch Nails and The Prodigy.
-
Follow We Are: The Guard's Weekly Chart for even more. xo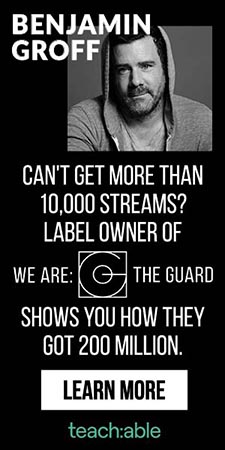 Jess Grant is a frustrated writer hailing from London, England. When she isn't tasked with disentangling her thoughts from her brain and putting them on paper, Jess can generally be found listening to The Beatles, or cooking vegetarian food.