THE 10 BEST INDIE SONGS WE'RE LOVING THIS WEEK
Photo by Molly Daniel
We're only a few weeks into 2022, but it's already proving to be an extremely busy year for music. It's been one of those Mondays where I genuinely struggled to get this column down to 10 songs and 10 songs only, but with determination and a whole lotta cold brew coffee, I'm finally ready to bring you the best of the best. Shout out, though, to the many songs that unfortunately didn't make it to today's playlist. Feel free to find some of them on our Weekly Chart over at Spotify!
Check out the latest edition of We Are: The Guard's Best Indie Songs, featuring Nilüfer Yanya, Girlpool, Big Thief, and seven other faves!
-
NILÜFER YANYA – MIDNIGHT SUN
Nilüfer Yanya is quickly becoming one of our favorite artists here at We Are: The Guard. Having returned in November with "stabilise," the British starlet is back today with perhaps her most stirring offering to date. According to Nilüfer, "midnight sun" is "about recognizing what it feels like to be pushed down but wanting to resist." Opening with Nilüfer's vocals ringing with a bottomless despair atop In Rainbows-like licks, before becoming engulfed in distortion, "midnight sun" is sheer catharsis.
GIRLPOOL – LIE LOVE LULLABY
Having returned in December with the twinkling ode to a toxic relationship "Faultline," Girlpool's Avery Tucker and Harmony Tividad are making their return this Monday with "Lie Love Lullaby." While "Faultline" heard the Los Angeles duo trying their hands at balladry, "Lie Love Lullaby" finds Avery and Harmony firmly back in banger territory. That's to say, the song goes hard, with Avery sensually creeping over a bass-heavy production: "What's a lie love lullaby/When we sing it every night?"
BIG THIEF – SIMULATION SWARM
The New York City folk outfit has been teasing it on tour for some time now, and today, Big Thief is finally sharing the official studio version of "Simulation Swarm." Featured on Adrianne Lenker and company's forthcoming double album, Dragon New Warm Mountain I Believe In You, "Simulation Swarm" is a careening stream of consciousness. With the aforementioned singer weaving seemingly disconnected vignettes around twanging strings, "Simulation Swarm" is another rambling bop from Big Thief.
MELODY'S ECHO CHAMBER – LOOKING BACKWARD
It's been four years since Melody's Echo Chamber dropped Bon Voyage, but the French chanteuse is finally returning today with "Looking Backward." The latest single to be unveiled from her forthcoming third album, Emotional Eternal, "Looking Backward" is a sparkling lucid dream that comes anchored by a thumping backbeat not dissimilar to the works of her former collaborator Kevin Parker. "'Looking Backward' is a vivid, nonchalant, poetic march to the Unknown," Melody says in a statement. Enjoy.
LANA DEL REY – WATERCOLOR EYES
Lana Del Rey's entire discography could be based around a Euphoria episode, so it makes sense Lizzie Grant is finally contributing a song to the HBO series in the form of "Watercolor Eyes." Coming a few months on from Blue Banisters, "Watercolor Eyes" is a glitzy, swirling piece of melodrama that feels very much on-brand for Lana and Euphoria. Produced alongside Drew Erickson and Nasri Atweh, it's an ode to young love that hears Lana climbing for the highest, most hallowed reaches of her voice.
HATCHIE – QUICKSAND
Just a few months on from announcing she'd signed to Secretly Canadian, Hatchie is sharing "Quicksand." Written over the last two years alongside Joe Agius and Olivia Rodrigo collaborator Dan Nigro, "Quicksand" is a crystalline chamber of reflections about feeling disillusioned with life, not to mention the guilt that can follow such an emotion. "If I had everything I wanted, would I want more?/Would I keep fighting if there's nothing left to fight for?" asks Hatchie in the gigantic disco ball of a chorus.
BEACH HOUSE – ONLY YOU KNOW
Baltimore's Beach House continues the rollout to their forthcoming eighth album, Once Twice Melody, by sharing the twirling "Only You Know." With a runtime of just under five minutes, "Only You Know" gives you plenty of time to get lost in Beach House's dream-pop. "Don't blink," urges Victoria Legrand at the start of the song, her voice getting sucked into a vortex of chugging guitars and huge drums. It only gets more kinetic from there on out, with Alex Scally's production akin to the hypnotist's spiral.
ANIMAL COLLECTIVE – STRUNG WITH EVERYTHING
We've already heard "Prester John" and "Walker," and now, Animal Collective is continuing to build up to the release of their eleventh album, Time Skiffs, by unveiling "Strung With Everything." Clocking in at almost seven minutes, "Strung With Everything" is a joyously sunny blast of Graceland-esque worldbeat that appears to be set amid the apocalypse. "Let's say tonight you and me/We'll watch the sky fall into pieces," proposes Avey Tare, his band gloriously smashing their instruments behind him.
ALTO ARC – BORDELLO
"And now for something completely different." Introducing Alto Arc, a brand new supergroup consisting of PC Music producer Danny L Harle, Deafheaven singer George Clarke, Hundred Waters founder Trayer Tryon, and British makeup artist Isamaya Ffrench. Having appeared in a special episode of Euphoria last year with "Nocebo," Alto Arc is making their return today with "Bordello." Opening like an enchanting siren song, before sinking into a thick sludge of black-metal, "Bordello" is a fascinatingly dark curio.
WET LEG – MATERIAL GIRL (MADONNA COVER)
Wet Leg covering Madonna? This. Is. Everything.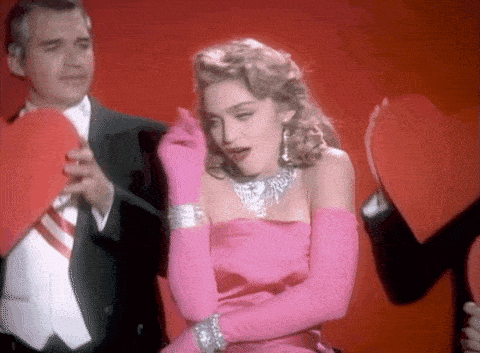 -
Why not follow our Weekly Chart over at Spotify? x
Sources:
Madonna GIF
Jess Grant is a frustrated writer hailing from London, England. When she isn't tasked with disentangling her thoughts from her brain and putting them on paper, Jess can generally be found listening to The Beatles, or cooking vegetarian food.