THE 10 TOP INDIE SONGS YOU NEED IN YOUR LIFE THIS WEEK
Photo by Melanie Pongratz on Unsplash
Hi, everyone. How are you? How was your weekend? Fingers crossed it was considerably better than Jake Gyllenhaal's. Anyways! I've been away on vacation for the last few days, but I'm pleased to say I've returned to some incredible music beyond "All Too Well (10 Minute Version)." Headphones at the ready, then, as it's time to check out the latest edition of We Are: The Guard's Top Indie Songs, featuring Shamir, fanclubwallet, Nilüfer Yanya, and lots more.
-
SHAMIR – CISGENDER
Just a few days on from sitting down with We Are: The Guard to discuss everything from "Gay Agenda" to living in a post-Lil Nas X world, Shamir is back today with the colossal "Cisgender." Produced by Hollow Comet, "Cisgender" is an industrial rejection of gender labels that vibrates with enough queer rage to shift the tectonic plates beneath you. "I'm not cisgender/I'm not binary trans/I don't wanna be a girl/I don't wanna be a man," sings Shamir, his voice more formidable and piercing than ever. Immense.
FANCLUBWALLET – THAT I WON'T DO
As COVID-19 loosens its grip on our day-to-day lives, fanclubwallet is learning to find her place in society once again on the lovely "That I Won't Do." "After being kind of a shut in for over a year I was really just trying to figure out who I was again and the kind of person I want to be," says Hannah Judge. With her voice making its way to the ordinary world atop a bed of lo-fi guitar gleam, "That I Won't Do" serves as an all-too-gorgeous follow-up to September's spin on The Outfield's "Your Love."
NILÜFER YANYA – STABILISE
She recently honed her equal parts neurotic and nonchalant breed of soul on Feeling Lucky? EP, and today, British baddie Nilüfer Yanya continues to deliver the goods on "stabilise." The first single to be unveiled from her forthcoming sophomore album PAINLESS – due out on March 4th via ATO – "stabilise" is an itchy indie listen about choosing to rely on no one but yourself. "I'm not waiting/For no one to save me," sings Nilüfer over descending guitar riffs in the frenetic anxiety attack of a chorus.
MITSKI – THE ONLY HEARTBREAKER
It's never easy admitting you're the villain in a relationship, but Mitski is throwing herself into the thrilling theatrics of it all on "The Only Heartbreaker." "'The Only Heartbreaker' is about the person always messing up in the relationship," says Mitski of the gleaming bit of eighties melodrama, which was written alongside Semisonic's Dan Wilson. "I also wanted to depict something sadder beneath the surface, that maybe the reason you're always the one making mistakes is because you're the only one trying."
LUCY DACUS – THUMBS AGAIN
Earlier this year, Lucy Dacus finally shared an official studio version of the mythological fan favorite "Thumbs," and this Monday, the Boygenius artist returns with a brand new version entitled "Thumbs Again." While the Home Video original found synthesizers forming like distant storm clouds behind Lucy, "Thumbs Again'' has a more disarmingly folky lilt, with the instrumentation falling away just at the right moment as she sings: "I would kill him/If you let me/I would kill him/Quick and easy."
BEACH HOUSE – ONCE TWICE MELODY
Ahead of the release of their eighth album Once Twice Melody next February, Beach House has shared the lush title song. Coming to us alongside three other cuts from the album – "Superstar," "Pink Funeral," and "Through Me" – "Once Twice Melody" finds the Baltimore icons immersing listeners in a refracting prism of daydreams. "Out in the summer sun/She was the only one," sings Victoria Legrand in the first verse, her evocative contralto coming swept up in a John Barry-esque swirl of strings.
CLAUD – TOMMY
Coinciding with the announcement of the North American leg of The Super Monster Tour, Claud has shared the unspeakably devastating "Tommy." "When you say my name/It don't hold the weight/Like it does when you talk about Tommy/Touch my body like I'm Tommy/Touch my body pretend I'm Tommy," sings Claud in the chorus, their vocals reflecting in a moonlit lake of rippling guitars. An ode to being desired, but not quite wanted, "Tommy" is the kind of song that renders listeners to emotional mush.
YUMI ZOUMA – MONA LISA
New Zealand's Yumi Zouma are nothing short of masters at taking big, complex emotions and translating them into gleaming pop. This much was evident on "Give It Hell,"  and today, Christie Simpson and co are making their effortless return with "Mona Lisa." An ode to lust, desire, and obsession – or, as Christie puts it, "wanting someone that maybe you can't have" – "Mona Lisa" is a shimmering chamber of delights that possesses all of the reckless abandon of singing into a childhood hairbrush.
SAN FERMIN & WILD PINK – YOU LIVE MY DREAM
In October, San Fermin announced their collaborative EP In This House with the Wye Oak-featuring "My First Life," and today, the New York City outfit is back with the Wild Pink duet "You Live My Dream." According to San Fermin's Ellis Ludwig-Leone, "You Live My Dream" started life as a "hypnotic, kind of retro clubby beat" courtesy of Wild Pink's John Ross. Ellis then added some of his signature chamber-pop flourishes, with the final result making for an unearthly piece of dance-floor escapism.
BROODS – HEARTBREAK
Despite being dropped by their label, BROODS is emerging victorious on their forthcoming fourth album Space Island. Case in point: "Heartbreak." The second single to be unveiled from Space Island after "Piece of My Mind," "Heartbreak" is the New Zealand sibling duo's most fully realized offering to date. Written following the collapse of Georgia Nott's marriage, it's a cosmic headbopper about healing from grief, with the BROODS vocalist presiding over the deep grooves like an intergalactic R&B queen.
-
Why not follow We Are: The Guard on Spotify for lots more? xo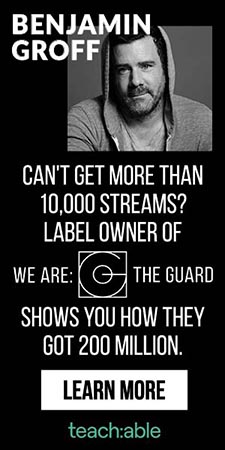 Jess Grant is a frustrated writer hailing from London, England. When she isn't tasked with disentangling her thoughts from her brain and putting them on paper, Jess can generally be found listening to The Beatles, or cooking vegetarian food.