BEST CHILL MUSIC: OUR 10 CHILL FAVES OF THE WEEK
Photo by Madelyn Wright Brown
While I'm really, really trying to get into my RENAISSANCE era and make the most of the final few weeks of summer, I can't help but feel like the world is a conveyor belt of bad news right now. Sometimes, however, we have no choice but to "release the stress, release the love, forget the rest." As 5 o'clock fast approaches, then, check out the latest edition of We Are: The Guard's Best Chill Music, featuring The Millennial Club, Living Hour, Röyksopp, and seven other faves!
-
THE MILLENNIAL CLUB – WHEN IT'S JUST YOU & I
What do you get if you combine The 1975 and Aphex Twin? The Millennial Club is taking us a step closer to the answer on "When It's Just You & I." Lifted from their recent four-song collection of the same name, "When It's Just You & I" hears The Millennial Club pairing big feelings with chopped-and-screwed beats. The Millennial Club: "'When It's Just You & I' showcases a new side to our musicality while remaining consistent and cohesive to what we've come to define as 'our sound' as The Millennial Club." Enjoy.
LIVING HOUR – MISS MISS MISS
The countdown to Someday Is Today, the third album from Canadian shoegaze band Living Hour, continues this Friday with the release of the comfortingly nostalgic "Miss Miss Miss." Coming after "Feelings Meeting," their recent collaboration with Jay Som's Melina Mae Cortez Duterte, and "No Body," "Miss Miss Miss" is a sweet moment of reminiscence that hears Living Hour frontperson Sam Sarty revisiting the old haunts of her childhood in Winnipeg: "I miss I miss I miss I miss I miss I miss/Palomino Club."
RÖYKSOPP (FEAT. ASTRID S) – LET'S GET IT RIGHT
Norwegian dance duo Röyksopp is reminding us to slow down and take our time on their cosmic latest single, "Let's Get It Right." Featured on their forthcoming collection, Profound Mysteries II, "Let's Get It Right" is a sensual ode to reassessing our priorities in life. "Let's get it right/Don't hurry/We're getting it on now, no need to worry," repeat Röyksopp and Astrid with the precision of a mantra atop a retrofuturistic groove that resonates straight through to the solar plexus. Tune in and drop out.
FLORIST – TWO WAYS
Florist, the brand new album from the New York City folk collective of the same name, is very much a celebration of fellowship, with this theme coming to a head on the delicately beautiful "Two Ways." The follow-up to "Sci-fi Silence" and "Feathers," "Two Ways" is a stunningly fingerpicked ode to the joys of companionship, with Emily Sprague singing about being pulled back from the brink by those she loves: "Family, don't let me go/To the place I don't wanna come back from/I think he knew it well."
UNUSUAL DEMONT – SUGAR
Just in time for the final few weeks of summer, Unusual Demont is giving voice to those memories that'll last a lifetime on the smooth "Sugar." The follow-up to "Maybe Not" is described by Unusual Demont as "the first 'love song' that I've ever written." "To me, 'Sugar' feels like you're joined by the person you wanna be with… eating ice cream, riding bikes, watching movies, at the park… any corny thing you can name that would make you smile," he adds of the cut, a delectable piece of R&B that melts like honey.
VIEUX FARKA TOURÉ & KHRUANGBIN – SAVANNE
Back in February, Houston's Khruangbin teamed up with Leon Bridges on Texas Moon, and this month, Laura Lee, Mark Speer, and Donald "DJ" Johnson are returning with a brand new collaborative EP. Entitled Ali, it's an eight-song set that hears Khruangbin and Vieux Farka Touré coming together to pay tribute to Vieux's father, Ali Farka Touré. "We hope this collaboration enlightens more people to Ali's musical legacy," note Khruangbin, with the EP coming headed by the mesmeric desert-blues cut "Savanne."
LOU VAL – SOLITUDE/MARTINI ON MARS
He's already received playlist support from Spotify and Apple Music, and this Friday, Lou Val continues his meteoric rise through the R&B ranks with "solitude/martini on mars." Featured on his recent EP, Goûter, "solitude/martini on mars'' starts out on a haunting note, with piano chords backing Lou as he explores the higher reaches of his falsetto. Eventually, however, Lou pitches down his voice as plucky strings enter, with the whole thing making like a chilling remnant from Frank Ocean's channel ORANGE.
DWY – BADU FEELS
Having recently smothered us in "Solid Gold," British crooner DWY is making his return today with "Badu Feels." Written with Edwin Arzu, "Badu Feels" is a radiant, incandescent dose of soul music that explores the anxiety of getting older. "Don't know me but you got your assumptions/Anxiety is tiding like an ocean in my mind/I should be in my prime," sings DWY in the opening verse, before turning to the light come the chorus: "I can't wait for summer/Different colors/Hate the bummer/Need brighter days."
MONROE JORDAN – JODY
Hailing from Columbus, Ohio, Monroe Jordan is immersing us in his fragile world of heartache inspired by the likes of Frank Ocean, Daniel Caesar, and Childish Gambino on his brand new single, "Jody." The follow-up to "bound," "Jody" finds Monroe standing amid the ruins of a relationship, with the 22-year-old doing everything he can to put the pieces back together again. "Jody, if you're going to hurt me/Make it quick and easy," sings Monroe in the chorus, his voice sounding as vulnerable as glass against concrete.
RODRIGO Y GABRIELA – WEIRD FISHES/ARPEGGI (RADIOHEAD COVER)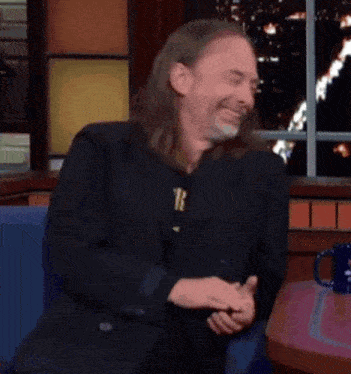 -
Follow We Are: The Guard's Weekly Chart on Spotify for more faves! xo
Sources:
Thom Yorke GIF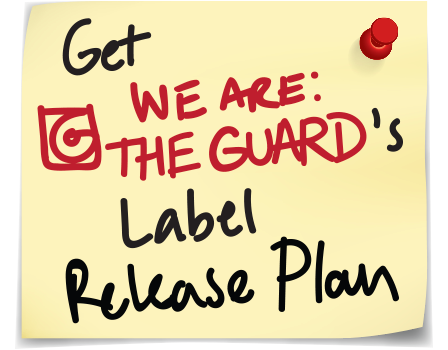 Jess Grant is a frustrated writer hailing from London, England. When she isn't tasked with disentangling her thoughts from her brain and putting them on paper, Jess can generally be found listening to The Beatles, or cooking vegetarian food.