THE 10 BEST CHILL SONGS YOU NEED IN YOUR LIFE THIS WEEK
Photo by ayokay
Happy Friday, chillheads! How are you? It's been a long working week, but finally, I'm pleased to say the countdown to 5 o'clock is officially on. Whatever you have planned for the penultimate summer weekend, the team and I are confident you'll find something to vibe to while you're at it in the latest edition of We Are: The Guardx's Best Chill Songs. Just pull on some headphones and check out the following songs from Shallou & ayokay, Four Tet, Laufey, and seven others!
-
SHALLOU & AYOKAY – US
Every once in a while, a collaboration comes along that feels like the stuff dreams are made of. Case in point:  Shallou and ayokay's "Us." Having been friends and fans of each other's music for several years, the producers are finally teaming up in euphorically lush union today on "Us." "It was one of the quickest and easiest songs I've made because me and Alex have so many common influences, and we weren't trying to make a hit or force something," reveals Shallou of the uplifting sonnet to escape.
FOUR TET – MANGO FEEDBACK
Nothing makes me happy quite like new music from Four Tet's Kieran Hebden. Just a few months on from confirming he'd settled his royalties dispute with Domino Records, the British producer is back this Friday with "Mango Feedback." Coming alongside "Watersynth," "Mango Feedback" is a bright, transcendent banger that clocks in at 5 minutes. With metallic plucks forming like fractal patterns over a four-on-the-floor beat, "Mango Feedback" is a vibrant clubscape that I can only describe as Classic Four Tet™.
LAUFEY – FALLING BEHIND
Growing up is hard to do, especially when everybody around you is falling in love, getting married, and having children, while you're still figuring out how to do the laundry. Laufey is coming to terms with these difficulties on her fragile latest single, "Falling Behind." "​​I wrote 'Falling Behind' because I felt like all the people around me were falling in love and I couldn't help but feel like I was falling behind," says Laufey of the bossa-nova-tinged delicacy, with her jazzy vocal sigh evoking pure summer melancholy.
LATE JUNE – I WANT YOU
He was recently invited to hang out and make music with Tyler, the Creator as part of Converse's All Star Series, and today, New Zealand producer and We Are: The Guard favorite Late June is back with the lush, adorable "I Want You." A collaboration with ITZY, LOONA, and Red Velvet songwriter-to-the-stars Ashley Alisha, "I Want You" is a dreamy ode to being human and going after love at all costs: "I'm over being ready/Wanna be in love so badly/So let me hold you, cos I want you yeah I do."
RUNNNER – VINES TO MAKE IT ALL WORTH IT
Having made his debut on Run for Cover Records with 2021's Always Repeating, Runnner's Noah Weinman is making his return this Friday with the beautifully delicate folk miniature "Vines To Make It All Worth It." "I wrote 'Vines To Make It All Worth It' a few years ago. It's a tiny song about placing a lot of weight on seemingly small memories, and living with the love and frustration of those moments, both then and now," notes Noah of the banjo-laced piece, which clocks in at 1 minute and 37 seconds.
PINKPIRATE – DAISY
The early stages of a relationship are among the sweetest, most innocent days of our lives, with pinkpirate capturing this sense of childlike naivety on "Daisy." Featured on her forthcoming EP, I Don't Want To Grow Up Boring, "Daisy" is a pure ode to queer devotion as built on a beat that sounds like a heart going pitter-patter. "Although it is partly a song for my partner, it's also a song to help talk about WLW relationships in general," reveals pinkpirate of the cut, which follows on from "Do You Want It All?"
EMBRZ (FEAT. BAILEY) – ALL THE LIGHTS
Just a few days on from kicking off his tour of North America, Ireland's EMBRZ is returning to our column today with the thumping "All the Lights." The follow-up to "Let Me In" hears Jack Casey teaming up with New York City singer-songwriter bailey to deliver a euphoric, uplifting song about hope. "Live for the love you hold/All the lights come out again/Oh up in the night/All the lights come out again," sings bailey, with pounding beats allowing the song to open up like an evening primrose come the chorus.
44 ARDENT – FALLFORU
We've already heard "95overflow," "nomoreheat," and "intothedeep," and this Friday, Australia's 44 Ardent is unveiling "fallforu," the sparkling fourth and final single from his brand new EP, intothedeep. According to 44 Ardent, intothedeep EP initially started out as an exploration of climate change, before taking on a life on its own. This much is evident on "fallforu," a dedication to devotion that hears chopped-and-screwed vocals and glimmering keys dancing atop a spread of subwoofer-shaking kick drums.
MINDFREAKKK – CHAOS CALLS
Introducing mindfreakkk, the Thailand actress-turned-singer-songwriter inviting us into her smoothly psychedelic jazz lounge on "Chaos Calls." Produced alongside Tanskul Suwannakudt, "Chaos Calls" is a cosmic poem about being in a toxic relationship with yourself. "I wrote this song to remind myself and others who are struggling with 'self-sabotaging' that 'we' are worth fighting for if we are willing to work on it," adds mindfreakkk of the cut, which recently headed the Spotify editorial playlist .ORG.
ODIE LEIGH – A MONTH OR TWO
TikTok star Odie Leigh is struggling to let go of a former lover on her rustic latest single, "A Month or Two." "I wrote this song about being reminded of someone you want to forget," explains the New Orleans folk musician on TikTok, having previously gone viral on the app with "Crop Circles." With gently swaying strings and acoustics interweaving with Odie and her earthy tones, "A Month or Two" is dedicated to those listeners attempting to outrun their pasts: "Isn't it fun how I'd forget you/If fate allowed me to."
-
Follow We Are: The Guard's Weekly Chart on Spotify for more! xo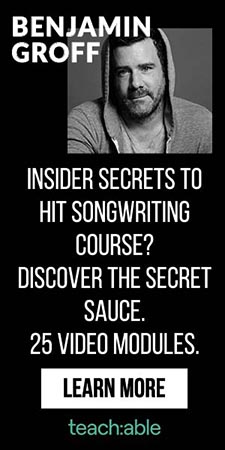 Jess Grant is a frustrated writer hailing from London, England. When she isn't tasked with disentangling her thoughts from her brain and putting them on paper, Jess can generally be found listening to The Beatles, or cooking vegetarian food.