TREAT YOURSELF WITH KINDNESS WITH THIS WEEK'S BEST CHILL MUSIC
Photo by Joanna Nix-Walkup on Unsplash
If you're feeling a little tender after the last week or so, it's okay! The news has been a lot. And while it's tempting to continue tuning into CNN for rolling updates, it's important to give yourself space and treat yourself with kindness throughout this drama. Lucky for you, that's exactly what we're all about every Friday here at We Are: The Guard. Just put some pumpkin soup on the stove, then, as it's time to get comfy with this week's edition of Best Chill Music, featuring Joy Oladokun, Serena Isioma, ford., and more.
-
JOY OLADOKUN – LOOK UP
It's been an incredibly difficult few days, weeks, and months, but Joy Oladokun is reminding us to never give up hope on the gorgeous "look up." "You know trouble's always gonna be there/Don't lеt it bring you to your knees/Look up," sings Joy on the sweeping ballad, which genuinely felt as if it picked me up from the ground. Beautiful.
SERENA ISIOMA – STOP CALLING THE POLICE ON ME
Serena Isioma comes to terms with childhood trauma on the affecting "Stop Calling the Police on Me." "'Stop Calling the Police on Me' is about searching for peace outside of the society that doesn't understand you," explains the Illinois act of the follow-up to "King," with gauzy, lucid beats supporting Serena as she recites her emotive life story.
FORD. – FRUIT&SUN
Every time I listen to ford., I feel like I'm escaping into my own little sanctuary. Case in point: "Fruit&Sun." Featured on the Utah producer's recent album The Color of Nothing, "Fruit&Sun" is a song that brings with it a definitive sense of nostalgia, with wistful, playful beats coming together like memories of childhood. "Therapeutic" doesn't cover it.
AMY ALLEN (FEAT. PINK SWEAT$) – WHAT A TIME TO BE ALIVE
The "Queen of Silver Linings" Amy Allen isn't seeing through such an optimistic lens on "What a Time To Be Alive." "This song is a call to action and a cry for help," writes the Maine native of the ballad, which focuses on the threat of climate change, with Amy and Pink Sweat$ effortlessly giving themselves over to the Beatles-esque melodies.
KAMAL. – AUTOPILOT
British singer-songwriter Kamal. has The Journey Home Blues on his latest single "autopilot." Coming as a sequel of sorts to his previous cut "about the party," "autopilot" is a somber late-night lament, with Kamal. bringing to life grey pavements, dirty night buses, and flickering city lights as he attempts to come to terms with his emotions.
JULIUS – MEMORIES
He recently took time out from music in order to recover from a car crash, but Julius is finally returning to our ears this November with the ethereal "Memories." Produced by MyKey, it's a gleaming ode to those small hours spent overthinking about friends and lovers of days gone by, with Julius delivering a vocal that's nothing short of otherworldly.
53 THIEVES – SEEK
They recently tried their hands at disco, and today, 53 Thieves are continuing to immerse us in their luxurious sounds on "seek." Coming to us via Majestic Casual, "seek" hears 53 Thieves once again bringing the bedroom vibes, with Jess Mollie and Conor Jordan trading pillowy-soft sighs against a backdrop of indulgent beats.
THUNDERCAT (FEAT. TY DOLLA $IGN & LIL B) – FAIR CHANCE (FLOATING POINTS REMIX)
"Fair Chance," the highlight from Thundercat's recent album It Is What It Is, gets a heady club remix today courtesy of Floating Points. Listen as the British producer takes the ballad, which was written in tribute to Mac Miller, and gives it a percussive lift, with the potent house beats turning "Fair Chance" into a celebration of Mac's life.
TIPHANIE DOUCET – YOU AND I
Having won We Are: The Guard over two years ago with "Under My Sun," French singer-songwriter Tiphanie Doucet returns to entrance us once again this November with her latest single "You and I." With Lou Reed-esque chugs underpinning Tiphanie's sensual lilt, "Under My Sun" is a compelling listen that'll take you to distant lands.
ELLA GRACE – I WONDER
"I Wonder" by British singer-songwriter Ella Grace is a lesson in The Art of Minimalism. The follow-up to "Pieces" hears the Instagram influencer coming to terms with the end of her long-distance relationship amid the global pandemic, with Ella's gooey vocals and very little else taking center stage on this stripped-down blues masterpiece.
-
Follow We Are: The Guard's Weekly Chart for more! x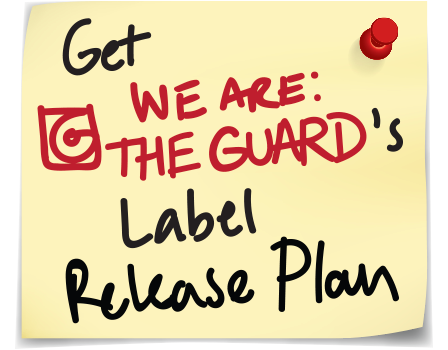 Jess Grant is a frustrated writer hailing from London, England. When she isn't tasked with disentangling her thoughts from her brain and putting them on paper, Jess can generally be found listening to The Beatles, or cooking vegetarian food.