NEW INDIE MUSIC: 10 SONGS TO START YOUR WEEK RIGHT
Happy Monday, everybody! Perhaps it's the arrival of spring, or maybe it's because Easter is approaching (Give me all of the chocolate!), but I'm feeling pretty damn good today! Hopefully you guys are too, but if not, here's the latest edition of We Are: The Guard's New Indie Music to get the week started right! Just don't forget to send me your Cadbury Bunnies in return for bringing you the following selection of indie tracks from beabadoobee, Bachelor, Jay Som & Palehound, Homeschool, and seven other favorites!
-
BEABADOOBEE – LAST DAY ON EARTH
Following on from the release of the kick-ass Fake It Flowers last year, beabadoobee is back in her bag this Monday with the gloriously grunge "Last Day on Earth." "'Last Day on Earth' is about all the things I would have done had I known we were going into a lockdown and the world was going to change the way it has," bea reveals of the cut, which was written in the British countryside alongside The 1975's Matty Healy and George Daniel. Dreamy, much? Bringing together joyous "shoops" with an unstoppable lust for life, "Last Day on Earth" is a quarantine poem for lost youth everywhere.
BACHELOR, JAY SOM & PALEHOUND – STAY IN THE CAR
Fresh off making their debut on the blogosphere at the beginning of the month with the playfully groovy "Anything at All," Bachelor is back with another big ripper this Monday in the form of "Stay in the Car." "We wanted this song to be a visceral listening experience, inspired by Pixies and The Breeders," write Jay Som's Melina Mae Duterte and Palehound's Ellen Kempner of the cut. Unsurprisingly, the 90s alt vibes are real on this one, with Bachelor embracing a mixture of quiet-loud dynamics and top-of-the-lung anthemics that'd make Kim Deal proud. More please!
HOMESCHOOL (FEAT. SAMIA) – SMARTEST MAN
She recently jumped on both "Questions" by Sister James and "Bundle of Hyacinths" by Field Music, and today, We Are: The Guard regular Samia returns as a guest on the heart-lifting "Smartest Man" by Homeschool. Written before the world was struck down by COVID-19, it's an examination of both toxic masculinity and gender dynamics as a whole, with swirling indie-rock riffs buoying both Homeschool and Samia as they declare in the electric chorus: "I wanna start a family/Just to see if they can stand me/They'll know I'm not the smartest man."
LONELY GOD – BUILT FOR THIS
Having made his breakthrough early last year with "Marlboro Nights" – a song that currently soundtracks over 200,000 videos on TikTok – Lonely God is setting his sights on even bigger success today with "Built for This." It doesn't matter who you are or where you're from, as it's quite frankly impossible to avoid getting charmed by Lonely God's zany, goofball humor and effortless grunge-rap cadence. Oh, and throw in some painfully relatable lyrics about sucking at "adulting" and one of the best music videos we've seen so far this year, and you have yourself a viral smash hit in the waiting!
METRONOMY – THE LOOK (MGMT REMIX)
This one is dedicated to all of my Indie Cindys! Coinciding with the 10th-anniversary edition of their album The English Riviera, Metronomy has unveiled MGMT's reinvention of "The Look." While the original may be one of the most famous indie anthems to have ever washed up on our shores, MGMT takes the track in a decidedly more cosmic direction, thanks in no small part to the unending lashings of reverb and Space Odyssey-esque synth solos. As YouTube user Ossie Clarks puts it: "I'm really confused on whether this slaps or messes with my head."
SHAMIR – DSHARPG (SHARON VAN ETTEN COVER)
The Shamir covers keep on coming, and yes, we're absolutely here for it! Having recently offered up his spins on both "Ocean Eyes" by Billie Eilish – a cover that dropped on our label last month – and "Just Like Heaven" by The Cure, the We Are: The Guard favorite returns today with his version of "DsharpG" by Sharon Van Etten. It goes without saying Shamir completely smashes this take on the Epic cut, with his fragile tenor effortlessly leaning into the song's unspeakable, haunted sadness, while simultaneously giving the whole thing a more airy lift. *Chef's kiss*
MANNEQUIN PUSSY – CONTROL
They recently announced the departure of their founding guitarist Athanasios Paul. Despite being reduced to a three-piece, however, Philly outfit Mannequin Pussy is sounding no less gargantuan on their latest single "Control." Has being locked indoors for the last 12 months or so caused a buildup of nervous, frenetic energy within you? Well, this is the moment of release you've been waiting for! Moving from muted beginnings to a purging curdle of punky catharsis, "Control" is an ode to breaking free from toxic, abusive situations that freaking rips!
CHIIILD – SLEEPWALKING
It's been a minute since Chiiild made their debut on We Are: The Guard with "Back To Life," but the Candian outfit has only gone from strength to strength since then. Case in point: "Sleepwalking." As the title suggests, the latest single to be unveiled from Hope for Sale is the audio equivalent of a spellbinding lucid dream. Mixing glinting guitars and a dangerously danceable beat – which is finished off by lead singer's Yonatan "xSDTRK" Ayal's soporific vocals – "Sleepwalking" is an ode to reclaiming the agency in your life that positively mesmerizes.
LUMINOUS KID (FEAT. PHOEBE BRIDGERS) – MOUNTAIN CRYSTALS
Just a couple of weeks on from sharing a brand new "sadder" version of "Kyoto" featuring Jackson Browne, Pasadena singer-songwriter and inciter of Elton John violence Phoebe Bridgers is back today as a guest on Luminous Kid's "Mountain Crystals." Fun fact: Luminous Kid actually shot the front cover of Punisher, so this isn't the first time the two artists have worked together. Horn-flecked and cinematic, "Mountain Crystals" couldn't make for a more glorious creative reunion, however, with Phoebe lending a spoken-word verse to this folky circle dance.
REAL ESTATE – RIBBON
No summer playlist is complete without Real Estate. The Ridgewood surf-rockers are returning just in time for the warmer months with "Ribbon." The closing cut from their recent EP Half a Human – which was constructed during the sessions for the band's 2020 album The Main Thing – is a gorgeously laid-back listen that unspools over the space of three minutes, with lead singer Martin Courtney's existential musings sitting pretty atop the honeyed sonics: "This vessel sustains me/But it cannot contain me/You will not convince me/This is all there is for me."
-
Until next time, why not follow We Are: The Guard's Weekly Chart on Spotify for more? See you soon! x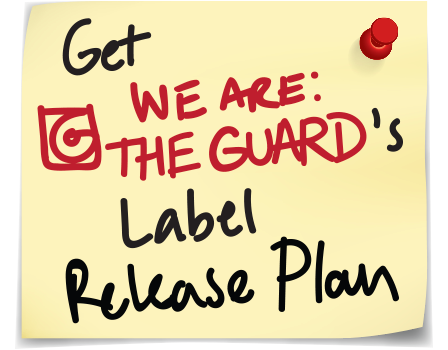 Jess Grant is a frustrated writer hailing from London, England. When she isn't tasked with disentangling her thoughts from her brain and putting them on paper, Jess can generally be found listening to The Beatles, or cooking vegetarian food.