HAPPY MONDAY: THE 10 TOP INDIE SONGS OF THE WEEK
Photo by Jasmin Chew on Unsplash
Can I just begin by saying it's absolutely no coincidence Radiohead's OK Computer and Olivia Rodrigo's SOUR were released on the same day, albeit 24 years apart? Indie legends, indie legends everywhere! Anyway! Between partaking in the SOUR Discourse™ alongside my fellow Millennials™, you'll be pleased to hear I've been busy as ever curating and compiling the latest edition of We Are: The Guard's Top Indie Songs! Enjoy the following tracks from Billie Marten, Sharon Van Etten & Angel Olsen, Japanese Breakfast, and seven other favorites!
Millennials listening to Olivia Rodrigo today pic.twitter.com/3FzN5k2Qv8

— Ben Yahr (@benyahr) May 21, 2021
-
BILLIE MARTEN – HUMAN REPLACEMENT
Billie Marten has always been one to embrace her soft vulnerability, but the British act is strapping on her armor on the desperately important "Human Replacement." The latest single to be unveiled from Flora Fauna is about the intense fear faced by women on a daily basis when walking alone at night. "You're just not safe in the evening/Walking around, you could be taken," coos Billie over menacing basslines on the song, which takes on an added sense of urgency following the death of Sarah Everard.
SHARON VAN ETTEN & ANGEL OLSEN – LIKE I USED TO
Sharon Van Etten and Angel Olsen? This is the stuff dreams are made of. The indie powerhouses are, thankfully, more than living up to expectations on "Like I Used To." Produced by John Congleton, it's a passionately intense anthem, with Sharon and Angel practically searing a hole through my soul as they sing about finding themselves again after a period of feeling lost: "Lighting one up like I used to/Dancing all alone like I used to/Giving it up like I used to/Falling in love I like I used to."
JAPANESE BREAKFAST – SAVAGE GOOD BOY
The countdown to Japanese Breakfast's Jubilee continues this Monday with the release of "Savage Good Boy." The follow-up to the sticky lead single "Be Sweet" and its atmospheric dance sequel "Posing in Bondage" hears Michelle Zauner channeling billionaire machismo over a chugging, Alex G-produced swirl of indie propulsion. The video, meanwhile, sees Michelle continuing to immerse us in her vivid cinematic universe, with the 32-year-old coming joined by The Sopranos actor Michael Imperioli.
LUCY DACUS – VBS
She recently got us gloriously "Hot & Heavy," and this Monday, Lucy Dacus returns with another potent piece of storytelling in the form of "VBS," short for "Vacation Bible School." "I went to tons of them. It's where Christian parents send their kids over the winter, spring, or summer breaks from school to get closer to God," reveals Lucy of the song, which hears her coming to terms with her childhood trauma over soft acoustic strums, before erupting into a moment of distorted catharsis.
JACK GRACE – REDEMPTION
It's been a minute since we last heard from Jack Grace, but the Australian act returns in fine form this Monday with "Redemption." The latest single to be unveiled from his forthcoming debut album Turn To Something You Know, due out in July, is a driving synth odyssey about the search for a connection amid the chaos. Bringing together Bruce Springsteen-esque heartland-synth melodies and a distinctly contemporary sense of existential dread, "Redemption" is a profoundly evocative masterpiece.
APPLEBY – HALF LIFE
When creativity strikes, it can feel like capturing lightning in a bottle. "Pretty music" purveyor Appleby understands this alchemy more than most on his latest single "Half Life." "The writing process for 'Half Life' was organic and borderline magical. It fell out of me like the idea was in a rush to exist," explains Appleby of the cut. Sparking and sputtering with a frantic, spontaneous jolt of nervous energy, "Half Life" is the kind of song that makes you feel invincible even in the darkness.
BINKI – CLAY PIGEON
Having got his start in acting before pivoting to music after an ex-girlfriend introduced him to Pink Floyd's The Dark Side of the Moon, Pennsylvania act binki is making his debut on We Are: The Guard this Monday with the thrashingly anthemic "Clay Pigeon." The first taste from his forthcoming EP MOTOR FUNCTION, due out in August, is an unrelenting blend of hip-hop and grunge aesthetics, with binki's raw rapping pairing with Joy Division-indebted basslines for a genre-bending banger like no other.
FAYE WEBSTER – I KNOW I'M FUNNY HAHA
Ahead of the release of I Know I'm Funny haha next month, Faye Webster has shared the title song of the same name. The follow-up to "Cheers" hears Faye continuing to double down on her sardonic, self-deprecating, stream-of-consciousness songwriting. With lyrics referencing everything from a landlord stealing her deposit, to getting drunk at dinner parties, to Linkin Park's bassist, "I Know I'm Funny haha" is another laconic slice-of-life from this Secret Canadian signee.
TERRY PRESUME – ZAZA AND SOME RUNTZ (SMOKE BREAK)
Terry Presume has no time for conforming or signing up to trends on his latest single "ZaZa and Some Runtz (Smoke Break)." Listen as the Tennessee rapper, producer, and all-around Renaissance man unites lashings of funk, hip-hop, and neo-psychedelia for this genre-defying ode to the mind-expanding effects of illicit substances. A rally point for those who have never fit into a particular mold or societal norm, "ZaZa and Some Runtz (Smoke Break)" is a groovy anthem for counterculturalists everywhere.
SAN HOLO (FEAT. CHET PORTER) – YOU'VE CHANGED, I'VE CHANGED
San Holo and Chet Porter are both regulars in our Chill column, but the We Are: The Guard favorites are finally making the transition over to our Indie pages with the vibant "you've changed, i've changed." The latest single to be unveiled from San's forthcoming sophomore album bb u ok? , due out next month, hears the two artists continuing to take complex, unspeakably mixed emotions and render them in ultra-high-definition, with San and Chet riding a white-hot bolt of clarity as they hammer on their guitars.
-
Follow We Are: The Guard on Spotify for more! xo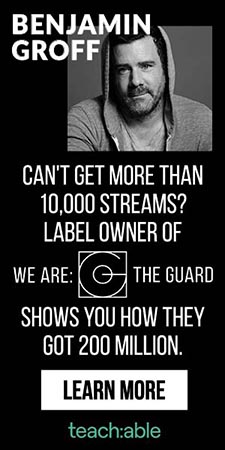 Jess Grant is a frustrated writer hailing from London, England. When she isn't tasked with disentangling her thoughts from her brain and putting them on paper, Jess can generally be found listening to The Beatles, or cooking vegetarian food.