10 TOP INDIE SONGS TO KICK-START YOUR WEEK
RIP to this absolute GOAT.
One of the most iconic performances in music history.

DMX in front of the whole world at Woodstock 99 pic.twitter.com/NhE11afUZA

— Complex Music (@ComplexMusic) April 9, 2021
If you or someone you know is struggling with substance abuse, contact SAMHSA's National Helpline at 11-800-662-4357.
Check out the latest edition of We Are: The Guard's Top Indie Songs, featuring Ritt Momney & Claud, Wallice & Marinelli, Overcoats, and more.
-
RITT MOMNEY & CLAUD – SET THE TABLE
Ritt Momney and Claud? Hell to the yes! The indie-pop upstarts come together this Monday for the utterly anthemic "Set the Table." According to Ritt – who went viral on TikTok late last year with his cover of Corinne Bailey Rae's "Put Your Records On" – "Set the Table" is all about "feeling like a disruptor within a family." Needless to say, Ritt and Claud channel this outsider energy to angsty perfection, with prickly guitars giving way to a cathartic surge of a chorus that ought to be screamed from the lungs of nonconformists everywhere.
WALLICE & MARINELLI – HEY MICHAEL
Wallice has had it up to f*cking here with f*ck boys on her latest single – the Marinelli-featuring "Hey Michael." The follow-up to "23" is another crushingly relatable banger from this recent Featured Find. "'Hey Michael' is a revenge anthem for anyone who has encountered a gaslighting, manipulative person. It's what I wish I would have said to all the 'Michaels' I have met in my life," reveals Wallice of the cut, which hears grunge guitars surging behind the California artist as she deftly dismembers her Tarantino-worshiping exes. I have to laugh!
OVERCOATS (FEAT. TENNIS) – THE HARDEST PART
It's no secret we absolutely adore Overcoats here at We Are: The Guard, so you can imagine our delight when the New York duo returned to our inbox this April with "The Hardest Part." Lifted from their forthcoming EP Used To Be Scared Of the Dark – due out in June on Loma Vista Recordings – it's a soft, lulling retro-pop chug that hears Hana Elion and JJ Mitchell teaming up with Tennis to depict the pain of a breakup over melted honey guitars: "Life goes on, we'll never know/That's the hardest part about letting you go." Gulp!
JAPANESE BREAKFAST – POSING IN BONDAGE
Following on from the release of the ebullient blast of sugary synth-pop "Be Sweet," Japanese Breakfast's Michelle Zauner returns this Monday with "Posing In Bondage." "'Posing in Bondage' is a ballad about loneliness and longing, a song about two people who want so badly to connect but are never quite able to do so," reveals Michelle of the achingly atmospheric, heart-searing dirge, which comes accompanied by perhaps the most badass video of the year so far (Ramen? Check! Hoverboards? Check! A blood-splattered Japanese Breakfast? Check, check, and check!).
BRISTON MARONEY – BOTTLE ROCKET
I don't know what Illuminati-type sorcery I just watched, but at least the song rocks! Knoxville native Briston Maroney continues his grungy takeover this Monday with the fuzzily hypnotic "Bottle Rocket." Written about that feeling of going around in circles and getting nowhere fast ("And all my life, waiting for a little spark/All my time, circling around the dark/It's a pretty good place to start"), "Bottle Rocket" is a crunchy dive into Briston's downward spiral that demands to be played at maximum volume. Sunflower is out now!
WILL ORCHARD – SORRY, BABY
There's something comfortingly familiar about the music of Will Orchard. Case in point: "Sorry, Baby." The follow-up to "Rita" hears the Rhode Island folk artist continue to weave his trembling voice around his salt-of-the-earth songwriting – the kind that sounds like it's existed since the dawn of time. "This song is about acknowledging that you've done harm, while also recognizing your own inherent value and loving yourself despite (and including) your flaws," reveals Will of the homely acoustic sprawl. "It's a balance that's hard to strike."
DARKSIDE – THE LIMIT
Coinciding with the announcement of their sophomore album Spiral – due out in July via Matador Records – DARKSIDE is back this April with "The Limit." Written and recorded in the summer of 2018 – when band members Dave Harrington and Nicolas Jaar spent time living on Lenni-Lenape territory in New Jersey – the sequel to January's "Liberty Bell" is a dark, twisting, shape-shifting groover that hears DARKSIDE returning to their jam band roots. Light one up and enjoy!
REYKO – COMING BACK
Just a few weeks on from dropping their cover of EMF's "Unbelievable" on We Are: The Guard's very own record label, Spanish duo REYKO is returning today with the gargantuan "Coming Back." With the guitar riff of the century supporting mononymous frontwoman Soleil's breathy, whispery coo (think Queens of the Stone Age or Royal Blood if fronted by Björk), "Coming Back" is a rock-and-roll ripper of quite frankly monstrous proportions. BRB, cranking this one up to 11 until the neighbors come knocking!
BIG THIEF – OFF YOU (THE BREEDERS COVER)
Big Thief is gently easing us into the working week with their cover of "Off You" by The Breeders. Lifted from the 4AD compilation Bills & Aches & Blues – which also features Tkay Maidza's psychedelic revision of "Where Is My Mind?" by Pixie and Spencer.'s previously featured cover of "Genesis" by Grimes – it's a spindly, emotive reinterpretation of the Title Tk classic. Headed by Adrianne Lenker's elfin twang and weaving acoustics, it's a minimalist cover of an already minimalist song that makes for a soft escape this Monday.
LIFE IN SWEATPANTS – GOOD 2 YOURSELF
Karl Lagerfeld once said: "Sweatpants are a sign of defeat. You lost control of your life so you bought some sweatpants." Life in Sweatpants has us inclined to disagree, however, with their latest single "Good 2 Yourself." From the very first second, the California collective is asserting themselves with this dazzling disco groover. Bringing together a playful rhythm section and one of the most shimmering choruses We Are: The Guard has heard this year, the follow-up to "Lala" is nothing short of an indie-pop triumph.
-
Until next week, catch you over at Spotify for more. x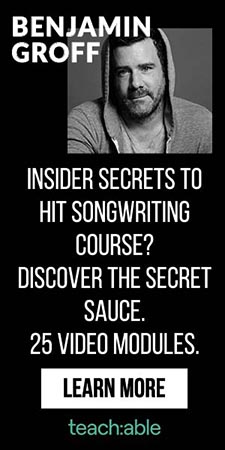 Jess Grant is a frustrated writer hailing from London, England. When she isn't tasked with disentangling her thoughts from her brain and putting them on paper, Jess can generally be found listening to The Beatles, or cooking vegetarian food.