NEW INDIE MUSIC: 10 SONGS TO GET YOU READY FOR SUMMER
Can you believe it's almost May already? Summer is within touching distance, and I'm not sure about you guys, but I couldn't be more excited! While it still feels too early to make plans, I'm pretty much counting down the minutes until we can once again enjoy road trips, barbecues, and pool parties with friends. There's no summer without music, though, which leads me nicely on to the latest edition of We Are: The Guard's New Indie Music. As the vaccines continue to roll out, the days continue to get brighter, and the temperatures continue to soar, it's time to check out the following 10 indie bops from Lucy Dacus, Oscar Lang, JAWNY, and others!
-
LUCY DACUS – HOT & HEAVY
Body armor at the ready, as Lucy Dacus is coming to emotionally destroy us all over again with her brand new single "Hot & Heavy!" While her previous single, the mythological fan-favorite "Thumbs," heard her taking a more solemn approach to her songwriting, "Hot & Heavy" hears Lucy leaning into the more playful, upbeat side of her sound. That's not to say it isn't completely and utterly soul-crushing, with Lucy lyrically focusing on the pain that comes with revisiting – and ultimately choosing to let go of – past memories.
OSCAR LANG – STUCK
If you're struggling with the early start this Monday morning, then allow We Are: The Guard to prescribe you "Stuck" by Oscar Lang! The British rock-and-roller is guaranteed to wake you up like a splash of bitterly cold water to the face with his ferocious latest single. "'Stuck' is about the feeling of replaying embarrassing situations in your mind to the point where you feel overwhelmed with all the voices in your head," explains Oscar of the track, which masterfully channels the overstimulated chaos of a socially anxious brain. Believe me, I'd know!
JAWNY – BEST THING
JAWNY had an absolutely huge 2020, but he's showing no signs of slowing down this year with the release of the gloriously, delightfully funky "Best Thing." If it's a summer mixtape essential you're looking for, then trust me, you're not going to be disappointed by this latest offering from the Interscope artist formerly known as Johnny Utah. Inspired by everything from Tyler, the Creator's GRAMMY Award-winning album IGOR to flamenco music, "Best Thing" is a pitch-shifted, Latin-flavored bop that hears JAWNY taking on the character of an obsessive boyfriend named Hugo. Enjoy!
ANJIMILE & JAY SOM – IN YOUR EYES (REFLECTION)
Coinciding with the announcement of Reunion EP – an orchestral reimagination of their fantastic, amazing, incredible debut album, 2020's Giver Taker – Boston's Anjimile has shared a brand new version of "In Your Eyes" featuring Jay Som. If you didn't think the original could get any more gorgeous, then you're probably going to have to think again! Featuring opulent string arrangements courtesy of Daniel Hart, "In Your Eyes (Reflection)" is nothing short of a work of art, with Anjimile and Jay's vocals coming swept up like angels in the lush, exquisite grandiosity. Stunning stuff!
GIRL IN RED – YOU STUPID BITCH
I've barely recovered from my "Serotonin" listening marathon, but girl in red is already back this Monday with another track that's leaving We Are: The Guard utterly breathless. According to Marie Ulven, "You Stupid Bitch" was inspired by a line in The Perks of Being a Wallflower: "We accept the love we think we deserve." Written about the frustration of watching someone you care about get hurt over and over again, "You Stupid Bitch" is an angry, emotionally loaded banger that has us super stoked for if i could make it go quiet – due out on April 30th!
SAM GELLAITRY – DUO
Sam Gellaitry is back, baby! Having made his name on SoundCloud over the last decade, the Scottish producer and singer-songwriter is setting his sights on more mainstream success this Monday with the brilliant "Duo." Opening to a groovy bassline as offset by silvery splashes of piano, "Duo" announces itself as an immediate dance-floor anthem. It's the unashamedly funky guitar solo in the second half of the song that seals the deal for We Are: The Guard, however, with Sam delivering a track that's going straight on our Post-Pandemic Party Playlist. 10/10!
ROSIE TUCKER – HABANERO
Having recently signed to Epitaph, We Are: The Guard favorite Rosie Tucker is getting ready to introduce themselves to an international audience with the soul-destroying folk-punk of "Habanero." Fans of Phoebe Bridgers, Courtney Barnett, and other powerhouse poets are certain to love the hyperrealistic rhymes of this Featured Find. Comparing the flush of a crush to biting down on a hot chili pepper, "Habanero" is a melancholy acoustic swirl that announces in the absolute kicker of a chorus: "Wouldn't we be perfect together if we wanted exactly the same thing?"
M.A.G.S. – CHOKED OUT
Elliott Douglas – better known to most of us as M.A.G.S. – is getting reflective on his brilliantly boppy latest single "Choked Out." "'Choked Out' explores the journey of self-love and the duality of our internal dialogue. Sometimes the darkest part of the human experience is the constant battle between the truth and what our inner voice tells us," explains the Los Angeles buzz artist of the cut – which is taken from his forthcoming sophomore album Say Things that Matter – with Elliott's existential angst coming rendered through a glorious, chugging retro-pop lens. Excellent!
BOYISH – YOUR BEST FRIEND
Purveyors of Euphoria-worthy bedroom-pop Boyish continue to immerse us in ultra-violet on "Your Best Friend." The latest single to be unveiled from the New York City duo's forthcoming EP We're All Gonna Die, but Here's My Contribution –  due out in May – is a dreamily depressive lament that appears to focus on an unrequited love for a friend. No matter how you choose to interpret the lyrics, however, "Your Best Friend" is guaranteed to soak right through to your emotional core, leaving you wanting more, more, more from India Shore and Claire Altendahl!
PARIS TEXAS – FORCE OF HABIT
This is cool as sh*t! New kids on the block, Paris Texas, make their debut on We Are: The Guard with "FORCE OF HABIT." Coming ahead of their debut project Boy Anonymous, "FORCE OF HABIT" is a brooding slab of what I can only describe as grunge-rap. "Walk around like I'm the shit/I think it's a force of habit/All I think about is checks/I think it's a force of habit," spit the Los Angeles duo over a gray-scale spread of low-slung riffs and head-nodding beats, resulting in a moody-ass bop that feels less like a song and more like a mission statement.
-
Follow We Are: The Guard's Weekly Chart for more indie bops! xo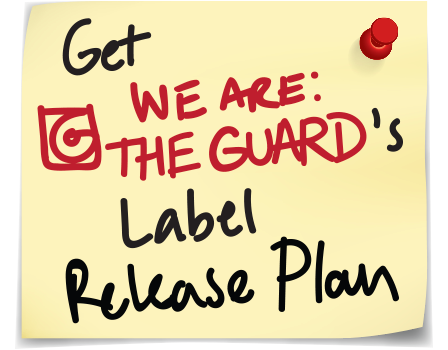 Jess Grant is a frustrated writer hailing from London, England. When she isn't tasked with disentangling her thoughts from her brain and putting them on paper, Jess can generally be found listening to The Beatles, or cooking vegetarian food.