NEW INDIE MUSIC: 10 SONGS THAT WERE ON FIRE THIS WEEK
Photo by Marco Testi on Unsplash
Hi, everyone! How are you? How was your weekend? Did you manage to get tickets to the Phoebe Bridgers tour? Me neither *cries*! Anyways! Perhaps it's the heat delirium talking, but music has truly been on fire of late. I genuinely struggled to get this column down to 10 songs and 10 songs only, but after much sweat and even more tears, I finally managed to do it. Just don't forget to stay hydrated while scrolling through the latest dose of We Are: The Guard's New Indie Music, featuring Clairo, Caroline Polachek, Soccer Mommy, and lots of others!
holy fuck.

— traitor joe (@phoebe_bridgers) July 16, 2021
-
CLAIRO – AMOEBA
Clairo continues to mature into one of the finest songwriters of her generation on Sling – the highlight of which unquestionably comes in the form of "Amoeba." Produced by Bleachers mastermind Jack Antonoff, "Amoeba" is a jaunty, almost Elton John-esque listen to which you can happily tap your foot. Shadows are lurking not far beneath the lighthearted, funky grooves, however, with Clairo quietly reflecting on a life of loss and loneliness: "I can hope tonight goes diffеrently/But I show up to the party just to leavе."
CAROLINE POLACHEK – BUNNY IS A RIDER
Former Chairlift frontwoman Caroline Polachek continues to reinvent herself as a metaphysical pop star for the modern age on the sizzlingly groovy "Bunny Is a Rider." The follow-up to 2019's Pang hears Caroline embodying an alter ego by the name of – that's right – "Bunny" to deliver a fiery futuristic bop as produced by PC Music's Danny L Harle. "'Bunny Is a Rider' is a summer jam about being unavailable," says Caroline. "Bunny is slippery, impossible to get a hold of. Anyone can be Bunny, at least for three minutes and 17 seconds."
SOCCER MOMMY – ROM COM 2004
Soccer Mommy is getting weird, and I'm quite frankly here for it, on her latest single "rom com 2004." Coming just over a year on from the release of the critically acclaimed color theory, "rom com 2004" starts out relatively prosaic, with Sophia Allison providing plenty of youthful melodrama as she sings: "I'd rather die in your arms than/Watch you move on without me." It's after the first chorus things get really freaky, however, with Soccer Mommy glitching the song beyond all recognition with lashings of degradation.
CHIIILD & JENSEN MCRAE – GONE
I didn't think I could love "Gone" any more than I already did, but it turns out I was very, very wrong. Just a couple of months on from sharing the soft, swooning original, Canada's Chiiild returns this Monday with an absolutely scintillant remix featuring We Are: The Guard favorite Jensen McRae. "'Gone' featuring Jensen is a reminder that there are always two sides to every story," writes Chiiild's Yonatan "xSDTRK" Ayal of the remix, with Jensen lending a brand new sense of dynamism and radiance to the song as she sings of miscommunication in love.
YVES TUMOR – CRUSHED VELVET
Just a few weeks on from sharing the gargantuan "Jackie" – a song I said "could crack the sky in two" – Yves Tumor is back today with "Crushed Velvet." Featured on the Miami-born, Knoxville-raised act's brand new EP The Asymptotical World, "Crushed Velvet" is an electrifying rock-and-roll odyssey that ranks among Sean Bowie's most accessible offerings to date. That doesn't mean it isn't a total trip, though, with the thudding basslines and shimmering acoustics carrying "Crush Velvet" to a truly searing, blistering climax.
CHVRCHES – GOOD GIRLS
Having recently collaborated with The Cure's Robert Smith on "How to Not Drown," Scottish trio CHVRCHES continues the countdown to Screen Violence this Monday with the release of the dazzlingly vengeful "Good Girls." "We're told that 'Bad Things' don't happen to 'Good Girls.' That if you curate yourself to fit the ideal – keep yourself small and safe and acceptable – you will be alright, and it's just not fucking true," says Lauren Mayberry of the cut, with her justifiable rage coming chromed in laser-beam synth pyrotechnics. 10/10!
HAIM – CHERRY FLAVORED STOMACH ACHE
The HAIM sisters are once again fighting for a place in your summer playlists this Monday with their brand new single "Cherry Flavored Stomach Ache." Written for the upcoming Netflix movie The Last Letter From Your Lover – directed by Augustine Frizzell and starring Shailene Woodley – "Cherry Flavored Stomach Ache" is a driving, propulsive dose of retro-pop that sounds like faded polaroid come to life as HAIM sings of A Very Teenage Heartbreak: "There's a boy with chеrry-colored lips/More like chеrry-flavored stomach ache."
SYD – FAST CAR
The Queen returns! Just in time for the final weeks of July, Syd is delivering the summer queer love song we deserve today in the form of "Fast Car." "I wanted to make something for the gay Black girls. I want them to see themselves in this and in me," says the Internet member of the follow-up to February's "Missing Out." Bringing together Syd's buttery smooth vocals with a swelteringly 80s production, "Fast Car" is practically made for cruising along the coast with your amour by your side. Oh, and that guitar solo? Prince is quaking!
THE GREETING COMMITTEE – FLOAT AWAY
They recently made their debut on We Are: The Guard with "Can I Leave Me Too?," and this Monday, Kansas City-based outfit The Greeting Committee continues to showcase their cosmic potential with "Float Away." Written by Addie Sartino about her battle with depression ("Glad it's raining so I don't have to go outside/And pretend I'm happy just to be alive," she sings in the utterly gutting opening verse), "Float Away" is a static, distorted swan dive into the modern affliction that possesses a kind of supernatural power about it.
LALA LALA – DIVER
Learn to love the struggle. It's this precise sentiment Lala Lala comes to terms with on her breathless latest single – the Kate Bush-inspired, Greek mythology-referencing "DIVER." The first offering unveiled from her forthcoming album I Want the Door To Open begins understated, with Lala singing of a situation seemingly just out of her reach. It's once the chorus hits, though, that "DIVER" finds its euphoria in its strife, with pummeling beats backing Lala as she sings of "swimming out towards my new life."
-
Why not follow We Are: The Guard's Weekly Chart for even more? xo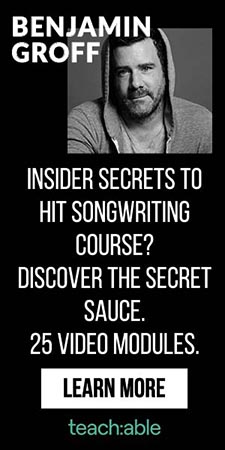 Jess Grant is a frustrated writer hailing from London, England. When she isn't tasked with disentangling her thoughts from her brain and putting them on paper, Jess can generally be found listening to The Beatles, or cooking vegetarian food.