THE 10 TOP INDIE SONGS YOU IN YOUR LIFE THIS WEEK
Photo by Tyler Nix on Unsplash
Hi, you guys! How are you? How was your weekend? Did you manage to get outside and enjoy this beautiful weather? Fun fact: I finally got my first dose of the vaccine yesterday, so I'm feeling pretty excited and optimistic for the summer ahead! Can you believe we're basically halfway through the year, though? Time is going far too quickly for my liking! Before any more of it goes to waste, then, let's crack on with the latest edition of We Are: The Guard's Top Indie Songs, featuring Yves Tumor, Soccer Mommy, Twin Shadow, and plenty of other favorites!
-
YVES TUMOR – JACKIE
I think this YouTube comment puts it better than I ever could: "Yves Tumor continues to be arguably the most fascinating musical artist in the game right now. What's more impressive is that they sacrifice no accessibility or catchiness with their tunes in the process." Born in Miami, Florida, raised in Knoxville, Tennessee, and based in Turin, Italy, Yves continues to assert themselves as a cosmic rock star for the ages on "Jackie" – a gargantuan breakup song that could crack the sky in two.
SOCCER MOMMY – KISSING IN THE RAIN
Just a few weeks on from sharing her cover of "Wide Open Spaces" by The Chicks, Soccer Mommy's Sophia Allison returns to our column this Monday with "Kissing in the Rain." Featured on Dark Nights: Death Metal Soundtrack – a musical accompaniment to the DC Comics storyline Dark Nights: Death Metal – "Kissing in the Rain" is the kind of murky chugger fans have come to expect from Sophia, with guitars churning like blackened waters as the 24-year-old sings of being messy in unrequited love.
TWIN SHADOW – SUGARCANE
Twin Shadow continues to countdown to the release of his self-titled fifth album by sharing "Sugarcane."  Like "Johnny & Jonnie," "Alemania," and "Get Closer" before it, "Sugarcane" is another tropical groover that hears George Lewis Jr. further exploring his Dominican roots. "Though our sorrows feel the same/Girl, you taste like sugarcane," sings Twin Shadow in the perfectly poppy chorus – the kind that makes you want to gorge on sweet, juicy summer fruits while dipping your toes in the deep.
JELANI ARYEH – OVEREXPOSED
If social media has ever left you feeling overwhelmed, overstimulated, and – in Jelani Aryeh's words – "Overexposed," then this song is for you. "This song stemmed from a conversation about how social media never lets you feel like you can be alone with your own thoughts because you're always being updated on things that you don't need to know or care about," says Jelani of the cut – a soft, chugging groover that provides some much-needed breathing space from the hysterical churn of the Internet.
SIPPER – FUCK JUNE
There isn't a whole lot I can tell you about Sipper – other than they're from New York and they recently released an EP named after Adam Driver – but it really doesn't matter as Sipper is letting the music do the talking on "Fuck June." Clocking in at around three minutes, it's a bejeweled disco banger about – well – hating June. "It's all gone so soon/I go back to my room/I'm still so mad at you/But fuck June," laments Sipper on the anti-summer anthem, which ironically glitters brighter than the sun.
ETHAN FIELDS – MEZZANINE
He recently made his name on TikTok with his impressions and musical mash-ups, but Ethan Fields is turning his attention to bigger and better things this Monday with the release of his brand new single "Mezzanine." Currently studying at Harvard, Ethan is delivering a shoegaze-esque sound I can only describe as "epic" on his latest offering. With a vocal line made to be screamed at the top of the lungs pairing with reverb-drenched guitars, "Mezzanine" is nothing short of a coming-of-age odyssey.
DRUG STORE ROMEOS – SECRET PLAN
Having recently made their debut on We Are: The Guard with "What's on Your Mind," Britain's Drug Store Romeos is back with another dose of psilocybin-pop today in the form of "Secret Plan." Written while the Hampshire band were in COVID-19 lockdown, "Secret Plan" sounds like the audio equivalent of a carousel going in slow-motion. Bringing together luminous fairground synths and tempo changes galore, "Secret Plan" is the latest dreamy taste of The world within our bedrooms – due out Friday!
J EMBER – SLEEP WELL
While we listen to more music than we can count here at We Are: The Guard, every once in a while, a song inevitably falls under our radar. "Sleep Well" by Canada's j ember is one of those songs. Originally released in March, "Sleep Well" may be reaching us over three months late, but that doesn't mean it's not a quintessential addition to summer mixtapes. A somber, lethargic piece of psychedelic-pop about the highs and lows of love, "Sleep Well" goes out to lonely hearts everywhere this June.
PIZZAGIRL – SUGAR RAY
If I had to describe the music of pizzagirl in one word, it'd undoubtedly be "joyous." While there's a strong sense of melancholy underpinning almost all of his creations, the Liverpool act approaches everything with such wit and wide-eyed wonder that it's almost impossible to not smile. Case in point: "sugar ray." A song about reminiscing over an ex who still listens to the Newport Beach band, "sugar ray" is a gloriously knotty indie-pop bop as lifted from softcore mourn – due out July 16th!
M.A.G.S. – BEG
Born in Buffalo, New York, and based in Los Angeles, California, We Are: The Guard regular M.A.G.S. continues his meteoric rise through the rock-and-roll stratosphere this Monday with the release of "Beg." The follow-up to "Choked Out" – a song that explored "the journey of self-love and the duality of our internal dialogue" – hears M.A.G.S. singer Elliott Douglas cranking up the fuzz and distortion in order to deliver a stomping garage anthem about the oh-so-toxic push and pull of a relationship.
-
Don't forget to follow We Are: The Guard's Weekly Chart for more! xo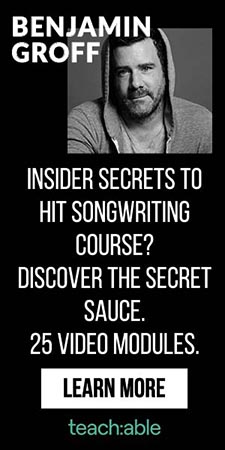 Jess Grant is a frustrated writer hailing from London, England. When she isn't tasked with disentangling her thoughts from her brain and putting them on paper, Jess can generally be found listening to The Beatles, or cooking vegetarian food.