NEW INDIE MUSIC: THE 10 BEST SONGS OF THE WEEK
Photo by Wesley Tingey on Unsplash
Donda is finally here, but if you're looking for something a little less problematic to listen to this Monday, then I'm pleased to tell you you're in the right place. Summer is almost at an end, but there's plenty to keep you busy as we head into September in the latest edition of We Are: The Guard's New Indie Music. Just don't forget to give us a follow over at Spotify after checking out the following selection of songs from The Greeting Committee, Porches, Sleigh Bells, and lots more.
-
THE GREETING COMMITTEE – ADA
The Greeting Committee keep on getting better and better. Ahead of the release of their sophomore album Dandelion, the Harvest Records signees have shared the equally ferocious and beauteous "Ada." Written for the Kansas City photographer Ada Brumback, "Ada" is an impassioned study of the marginalization faced by transgender people on a near-daily basis. "I knew this wasn't my story to tell, but instead the story of someone I fiercely admire," says The Greeting Committee's Addie Sartino. Listen.
PORCHES – LATELY
Porches continues the countdown to his forthcoming fifth album All Day Gentle Hold ! this Monday with the release of the quiet-loud ripper "Lately." The follow-up to the previously featured "Okay" – a song that heard the Pleasantville act throwing himself into a rockier sound – hears Aaron Maine continuing to harness that urgent, guitar-driven energy. It isn't completely devoid of weirdness, however, with Porches playing around with syncopation to dizzying, electrifying effect.
SLEIGH BELLS – JUSTINE GO GENESIS
Just a few weeks on from sharing "Locust Laced" – which resembled a cheerleader chant as filtered through a Final Fantasy boss fight – Sleigh Bells are back today with the equally eclectic "Justine Go Genesis." Like "Locust Laced" before it, "Justine Go Genesis" hears Alexis Krauss and Derek E. Miller doubling down on the hyperpop they helped to pioneer, with distorted riffs and Aphex Twin-esque jungle beats forming a chaotic mosh pit beneath Krauss as she declares: "I'm a cavity, comedy girl!"
GIRLHOUSE – CONCUSSION
Coinciding with the announcement of her forthcoming EP The Second, girlhouse's Lauren Luiz has shared the softly ascendant "concussion." According to Luiz, "concussion" was written about "a monumentally shit day." Opening with Luiz describing a car accident, before turning her attention to a toxic relationship, "concussion" is a gleaming chugger that points to her dark, self-deprecating sense of humor: "I think I know you well/I'm something of a kiss and tell/Concussion gives me dizzy spells."
THE BRAZEN YOUTH – CLOUD PARADE
They recently shared the intimate, deeply personal "Hometown," and this Monday, We Are: The Guard favorites The Brazen Youth are making their return with "Cloud Parade." Written and produced by The Brazen Youth's Nicholas Lussier, Charles Dahlke, and Micah Rubin, "Cloud Parade" is another pastoral folk stomp that speaks of a love that surrounds you like a warm comfort blanket. It's not all rustic, however, with synthesizers shooting out hints of neon during the instrumental bridge.
BIG RED MACHINE (FEAT. TAYLOR SWIFT) – BIRCH
They duetted earlier this year on "Renegade," and today, Big Red Machine's Aaron Dessner and Justin Vernon are collaborating with Taylor Swift once again on the mournful "Birch." While "Renegade" heard Swift taking center stage, "Birch" finds the folklore act sharing the spotlight with Vernon over resonant pianos and itchy, skittish beats by The National's Bryan Devendorf. Flourishes of horns, meanwhile, lend the cut a sense of sumptuousness, with the lyrics appearing to be an elegiac ode to aging.
MEN I TRUST – SUGAR
There's only a handful of days to go until September, but Men I Trust are taking us on one final summer road trip with "Sugar." Featured on their recent fourth album Untourable Album – a 13-song collection that Men I Trust wrote and recorded during lockdown, originally with no intention of touring it – "Sugar" is a smooth-sailing groove about dead-end relationships. "It goes on and on and on/And it goes on and on and on again," sighs Emmanuelle Proulx, her voice dripping with dreamy resignation.
MACY RODMAN & SHAMIR – PUNK ROCK BOYFRIEND
He recently signed her to Accidental Popstar, and today, We Are: The Guard regular Shamir is duetting with Macy Rodman on the nostalgia-inducing "Punk Rock Boyfriend." "I wrote this song thinking about a high school crush that I wished I'd had the courage to ask out at the time. It's kind of like a fan fiction of a personal memory," says Rodman. With jangly guitars and driving drums lending the cut a youthful, coming-of-age energy, "Punk Rock Boyfriend" is sure to leave you breathless.
HELADO NEGRO – OUTSIDE THE OUTSIDE
As summer slowly comes to a close, Helado Negro is seeing it out in style on the hypnotic "Outside the Outside." According to Helado, the follow-up to "Gemini and Leo" is a tribute to human connection and his immigrant parents. "My family came to this country as outsiders looking for and finding community. People would come to our house and bond through music, food, and dancing," writes Negro. A sultry groove as comforting as an embrace, "Outside the Outside" is a captivating conclusion to August.
EYEDRESS – BODY DYSMORPHIA
Having recently played sold out shows in Los Angeles and New York City, Eyedress is making his return to our column today with "Body Dysmorphia." Featured on his recent fourth album Mulholland Drive, "Body Dysmorphia" is a tender shoegaze swirl about defying unrealistic beauty standards. "It's about loving your image and who you are. You have to fit into the beauty standards of the world, which is a problem," explains Eyedress. "I wanted to make a song about loving yourself for who you are." Enjoy.
-
Follow We Are: The Guard's Weekly Chart on Spotify for lots more. xo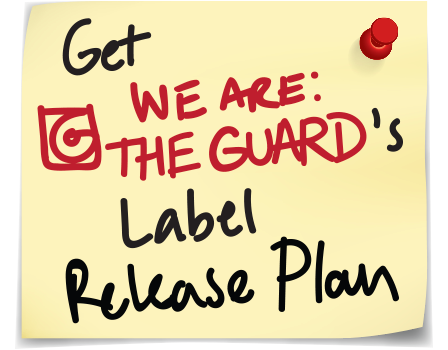 Jess Grant is a frustrated writer hailing from London, England. When she isn't tasked with disentangling her thoughts from her brain and putting them on paper, Jess can generally be found listening to The Beatles, or cooking vegetarian food.