THE 10 TOP INDIE SONGS YOU NEED IN YOUR LIFE THIS WEEK
Photo by Elias Jonassønn on Unsplash
My Twitter and Instagram feeds have been packed full of photos and videos of friends and strangers at festivals over the weekend, and honestly? I've been loving it! It feels like, after so long without gigs and concerts, we're finally getting the chance to be a music community again! Just don't forget to stay safe and take care of each other, plus get tested if you develop any symptoms! Check out the latest edition of We Are: The Guard's Top Indie Songs, featuring girlhouse, Sleigh Bells, Jelani Aryeh, and lots more!
-
GIRLHOUSE – HAPPY NOW
Coinciding with the announcement of a string of North American and European dates, girlhouse's Lauren Luiz has shared the epic "happy now." "'happy now' is about trying to make someone else happy at the expense of your own mental health. I wrote it shortly after moving to Nashville and had a lot of anger at the time. It was recorded and produced in the basement of a frat house in Nashville," says Luiz of the cut. With nostalgic vocals fit for a rom-com coming set against a swirl of 90s riffs, "happy now" is an alt anthem that'll go down a treat with live audiences.
SLEIGH BELLS – LOCUST LACED
Just over 10 years on from the release of their groundbreaking debut album Treats, Sleigh Bells is back and sounding bigger than ever on "Locust Laced." The first single to be unveiled from the Brooklyn duo's forthcoming album Texis is very much a signature Sleigh Bells banger. "We stopped worrying about whether or not we're in or out of our comfort zone, or if we were being repetitive or formulaic," says Sleigh Bells of the cut, which opens like a Final Fantasy boss fight, before erupting into a volcano of metal riffs and cheerleader vocal bubblegum.
JELANI ARYEH – A PIECE OF YOUR MIND
Ever since the days of "Stella Brown," there's been a feeling of nostalgic escapism about Jelani Aryeh. The San Diego act is doubling down on that emotion on "A Piece of Your Mind." Featured on Aryeh's recent debut album I've Got Some Living To Do, "A Piece of Your Mind" is an ode to fleeing suburban ennui as channeled through a dose of dream-inducing indie music: "I hate to be the man to take you from your dad's hands/But why lie when I'm knowing that you can't stand/Living in a house that's filled with all these fucking dead-ends."
BLEACHERS (FEAT. LANA DEL REY) – SECRET LIFE
Having previously worked together on 2019's Norman Fucking Rockwell! and this year's Chemtrails Over the Country Club, Bleachers' Jack Antonoff and Lana Del Rey are teaming up once again this Monday on "Secret Life." Lifted from Bleachers' recent album Take the Sadness Out of Saturday Night – which is also home to the Bruce Springsteen-featuring "Chinatown" – "Secret Life'' is a syrupy slow-dance beneath the stars that hears Antonoff singing to a distant, dreamy Del Rey: "I just want a secret life/Where you and I can get bored out of our minds."
IAN SWEET – YELLOW (COLDPLAY COVER)
It's only been a few months since she dropped Show Me How You Disappear, but Los Angeles' IAN SWEET is already making her return today with this cover of "Yellow" by Coldplay. "I've seen Coldplay live six times," reveals SWEET in a press release accompanying the release. "I owe a lot of who I am, and the way I write and perform music, to Coldplay. I wanted to cover 'Yellow' because it is my go-to karaoke song, love song, breakup song, feel-good song...it's everything." Twinkly, dreamy, and unspeakably melancholic, this cover almost tops the original.
SERENA ISIOMA – REALLY, REALLY
They dropped one of our favorite projects of last year, The Leo Sun Sets, and today, Serena Isioma is making their psychedelic return with "Really, Really." "People need to listen to this song because it's hella affirming. Like yes, I am fresh to death. I am the coolest person in my own world. Self-love is cool," says the Chicago act of "Really, Really." With Isioma spitting rhymes about empowerment over an acid-wash of guitars, before plunging even deeper into the rabbit hole come the mind-altering climax, "Really, Really" is nothing short of a trip.
MADI DIAZ – RESENTMENT
Madi Diaz continues to explore the complicated intricacies of a breakup on her latest single "Resentment." The follow-up to "Woman in My Heart" – a song that was written after Diaz's former partner revealed they were transitioning – is a country ballad that was originally recorded by Kesha for 2020's High Road. While that version – which also features Brian Wilson, Sturgill Simpson, and Wrabel – made for a deeply lovely listen, there's something about the quiet pain in Diaz's voice that sends "Resentment" echoing through my emotional core.
ARLO PARKS – TOO GOOD (UNKNOWN MORTAL ORCHESTRA REMIX)
Following on from the news that her debut album Collapsed in Sunbeams has been nominated for the Mercury Prize, Arlo Parks returns today with Unknown Mortal Orchestra's remix of "Too Good." "I've been moved by Unknown Mortal Orchestra's sonic palette and gorgeous approach to simplicity for years now. It's an honor to have them remix 'Too Good' and bring such a sweet sense of intimacy to the song," says Parks of the remix, and honestly? I couldn't have put it better myself. Sunny, soulful, and staticky, this is a remix for crate-diggers everywhere.
GROUPER – UNCLEAN MIND
The fog is gradually starting to shift on "Unclean mind" by Grouper's Liz Harris. Featured on the West Marin native's forthcoming album Shade – a collection of songs recorded in multiple locations over the last 15 years – "Unclean mind" is a dappling acoustic ode to the mysteries of love. "Erratic bodies/Our lovely ruins held inside/Your formal gestures get me high/Such strange behavior," sings Harris at one point. Shot through with the radiance of a clear summer's day, "Unclean mind" is a rare, welcome moment of clarity from Grouper.
TERRY PRESUME – ACT UP
He recently made his debut on We Are: The Guard with the funky, trend-defying ode to illicit substances "ZaZa and Some Runtz (Smoke Break)," and this Monday, Terry Presume is making his return to our column with "Act Up." Lifted from the Nashville rapper, producer, and singer-songwriter's recent EP What Box?, "Act Up" is a bitter revenge anthem that nevertheless tastes oh-so-sweet. "I'm gon' make you act up today/I'm gon' make you wish you never left," sings Presume on the genre-blending cut, which doubles up as a masterclass of groove.
-
Until next time, don't forget to follow We Are: The Guard's Weekly Chart for lots more! x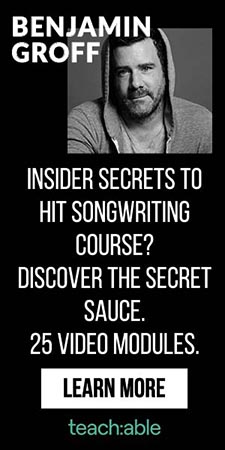 Jess Grant is a frustrated writer hailing from London, England. When she isn't tasked with disentangling her thoughts from her brain and putting them on paper, Jess can generally be found listening to The Beatles, or cooking vegetarian food.