NEW INDIE MUSIC: THE 10 BEST SONGS IN THE WORLD THIS WEEK
Photo by Brandon McClain
How's it going, readers? This is Jess reporting from London, where I can confirm things have turned *very* weird over the last few days. While my country may have practically shut down following the Queen's death, however, the music world has most definitely continued turning. And, honestly? It's been nice to feel a bit of normality writing up this latest edition of We Are: The Guard's New Indie Music. Check out the following songs from girlpuppy, Blood Orange, Björk, and more!
-
GIRLPUPPY – DESTROYER
She recently collaborated with The Brazen Youth on "1TL2DU4," and now, girlpuppy's Becca Harvey is back to focusing on her solo output with "Destroyer." Lifted from her forthcoming debut album, When I'm Alone, "Destroyer" is a twanging barn burner about the allure of self-sabotage that Becca reveals was inspired by Taylor Jenkins Reid's Daisy Jones and the Six. "Anything I do could/Be the destroyer," sings Becca over a stomping thrum – her angelic croon far from hinting at the destructive tendencies within.
BLOOD ORANGE – JESUS FREAK LIGHTER
Blood Orange's Dev Hynes takes time out from supporting Harry Styles at Madison Square Garden and soundtracking the likes of We Are Who We Are, Mainstream, In Treatment, Naomi Osaka, Passing, and Master Gardener to share "Jesus Freak Lighter." Featured on his forthcoming EP, Four Songs, "Jesus Freak Lighter" is a translucently sweet, gothy reverie steeped in reverb and digital trauma: "Falling, falling/Got carried away/Living in my head, photo fantasy/Save it on my phone."
BJÖRK – ATOPOS
Ahead of the release of her tenth album, Fossora, later this month, Icelandic oracle Björk is sharing the pummeling "Atopos." Inspired by Roland Barthes' A Lover's Discourse: Fragments, "Atopos" is a song about seeking common ground and the importance of dialogue. "Are these not just excuses to not connect?/Our differences are irrelevant/To only name the flaws/Are excuses to not connect," sings Björk – her voice emerging like a powerful monolith as drums dig and hammer at the ground beneath her.
PHOENIX (FEAT. EZRA KOENIG) – TONIGHT
With indie sleaze making a comeback, Phoenix and Vampire Weekend's Ezra Koenig are capitalizing on that early-noughts nostalgia on the joyful "Tonight." Lifted from Phoenix's forthcoming album, Alpha Zulu – a 10-song collection recorded in Paris' Musée Des Arts Décoratifs – "Tonight" is a glorious blast of jangle-pop that hears heady longing and addictive hooks abound: "Could you come tonight?/I'm countin' from the thunder/Could you come tonight?/I got a feelin' that you know the number."
JORDANA – IS IT WORTH IT NOW?
In May, Jordana dropped her modern indie-rock classic Face the Wall, and today, the New York City star is back on her music grind with "Is It Worth It Now?" "'Is It Worth It Now?' is a song I wrote about taking control of your life mentally and emotionally, about questioning decisions and leaving self-pity and excuses behind," says Jordana. With synthesizers bubbling up like an ocean of sherbert behind her, "Is It Worth Now?" is a sweet, joyful effervescent fizz of a listen that feels like freedom.
DJO – HALF LIFE
On Friday, Djo will finally drop his sophomore album, DECIDE, but before then, the Stranger Things actor is making his return with "Half Life." Following "Figure You Out," "Half Life" is a Blade Runner-esque dystopian rock opera that hears Joe Keery making like a posthuman pop star. "The world is changing/And upgrading/Faster than we can control," sings Djo. "Sick of living in the old days?/Mind burdened by the old ways?/Keep trying to forget about it?/Watch a video, don't fret about it."
MIYA FOLICK – 2007
There's something about Miya Folick's music that speaks to the struggles of adulthood – and, more specifically, womanhood – like no other artist, with the Santa Ana singer-songwriter doing it all over again on "2007." The title track from her recent EP of the same name is very much an ode to the loss of childhood innocence and the sense of safety that comes with that, with Miya's singular voice cracking the chest wide open in the soaring chorus: "I wanna smile real big/I wanna fucking live."
ALEX G – MIRACLES
He recently shared "Cross the Sea," and today, Alex G continues to offer us an insight into God Save the Animals with the folky "Miracles." Featuring violinist Molly Germer, "Miracles" is a beautifully real, honest love song that feels unusually free of artifice for the Havertown, Pennsylvania native. "I see great waves coming our way/Beautiful sunsets on lost and lonely days," sings a shaky-voiced Alex in the first verse. "Infinite futures become a single past/Everyone whimpers, nobody lasts."
A.O. GERBER – FOR
It takes a lot of work to be a good friend, with Los Angeles musician A.O. Gerber coming to terms with this daily challenge on the sweeping "For." "I wrote this song about watching a friend go through a really difficult time and the shame of feeling like I didn't know how to be there for them because I was too messed up myself," notes A.O. A grandiose indie-rock gesture that slowly chugs to a truly raw, emotive climax, "For" is the kind of soul-baring songwriting we need more of.
JAGUAR SUN & HUSBANDS – FIRST TIME CALLER
Jaguar Sun is no stranger to our Chill column, but today, Toronto's Chris Minielly is making his debut in our Indie pages with "First Time Caller." A collaboration with Seattle-via-Oklahoma City's Husbands, "First Time Caller'' is a lush piece of dream-pop "about being in a different emotional place than someone close to you who is going through a hard time and trying to bridge the gap." "Essentially, it's about trying to be a good friend," adds Chris of the cut – a rich, verdant odyssey with a danceable backbeat.
-
Follow We Are: The Guard's Weekly Chart on Spotify for more! xo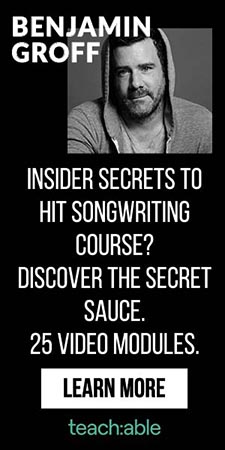 Jess Grant is a frustrated writer hailing from London, England. When she isn't tasked with disentangling her thoughts from her brain and putting them on paper, Jess can generally be found listening to The Beatles, or cooking vegetarian food.