NEW INDIE MUSIC: THE 10 BIGGEST BANGERS OF THE WEEK
Photo by s1rsuave
IS IT SEPTEMBER YET? Look, I'm sorry. Just with the Wednesday trailer dropping and the nights drawing in, I'm very much ready for my Goth Girl Autumn! Meanwhile, it's time for the latest edition of We Are: The Guard's New Indie Music. Don't forget to give us a follow on Spotify after checking out the following songs from Jean Dawson, The Brazen Youth, Dayglow, and seven other favorites!
-
JEAN DAWSON – 3 HEADS*
Ever since he made his breakthrough with "Power Freaks," Jean Dawson has been continually pushing the indie-rap envelop, with the Los Angeles rock star shredding it up altogether on "3 HEADS*." The follow-up to the Mac DeMarco-featuring "MENTHOL*" and "PORN ACTING*," "3 HEADS*" is a messy, disorderly headbanger that sounds like Captain Beefheart as much as it does BROCKHAMPTON. "One-headed, two-headed/Three-headed monsters," screams Jean like a Cerberus frothing at the bit.
THE BRAZEN YOUTH (FEAT. GIRLPUPPY) – 1TL2DU4
It's no secret we're deeply, deeply in love with The Brazen Youth and girlpuppy here at We Are: The Guard, with the two artists coming together this Monday for "1TL2DU4." Featured on The Brazen Youth's forthcoming album, Eagle, Idaho, "1TL2DU4" hears them uniting with girlpuppy to paint a gorgeously human encapsulation of grief, with their voices as familiar and comforting as the late August sun: "I'll think of your final summer/And your final spring/I'll think of our final encounter/Your last everything."
DAYGLOW – DEEP END
Summer may be drawing to a conclusion, but Dayglow's Sloan Struble is administering us with one final dose of feel-good vibes on "Deep End." Featured on his forthcoming album, People in Motion, "Deep End" is a vibrantly pulsating piece of dance-pop that Dayglow wrote after purchasing a vintage Oberheim Matrix 6. "'Deep End' has a really clear and colorful visual palette in my mind when listening to it. I wanted to make a wild and kaleidoscopic visual that just simply felt fun," adds Dayglow in a statement. Enjoy.
TOLEDO – FLAKE
Grand Jury's TOLEDO has been releasing an endlessly pretty stream of singles ahead of How It Ends in September, with Dan Álvarez de Toledo and Jordan Dunn-Pilz returning today with another cut from the album. The follow-up to "Climber," "Flake" hears TOLEDO continuing to conceal their darkest secrets within a lush woodland of sound, with "Flake" touching on the trauma caused by absent fathers. "It's really a fuck you to myself and my dad. Our legacy of shit," says TOLEDO in a press release. Listen.
BLONDSHELL – SEPSIS
Blondshell's Sabrina Teitelbaum has already established herself as the queen of huge, dramatic indie-rock gestures with "Olympus'' and "Kiss City," and this Monday, the 24-year-old continues to deliver the pyrotechnics on "Sepsis." Inspired by Hole's "Doll Parts," "Sepsis" is a sweeping, cathartic piece of grungy grandiosity that hears Blondshell reveling in toxic romance and self-destructive love: "I'm going back to him/I know my therapist's pissed/We both know he's a dick/At least it's the obvious kind."
GORDI – BURN ALL THE TIME MACHINES
While her latest EP, Inhuman, frequently touches on topics such as emotional surrender and resignation, Australia's Gordi is far from giving up the fight on "Burn All the Time Machines." According to Gordi, the song was inspired by her experiences of growing up queer, plus the recent rhetoric surrounding her home country's religious discrimination laws: "It was an enraging, devastating debate. The sound bites in the middle eight of the song are from the coverage of the damaging conversations that were had."
FLIPTURN – SAD DISCO
Shadowglow, the brand new album from Fernandina Beach's flipturn, is finally here. From "Whales" to "Space Cowboy," the 12-song collection is packed full of emotionally rich indie-rock bangers, with flipturn delivering the goods once again on "Sad Disco." The fourth song on the album is an ode to emotional collapse, with Dillon Basse singing about the obliteration of hope atop a boogie wonderland: "Tell me how it was before me/Tell me that you'd get so lonely/All I know, all I know/It was helpless, helpless."
BOYISH (FEAT. RACHEL CHINOURIRI) – SMITHEREENS
Back in December, New York City's Boyish crashed into our hearts like a comet with "Smithereens," and today, India Shore and Claire Altendahl are doing it all over again on this brand new version featuring Rachel Chinouriri. While the original already packed an emotional punch, this acoustic cut adds even more heft to the fuckboy lament, with Rachel's unspeakably pretty voice shattering us to smithereens: "And I lеave the light on/When I go to bеd/It takes me three hours so I'll sit and I'll think about you instead."
PHOEBE GREEN – CRYING IN THE CLUB
Phoebe Green is delivering the sound of a dance-floor epiphany on "Crying in the Club." Featured on her forthcoming album, Lucky Me, alongside the previously released "Sweat" and "Just a Game," "Crying in the Club" is a glistening electronic-pop revelation that reminds me of the endlessly replayable club mantra "Once in a Lifetime": "Maybe they don't see the changes/'Cause they're all at different stages/'Cause maybe I'm a step ahead/Maybe I'm not ready yet/Nothing changes if nothing changes."
ETTA MARCUS – CROWN
Following on from the announcement she's signed to Polydor, British purveyor of soulful cool Etta Marcus is sharing the grudge-bearing "Crown." "'Crown' is enveloped in vengeance," says Etta in a statement. "Everything about it is so insistent, overwhelmingly at times. The song gradually picks away at this corrupt and crowded relationship." For a song about revenge, "Crown" is surprisingly composed, with Etta sounding positively nonplussed atop the knotty guitar riffs and unwavering drum beats.
-
Follow We Are: The Guard on Spotify for more! xo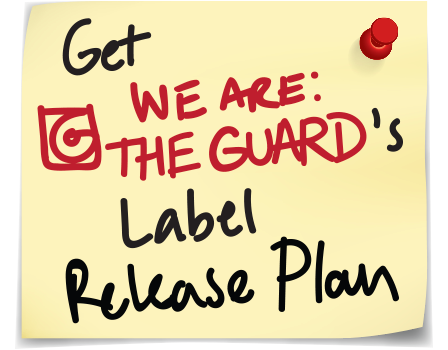 Jess Grant is a frustrated writer hailing from London, England. When she isn't tasked with disentangling her thoughts from her brain and putting them on paper, Jess can generally be found listening to The Beatles, or cooking vegetarian food.