NEW INDIE MUSIC: THE 10 BIGGEST BOPS OF THE WEEK
Photo by Dora Jar
No thoughts! Just Barack Obama listening to Wet Leg!
Every year, I get excited to share my summer playlist because I learn about so many new artists from your replies—it's an example of how music really can bring us all together.

Here's what I've been listening to this summer. What songs would you add? pic.twitter.com/9OgPq0SRy4

— Barack Obama (@BarackObama) July 26, 2022
Bops! Bops everywhere!
Anyways! While Barack was making his bid to become our next indie correspondent, the team and I were busy as ever compiling the latest edition of We Are: The Guard's New Indie Music. Just grab some headphones and check out the following songs from Dora Jar, Marcus Mumford, Djo, and plenty more!
-
DORA JAR – BUMBLEBEE
She recently supported Billie Eilish on the Happier Than Ever Tour, and today, We Are: The Guard favorite Dora Jar is returning with "Bumblebee." "'Bumblebee' the song is an attempt to escape the painful reality of human experience and trade it with the perspective of a bumblebee," explains Dora of the song, a technicolor pop fantasy that channels Kate Bush. "My problems seem silly when I remember the existence of these intelligent creatures who could never be bothered by the trivial things that bother me."
MARCUS MUMFORD – GRACE
Having enlisted Steven Spielberg to direct the video for his previous single, "Cannibal," Mumford and Sons frontman Marcus Mumford is continuing to plot his solo career this summer with "Grace." Written alongside Blake Mills, "Grace" is a Stones-esque rocker that hears Marcus centering his gruff voice in the depiction of a fraught relationship: "Well, how should we proceed?/Without things getting too heavy/Even though I'd never tell you everything/I could've sworn/I'd dropped that bomb on you already."
DJO – GLOOM
Earlier this year, Stranger Things actor Joe Keery took time out from The Upside Down to unveil "Change," and this month, Djo is back with the playful "Gloom." While "Change" channeled T-Rex and Parliament Funkadelic, "Gloom" hears Joe taking inspiration from DEVO and Talking Heads. The final result is a distortion-caked funhouse, with Djo declaring in the hilarious refrain: "My eyes are dry as hell, I'm ready to go/My back is giving out, I'm ready to go/I need to walk my dog, I'm ready to go."
MAGGIE ROGERS – ANYWHERE WITH YOU
It's been six years since she shot to viral fame after impressing Pharrell Williams with "Alaska," and this July, Easton, Maryland's Margaret Rogers is finally claiming her spot among the superstars with "Anywhere With You." Featured on her recent sophomore album, Surrender, "Anywhere With You" is a big, hearty rocker that hears Maggie Rogers delivering pure, unadulterated catharsis: "You tell me that forever couldn't come too soon/I wanna lose my mind in a hotel room with you/Anywhere would do."
WHITNEY – BLUE
Just a few days on from bringing "REAL LOVE" to Jimmy Kimmel Live, Whitney's Julien Ehrlich and Max Kakacek are back today with the syrupy, mellifluous soul dose "BLUE." The latest single to be unveiled from Whitney's forthcoming third album, SPARK, "BLUE" finds Julien and Max seeking escape through love: "We wrote 'BLUE' at what I would now call 'peak isolation' in the beginning of 2021. In hindsight it's clear that we were attempting to manifest a different set of circumstances through the fantasy of love.
FLIPTURN – SPACE COWBOY
Back in June, Fernandina Beach, Florida's flipturn unveiled one of our favorite songs of the summer in the form of "Whales." Fast forward a few weeks, and Dillon Basse, Tristan Duncan, Madeline Jarman, Mitch Fountain, and Devon VonBalson are returning with "Space Cowboy," a glowing stick of dynamite that erupts with Modest Mouse-esque emotional intensity in the closing moments: "They're murdered, I'm tired/I'm scared, I'm over my head/I'm haunted, I'm wired." Shadowglow is out via Dualtone on August 19th.
ALEX G – CROSS THE SEA
He's already shared "Blessing" and "Runner," and today, Havertown, Pennsylvania native Alex G is back with the third single from his forthcoming ninth album, God Save the Animals, "Cross the Sea." Clocking in at three and a half minutes, "Cross the Sea" hears Alex delivering a surreal, folky letter of devotion, with the 29-year-old making use of biblical ideas to prove his love: "I cross the sea, yeah yeah yeah, yeah yeah/You can leave it to me, oh yeah/I cross the field for my baby/You can believe in me, yeah."
PLAINS – PROBLEM WITH IT
Meet Plains, the brand new supergroup from Waxahatchee's Katie Crutchfield and Jess Williamson, who are making their debut today with "Problem With It." Featured on their forthcoming collaborative album, I Walked With You a Ways, which was recorded at Brad Cook's studio in Durham, North Carolina, alongside Spencer Tweedy and Phil Cook, "Problem With It" is a stomping country chugger that hears Katie and Jess harmonizing like sisters: "If you can't do better than that babe/I got a problem with it."
WILD PINK – ILYSM
New York City outfit Wild Pink is capturing the surging, all-encompassing nature of love on their brand new single, "ILYSM." Lifted from their forthcoming fourth album of the same name, "ILSYM" is a rushing indie-rock expression of devotion that came together after Wild Pink vocalist John Ross was diagnosed with cancer: "I started writing songs that tried to make sense of the whole experience, including the love and support I felt from the people in my life – particularly my wife, which is where the title came from."
GINGER ROOT – HOLY HELL
Ahead of the release of his brand new concept EP, Nisemono, Ginger Root's Cameron Lew is returning this July with the sparkly, sumptuous "Holy Hell." The follow-up to "Loneliness," "Holy Hell" hears Cameron continuing to immerse us in his lo-fi, eighties-tinged cinematic universe that follows him as he transforms into an unexpected pop idol in Japan. With glittery synths backing Cameron as he sings of a failed love, "Holy Hell" is a cassette-tape dream: "Well holy hell/Might as well talk to myself now."
-
Follow We Are: The Guard's Weekly Chart on Spotify for plenty more! xo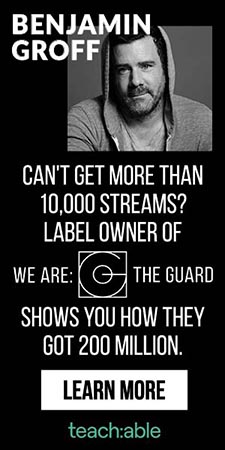 Jess Grant is a frustrated writer hailing from London, England. When she isn't tasked with disentangling her thoughts from her brain and putting them on paper, Jess can generally be found listening to The Beatles, or cooking vegetarian food.