BEST INDIE SONGS: 10 BOPS FOR THE END OF SUMMER
Photo by Christopher Metz
How the MTV VMAs looked exactly 30 years ago:
TAKE. ME. BACK.
Check out the latest edition of We Are: The Guard's Best Indie Songs, featuring Curtis Waters, Magdalena Bay, MorMor, and lots more!
-
CURTIS WATERS – STAR KILLER
Curtis Waters is reminding us it's possible to be fragile but loud, vulnerable but proud on his brand new single, the gargantuan "STAR KILLER." According to Curtis, he was inspired to write "STAR KILLER" after seeing the response to his previous single about his battle with bipolar disorder, "MANIC MAN." "It freed me from this deep shame and judgment I had about art," explains Curtis, with the Nepal native delivering a mammoth dose of big-beat catharsis that sounds equal parts Jean Dawson and Basement Jaxx.
MAGDALENA BAY – ALL YOU DO
Just a few days on from remixing Soccer Mommy's "Shotgun," Magdalena Bay's Mica Tenenbaum and Matthew Lewin are back today with the sweeping "All You Do." Lifted from the forthcoming deluxe edition of Mercurial World, "All You Do" starts out groovy and thudding, with Mica singing: "Can't fall asleep on my own/I only wanna have some fun." It's come the chorus that "All You Do" really takes off, however, with lush, grandiose harps throwing open the gates of heaven like a dose of sixties French-pop.
MORMOR – SEASONS CHANGE
With summer starting to fade across the Northern Hemisphere, MorMor is gradually easing us into fall with "Seasons Change." "It's a song about the constraints of time," says MorMor in a statement. "The sentiment is that if you are to live once, why not give in to your natural desires?" Following "Far Apart," "Seasons Change" hears MorMor's voice passing over us like a gentle gust as he sings about taking life into his own hands: "Time will never wait as seasons change/I won't leave it to fate as seasons change."
DJO – FIGURE YOU OUT
Between Djo and Maya Hawke, the Stranger Things cast continues to take over our Spotify indie playlists, with Joe Keery returning this Monday with "Figure You Out." Lifted from his forthcoming album, DECIDE, alongside the previously featured "Change" and "Gloom," "Figure You Out" is a sparkling disco dive into the depths of Djo's despair, with Joe narrating an out-of-body experience: "But I never fail to surprise/There's a feeling that's new to me/Unmistakably that's my voice/And it's speaking as clear as day."
DOG ORCHESTRA – SNOWFLAKE
Dog Orchestra's Daniel DePierre and Niklas Malmborg are snowflakes and proud on the final single to be taken from Spoon EP. Coming after "I was happy once," "Fireball me," "I Think I'm in Tokyo," and "HOURS," "Snowflake" is a wall-shaking club banger about being fully, unapologetically human. "So raise the stakes, sing it again/While the gypsies play/I'm not coming down/I'm a fucking snowflake," announces Daniel, before delivering a call to arms for sensitive souls everywhere: "And no one's gonna tell us how to feel."
THE NATIONAL (FEAT. BON IVER) - WEIRD GOODBYES
The National has been playing it live since May, and this month, Matt Berninger and co is finally sharing the official studio version of their elegiac collaboration with Bon Iver, "Weird Goodbyes." "Memorize the bathwater, memorize the air/There'll come a time I'll wanna know I was here," croons Matt over a precise beat, with his voice coming framed by the weeping strings of the London Contemporary Orchestra. Matt: "It's about letting go of the past and moving on, then later being overwhelmed by second thoughts."
MIYA FOLICK – BAD THING
Having detailed the depths of desperation we often plunge to when we're in a toxic relationship, We Are: The Guard favorite Miya Folick is once again coming to terms with her self-sabotaging behaviors on "Bad Thing." Written with Mitski and Andrew Wells, "Bad Thing" is a swelling pop banger shot through with a hedonistic melancholy. Miya: "It's about being stuck in a cycle of behavior that you can't get out of, but it's not bleak. There's hope in the song. I always knew that I would get out of that cycle eventually."
WHY BONNIE – LOT'S WIFE
While there's something deeply familiar and comforting about looking back, Austin outfit Why Bonnie is urging us to not spend too much time reflecting on our pasts on the vastly emotional "Lot's Wife." Lifted from their recent album, 90 in November, "Lot's Wife" is a sprawlingly sun-bleached indie-rock chug about the dangers of nostalgia as inspired by the Bible figure of the same name: "Stopped for a photograph of a moment in the sun/Looked like we had just won/You'll turn all to salt if you ever look back."
WHITNEY – MEMORY
Whitney continues to silhouette their indie-folk in a warm glow of Chicago-soul on "MEMORY." The latest single to be unveiled from SPARK after "BLUE" and TWIRL," "MEMORY" is an organ-ablaze ode to the fear of death that concludes with an instrumental outro written by Will Miller. Whitney: "It was one of those harmonious moments where two separate ideas somehow fit together immediately. The final third speaking to the afterlife in a way we wouldn't have been able to match with words."
JULIA JACKLIN – BE CAREFUL WITH YOURSELF
She recently hinted at her newfound sense of rapture on "Love, Try Not to Let Go" ("Love, love is all that I want now/Can I give my love to evеryone somehow?"), and today, Julia Jacklin is continuing to explore the depths of her attachment on "Be Careful With Yourself." Produced with Marcus Paquin, "Be Careful With Yourself" is all about the anxiety of falling in love with somebody out of your control: "Please stop smoking, want your life to last a long time/If you don't stop smoking, I'll have to start, shorten mine."
-
Follow We Are: The Guard's Weekly Chart on Spotify for lots more! xo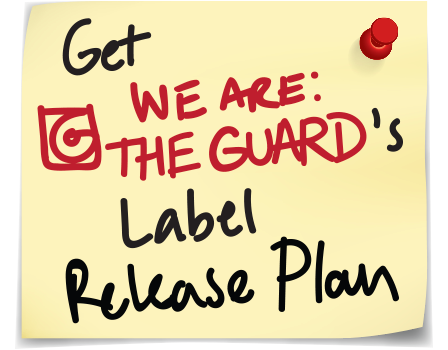 Jess Grant is a frustrated writer hailing from London, England. When she isn't tasked with disentangling her thoughts from her brain and putting them on paper, Jess can generally be found listening to The Beatles, or cooking vegetarian food.