RELAX WITH THE TOP CHILL MUSIC OF THE WEEK
Happy Friday! How are you holding up?! While life is still looking all kinds of crazy out there, I feel like we're finally starting to see the light at the end of the tunnel. Of course, there continues to be a long road ahead of us, but if we have each other and some damn good music, we're going to make it through this, right?! Right! Speaking of damn good music, it's time for the latest edition of We Are: The Guard's Top Chill Music. Whether you're planning on spending this three-day weekend relaxing at home or unwinding outdoors (at the guided social distance, obviously!), you're sure to find something to suit your needs with the following songs from Oh Wonder, Kygo & OneRepublic, ZHU & Tinashe, and more!
-
OH WONDER – OCEANSIZE
Every time I listen to Oh Wonder, I feel like I'm in my own little world. A private, comforting safe space where nothing or no one can hurt me. Case in point: "Oceansize." The latest single to be unveiled from the British two-piece's Home Tapes project after "I Like It When You Love Me" is a soft, tender ode to the dreamers, with Josephine Vander Gucht and Anthony West utilizing the power of imagination to build us this most gorgeous of escapes.
KYGO & ONE REPUBLIC – LOSE SOMEBODY
Kygo continues to build up to the release of Golden Hour by sharing the resounding "Lose Somebody." The song hears the Norwegian act teaming up with OneRepublic – who previously collaborated with Kygo on "Stranger Things" – with Ryan Tedder lending the cut a sense of gravitas as he sings of love and loss over the kind of poignant house production that'll send millions of lighters to the sky come our next festival season.
ZHU & TINASHE – ONLY
ZHU and Tinashe?! This is everything. The house producer and R&B songstress are getting us in our quarantine feels on the pulsating "ONLY." "Lonely, I grew up feeling lonely/Even when I'm with homies," croons ZHU on the darkly throbbing vibe – an After Hours-esque ode to isolation that comes topped off by the sultry, sensual voice of Tinashe.
CD ROSE (FEAT. TRE MICHAELS) – CLOCK OUT
Well, well, well. CD Rose really is too cool for school, huh?! Following on from the release of "Bad Habits" earlier this month, the Boston baddie returns this Friday with "Clock Out." It's a seductive late-night radio transmission that hears CD Rose continuing to play with a mixture of bedroom pop, R&B, and jazz, with dusty, crackly beats enrobing the rising artist as she sings of impatiently waiting to clock out of work so she can go and be with her man.
GRACIE ABRAMS – LONG SLEEVES
Coinciding with the announcement of her debut project minor, Gracie Abrams has shared the gorgeous "Long Sleeves." Written when she was just 14 years old, it finds the Los Angeles act showcasing her vulnerabilities for everyone to see, with Gracie singing about finding the courage to leave a toxic relationship over a shatteringly beautiful swirl of violins.
BLAKE ROSE – REST OF US
Blake Rose is here to tie your heartstrings into knots with his emotive latest single "Rest of Us." "'Rest of Us' is a middle finger to anyone who doesn't want you to live your dream," explains the Australian singer-songwriter of the cut – a powerful, stirring piano ballad the rising artist reveals was inspired by a close friend who decided to not pursue his dream of becoming a musician due to his unsupportive family. "F*ck those people," continues Blake.
LLLL – SLEEP
It's been a while since we've heard from LLLL here at We Are: The Guard, but finally, the Japanese outfit returns today with "Sleep." The lead single from their recent album Impure is a captivating dream of a listen as headed by the pillowy soft lullaby coo of frontman Kazuto Okawa, with a hypnotic lower end quietly, subtly hinting at a nightmare underneath.
JONAH YANO – DELICATE
Having recently collaborated with BADBADNOTGOOD on "Goodbye Blue," Canadian bedroom-soul artist Jonah Yano returns this Friday with "delicate." "It's like having a song stuck in your head, but instead of a song it's a person, or rather the idea you're starting to form of a person in the future of your lives together," writes Jonah of "delicate" – a hazy, lazy daydream that I recommend listening to while cloudwatching with a summertime lover.
NICK HAKIM – ALL THESE INSTRUMENTS
Nick Hakim goes in search of solace on the gently gorgeous, disarming "ALL THESE INSTRUMENTS." "It's been so damn hard to breathe/In a world that's so damn cold and mean," sighs the Brooklyn artist on this beautifully tender cut from his recent album WILL THIS MAKE ME GOOD, with Nick ultimately turning to the power of music for his peace.
SAN HOLO (FEAT. ILIVEHERE.) – STARING AT THE SEA WITHOUT YOU NEXT TO ME
Dutchman San Holo concludes his stay vibrant project on the most tranquil note possible with "staring at the sea without you next to me." The follow-up to "we're all just on our way home" finds San imitating sea waves, with synths rising and falling, tensing and relaxing, expanding and subtracting, before reaching a calm that'll exist with you long after listening.
-
Don't forget to follow We Are: The Guard's Weekly Chart for more! x
Photo by Arnaud Mesureur on Unsplash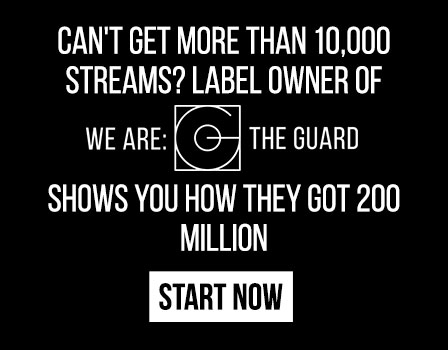 Jess Grant is a frustrated writer hailing from London, England. When she isn't tasked with disentangling her thoughts from her brain and putting them on paper, Jess can generally be found listening to The Beatles, or cooking vegetarian food.