WELCOME AUTUMN: THE TOP CHILL MUSIC OF THE WEEK
Photo by Rūta Celma on Unsplash
The mornings have a dewy crispness about them, and the nights are slowly starting to draw their darkness in around us. Oh, and pumpkin spice products are suddenly appearing on kitchen shelves up and down the country. It can only mean one thing, people! Fall is finally here! And what better way to welcome autumn than with the latest edition of We Are: The Guard's Top Chill Music? Headphones and chunky sweaters at the ready, then, as it's time to check out the following songs from María Isabel, James Vincent McMorrow, Runnner, and lots more.
-
MARÍA ISABEL – BABY…
Hailing from New York City, María Isabel continues to delve into her Dominican-American roots on her boiling latest single "Baby..." Produced by We Are: The Guard favorite Isaia Huron – who recently featured here with "I'm in Love" – "Baby..." is a darkly swirling, cavernous composition crafted amid the shattered shards of a broken romance. With R&B beats matching with Isabel's breathy bilingual ruminations, "Baby..." is an ode to lost love that arrives bathed in sensual desperation.
JAMES VINCENT MCMORROW – TRU LOVE
With cuffing season fast approaching, James Vincent McMorrow's "Tru Love" is the perfect hymn for getting intimate with a fall infatuation. According to the Dublin, Ireland tenor, "Tru Love" is a deep, sultry groover about "not fucking about and waiting for the future to bring happiness that might be right in front of you in the moment." Setting McMorrow's heartfelt tones against a foundation of gently muted beats and atmospherics, "Tru Love" is the sonic equivalent of a cold-day embrace.
RUNNNER (FEAT. SKULLCRUSHER) – SNOWPLOW
"Urgent Care" from Runnner's recent album Always Repeating gets a brand new remix this Friday in the form of the Skullcrusher collaboration "Snowplow." While the original heard Runnner's restless, existential musings coming shot through with a digitized distortion à la Aphex Twin, "Snowplow" finds Noah Weinman joining forces with Helen Ballentine to share a banjo-inflected cut of folk loveliness. "Helen and I played it as a duet a few times and I was struck by how new it felt," says Weinman. Listen.
TATE MCRAE & JEREMY ZUCKER – THAT WAY
Tate McRae and Jeremy Zucker have two of the most emotive voices in pop. It's no surprise, then, that "that way" hits like a sucker punch to the chest. This brand new remix hears Zucker bringing fresh perspective to the crushingly intimate homage to unreachable love, which was originally featured on McRae's debut EP all the things i never said. "I still can't tell/If we both mean well/Keep me guessing/If this is life or hell," hums Zucker at one point, his vocals dripping with delicately tender anguish.
JON HOPKINS, RAM DASS & EAST FOREST – SIT AROUND THE FIRE
Coinciding with the announcement of Music for Psychedelic Therapy – an album that was inspired in part by his recent visit to the Tayos Caves in Ecuador – British electronic auteur Jon Hopkins has shared the astoundingly mediative "Sit Around the Fire." Over the course of eight and a half minutes, Hopkins combines the teachings of the late yoga guru and spiritual teacher Ram Dass with droning piano chords, resulting in an immersive experience that'll help you to cultivate calm and strive for inner peace.
FROOGLE – FLOATING SUN
Houston singer-songwriter and producer Froogle is quickly becoming one of our favorite artists here at We Are: The Guard. From "Homegrown" to "Sweets," Froogle delivers a distinctively chill vibe with every release, and his latest single "Rising Sun" is no exception to that rule. While summer is coming to a close, Froogle is keeping the spirit alive on this radiant pop dream of a listen, with guitars dappling like ocean waves behind the TikTok king as he sings about soaking in gratitude and intention.
GLASSHOUSE – HEART PLEXUS
Introducing Glasshouse, the Australian producer who's engulfing us in a fever dream of dance-floor bliss on "Heart Plexus." Written while suffering from a non-COVID-related sickness during lockdown, "Heart Plexus" hears Glasshouse transforming his manic, delirious hallucinations into a Four Tet-meets-Bonobo-esque symphony of hope amid the confusion. "Our house was freezing, and the lockdown was stressful, but this song filled me with positive potential for the future," says Glasshouse. Enjoy.
TEFLON SEGA – DEMONS ON THE SIDE OF MY BED (ACOUSTIC)
Teflon Sega is baring his fragility for everyone to see on this acoustic rendition of "Demons on the Side of My Bed." While the original heard Sega's quivering vocals coming shrouded in basement-club beats, this softly strummed version hears the lilac anime crooner stripping his sound down to its raw, emotional core. The result is nothing short of gut-wrenching, with Sega's sense of despair striking home as he sings: "So stay with me/My remedy/I never sleep/But with you I can gеt some rest."
FORESTER – FALLING WATER
Even though summer is slowly winding down, Forester is keeping the tropical sensations flowing on their latest single "Falling Water." The follow-up to "She Said" sees the Palm Tree Records signees continuing to embrace a more melodic sound that brims with feel-good energy. "'Falling Water' is about finding a beacon of light in dark times. Recently we've found it really important to keep these beacons close to us," says Forester of the cut, which pierces through the speakers like a ray of sun.
BOYLIFE – LUSH
It's never easy admitting to your weaknesses or shortcomings, but boylife is doing exactly that on his opulent latest single "lush." "It's about a dude who doesn't know how to be honest. It's a song about ugly shit, like not being able to be honest, masculinity, selfishness," explains boylife of the follow-up to "church / boston." A study of toxic masculinity and the harm it inflicts on those around you, "lush" is a brutally frank confessional that also makes for a majestic listening experience.
-
Follow We Are: The Guard's Weekly Chart for lots more fall frolics. x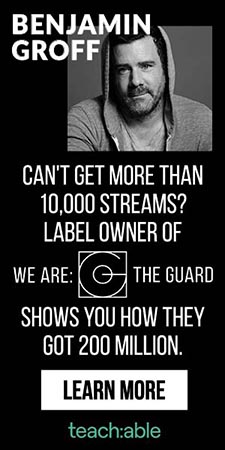 Jess Grant is a frustrated writer hailing from London, England. When she isn't tasked with disentangling her thoughts from her brain and putting them on paper, Jess can generally be found listening to The Beatles, or cooking vegetarian food.