NEW INDIE MUSIC: THE 10 BEST SONGS TO CELEBRATE SUMMER
Happy Memorial Day, everyone! Summer is finally here, and I'm not sure about you guys, but I couldn't be more excited. Considering this time last year was pretty much spent locked inside of our bedrooms binge-watching Netflix, it really feels like this summer is going to be one to remember. And while the festival season isn't quite back to normal (That Primavera lineup, though!), music is most certainly picking up pace. Headphones at the ready, then, as it's time to check out the latest dose of We Are: The Guard's New Indie Music, featuring JAWNY, Julia Jacklin & RVG, Bachelor, and beyond!
-
JAWNY – TAKE IT BACK
Coinciding with the announcement of his forthcoming project The Story of Hugo – due out on July 15 – JAWNY has shared the absolutely gargantuan "Take It Back." "I tried to dance on the line between acceptance and anger, 'If she never loved me then I'm better off alone' seemed like a mantra for self-worth," says JAWNY of the monstrous breakup banger, which hears the 25-year-old moving from Beck-like, ramshackle verses to a total blowout of a chorus replete with sing-along gang vocals. Crank it up to 11!
JULIA JACKLIN & RVG – ARMY OF ME (BJÖRK COVER)
Björk's "Army of Me'' gets a chunky synth cover this Monday courtesy of Julia Jacklin and RVG. "I was running on a treadmill which I don't do very often and I was listening to 'Army of Me' over and over again to make me feel stronger than I am. Then I thought why not try and cover this song with another artist that makes me feel stronger than I am and I did," explains Julia, with the Australian singer-songwriter transforming the Post industrial tanker into a gleaming piece of electronic armor.
BACHELOR – BACK OF MY HAND
Bachelor is delving into the dark side of fandoms on the latest single to be unveiled from Doomin' Sun. The follow-up to "Anything at All," "Stay in the Car," and "Sick of Spiraling" is another piece of comically brilliant realism from Jay Som's Melina Mae Duterte and Palehound's Ellen Kempner. "I'm your biggest fan/Got your song in my head/And your poster's above my bed," sings Bachelor on the guitar-pop banger, which comes accompanied by a video that sees the duo kidnap Harry Styles. No, really!
Q – WANT
While he may possess the least Google-friendly name in the music industry, Q is continuing to go from strength to strength with his latest single "Want." Listen as the Florida producer and singer-songwriter – who We Are: The Guard recently profiled as part of our Featured Find series – gets in touch with his inner Morris Day on the unspeakably, indescribably groovy cut, which hears Q's pitch-perfect falsetto taking center stage amid a backdrop of Minneapolis Sound guitars.
BOYISH – HOWLS
Every time I listen to Boyish, I feel a longing for a memory I can't quite put my finger on. Case in point: "Howls." The fourth and final single to be unveiled from We're All Gonna Die, but Here's My Contribution EP is another aching, nostalgia-swept soundscape courtesy of India Shore and Claire Altendahl. Written about a relationship breaking up like cosmic dust ("Find me in the future/Don't know why you had to go"), "Howls" couldn't make for a more heady, potent close to spring.
COLA BOYY & THE AVALANCHES – DON'T FORGET YOUR NEIGHBORHOOD
It doesn't get much more joyous than this, let me tell you. Coinciding with the announcement of his debut album Prosthetic Boombox – due out on June 18 – Cola Boyy has shared "Don't Forget Your Neighborhood." As the title suggests, it's all about sticking by those who helped to make you who you are today. With Cola Boyy's sweet vocals coming paired with glorious disco strings courtesy of The Avalanches, "Don't Forget Your Neighborhood'' is bringing some well-deserved positivity to the dance floor.
REMY – I KNOW WHY YOU STAY OUT
Having recently signed to Hopeless Records – home to the likes of Sum 41 and Taking Back Sunday (!) – We Are: The Guard favorite remy is back this Monday with "I Know Why You Stay Out." Clocking in at just under three minutes, it's an emotive grunge ode to a lover with commitment issues who finds relief in alcohol and nights out. "This place is always gonna seem so cold/If you don't get a little less vulnerable," sings remy on the cut, with the New York artist writing from a place of genuine concern.
ALICE LONGYU GAO & ALICE GLASS – LEGEND
This! Goes! Off! Just a few weeks on from collaborating with British producer Mura Masa and German singer-songwriter bülow on "She Abunai," Alice Longyu Gao is back in our ears this May with "Legend" featuring Alice Glass. It's an abrasive, aggressive, confrontational piece of hyperpop that hears both artists trading lyrical bravado between Dylan Brady-like walls of distortion, before coming together in the slapping chorus: "'Cause everybody wanna be a legend/Everybody wanna be a legеnd."
ALASKA REID – FEEL THE PAIN (DINOSAUR JR COVER)
It's only been a few months since she released Big Bunny – one of We Are: The Guard's favorite projects of 2020 – but Alaska Reid is already returning today with a cover of "Feel the Pain" by Dinosaur Jr. "I recorded this myself in Montana and I think I did A MILLION guitar takes between doubles and the solo at the end," says Alaska of the genuinely stunning cover, with the visceral-voiced star's shreds most definitely standing up to the great J Mascis in the closing moments.
FROOGLE – HOMEGROWN
Los Angeles is a land of success, opportunity, and good fortune. It's also one of the most depressing places on earth. We Are: The Guard favorite Froogle comes to terms with these mixed emotions on "Homegrown." "I moved to Los Angeles, struggled and realized it's not for me. I would rather be my authentic self and own all my own music even if that means less 'success' in the eyes of society," explains Froogle of the song  – a sad, melancholy guitar-pop swirl for outsiders everywhere.
-
Follow We Are: The Guard's Weekly Chart on Spotify for more! x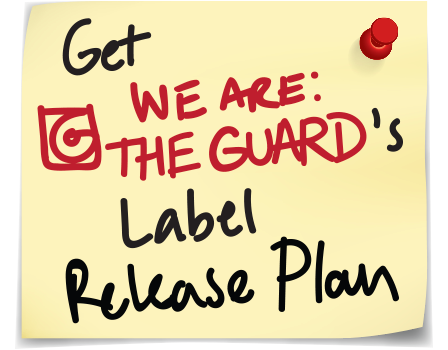 Jess Grant is a frustrated writer hailing from London, England. When she isn't tasked with disentangling her thoughts from her brain and putting them on paper, Jess can generally be found listening to The Beatles, or cooking vegetarian food.