TOP CHILL MUSIC: THE 10 BEST VIBES OF THE WEEK
Photo by Akash Khadka
While it's easy to romanticize this time of year, it's important to remember not everybody has it great right now. Sending love to those impacted by the recent landfall of Hurricane Ian. And for the rest of you reading this, please offer what you can to those in need. Over to the latest edition of We Are: The Guard's Top Chill Music, featuring Nina Cobham, LYRAH, Maya Hawke, and lots more.
-
NINA COBHAM – SELF CARE
Nina Cobham is paying tribute to the late, great Mac Miller on her brand new single, "Self Care." Written and produced alongside Frankie Scoca, "Self Care" is an ode to the Swimming cut of the same name, which Nina was listening to on repeat during lockdown. "It's about the nostalgia of the summers spent passing time doing whatever with friends and longing to have that again," adds Nina of "Self Care," with her breathy bilingual voice shot through with glacial, shivering trap flourishes.
LYRAH – IN THE LEAVES
Lyrah is reminding us to keep taking risks on the endlessly euphoric "In the Leaves." According to Lyrah, "In the Leaves" was inspired by a dream she had while she was considering quitting her nine-to-five to focus on her music. "In the dream, I kept waking up outside," reveals Lyrah. "I kept choosing that over my bed, and it felt surprisingly calm." Lyrah eventually took this as a sign to leave the stability of her full-time position to pursue her dream, with "In the Leaves" dealing purely in rapture.
MAYA HAWKE – LUNA MOTH
With fall officially upon us, Hollywood scion Maya Hawke is encircling us like an old blanket from childhood on the cozy, comforting "Luna Moth." Taken from her recent album, MOSS, alongside the previously featured "Sweet Tooth," "Luna Moth" is a poetic, evocative folk tale that hears Maya tapping into her storytelling sensibilities to deliver a devastating ode to ruin: "Put a needle through a luna moth/The one I crushed and let you down/I left it on your doorstep/But I didn't stick around."
ORCHID MANTIS – LUCID DREAMS
If you're like me and have been unable to achieve a lucid state despite numerous attempts, Georgia's Orchid Mantis is here to take you close on "Lucid Dreams." Lifted from his forthcoming seventh album, "Lucid Dreams" is an amorphous lo-fi smear that feels like that moment when you're falling in and out of sleep, with Thomas Howard's bleary-eyed vocals pulling us further under the covers: "I was dreaming/Lucid dreaming/I'll still think about you every time I write my A's in lowercase."
SHALLOU – SAVE SOME ROOM
While it's finally looking as though the darkest days of COVID-19 are behind us, Shallou is still finding his new normal on "Save Some Room." "I wasn't myself for a while even after the worst of the pandemic subsided," says Shallou. "The lyrics reflect the fact that I feel I'm getting better, and I just hope those I love and even my fans can accept me again." With Shallou's dreamy, chrome-dipped voice buoyed by pulsing club beats, "Save Some Room" is the sound of hope. Stunning, stunning stuff.
ASHE (FEAT. DIANE KEATON) – LOVE IS LETTING GO
Just over three years on from making her breakthrough with "Moral of the Story," California singer-songwriter Ashe is collaborating with her hero, the Academy Award-winning Diane Keaton, on "Love Is Letting Go." "Frankly, and I could care less if this sounds dramatic, there isn't an Ashe without a Diane Keaton. Her existence has uniquely shaped me into who I am as an artist and even more so as a person," says Ashe of the duet, a crushingly tender ballad about losing a loved one to addiction.
SURE SURE – LONELY ONE
While this is my first time writing on Sure Sure, something tells me it won't be the last time listening to "Lonely One." Featured on their brand new album, Spirit Mission, "Lonely One" is a warmly soulful dose of psychedelia that sounds like Tame Impala's Kevin Parker as melted on a car dashboard in the California sun. "You were the only one, the only one who knew me/But now I'm the lonely one," sings Sure Sure's Chris Beachy, his falsetto voice serving as a moment of clarity amid the hot, sticky grooves.
DELANEY BAILEY – FORGETTING DELANEY
She's been performing it on the road with Ricky Montgomery, and today, TikTok sensation Delaney Bailey is finally sharing the official studio version of "Forgetting Delaney." Coming after "Love Letter From the Sea to the Shore," "Forgetting Delaney" is a softly sussurating acoustic ballad that hears Delaney eviscerating our organs one by one as she sings of the hurt of being abandoned: "We started out the same/Praying for the sun in the shade/And suddenly one day/You outgrew the shape of me."
VIEUX FARKA TOURÉ & KHRUANGBIN – DIARABI
We've already heard "Savanne," and this Friday, Vieux Farka Touré and Khruangbin are once again teaming up to honor Vieux's father, Malian multi-instrumentalist and desert-blues pioneer Ali Farka Touré, on "Diarabi." Lifted from Vieux and Khruangbin's recent collaborative album, Ali, "Diarabi" is a sumptuously slow-burning, rhythmic reinterpretation of one of the Hendrix of the Sahara's signature songs, with Khruangbin's psychedelic touch dappling in the distance like a Texan heat mirage.
WILHELM – PAIN
Wow. Majestic Casual does it again.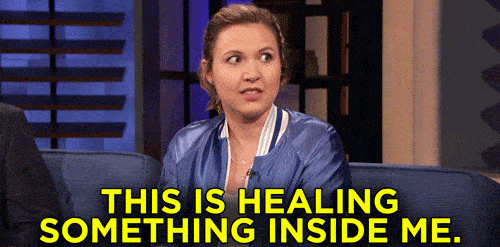 -
Follow We Are: The Guard's Weekly Chart on Spotify for lots more. xo
Sources:
Healing GIF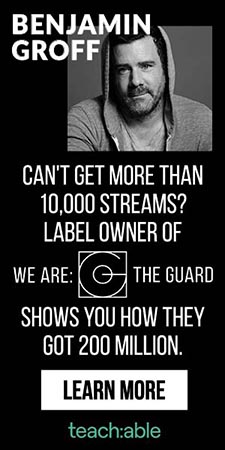 Jess Grant is a frustrated writer hailing from London, England. When she isn't tasked with disentangling her thoughts from her brain and putting them on paper, Jess can generally be found listening to The Beatles, or cooking vegetarian food.