HAPPY MAY: THE 10 TOP INDIE SONGS OF THE WEEK
Photo by Shingi Rice on Unsplash
Happy May, everybody! With tour and festival announcements coming at us in seemingly all directions, it really seems like this is going to be a summer like no other. While I'm still waiting on my vaccine (How about you guys?), I'm definitely feeling full of hope and optimism. Of course, the following music is undoubtedly helping things. Before any more time goes to waste, then, let's get going with the latest edition of We Are: The Guard's Top Indie Songs, featuring spill tab, The Marías, John Errol, and seven other favorites!
-
SPILL TAB – ANYBODY ELSE
She recently kicked our asses with "PISTOLWHIP," but We Are: The Guard favorite spill tab is showcasing a more sensitive side to her sound on her latest single "Anybody Else." Clocking in at two and a half minutes, "Anybody Else" is all about that moment when you want to express your love "without openly saying 'I love you.' "Anybody Else" also hears spill tab making use of her vocal range like never before, with the Los Angeles artist entering full-on belt territory come the chorus: "I like you, don't like anybody else."
THE MARÍAS – HUSH
The Marías is the definition of smoky, sensual elegance, but the Los Angeles outfit comprising of María Zardoya, Josh Conway, Edward James, and Jesse Perlman is taking somewhat of a detour on "Hush." The first single to be unveiled from their forthcoming debut album CINEMA is a pulsating dark-pop banger that hears The Marías slowly retreating into the shadows. Pairing throbbing synth bass with María's signature whispery coo, "Hush" is a Billie Eilish-meets-Drive-esque cut for late-night cruising through city back alleys.
JOHN ERROL – KNOCK KNOCK
John Errol keeps on getting better and better. Having recently made his return with "Sometimes," the We Are: The Guard favorite is back this Monday with "Knock Knock." It's described by John as "a classic breakup song that you could blast in the car, driving around Los Angeles with the windows rolled down," and, honestly? I couldn't put it better myself. Big, bold, and beauteous, with a killer chorus that sounds like it came straight out of Black Mirror's "San Junipero," "Knock Knock" is an 80s pop masterpiece for doomed romantics everywhere.
STILL WOOZY – KENNY
Still Woozy is continuing to live up to his name and then some on his dreamy latest single "Kenny." The sequel to "Rocky" hears the Oakland musician also known as Sven Eric Gamsky sonically stitching together a pillowy soft, psychedelic alternate reality that I, for one, could quite happily linger in for days on end. "Kenny" also serves as a showcase for Sven's melodic ear and songwriting finesse, with the White Album-indebted whimsy and vocal harmonies really taking the track to a whole other level *chef's kiss*.
FAYE WEBSTER – CHEERS
Coinciding with the announcement of her fourth album, the brilliantly titled I Know I'm Funny haha, Faye Webster has shared "Cheers." It's an equals part crunching and crystalline listen that hears Faye pacing through the anxieties of her mind, from marriage to introducing her boyfriend to her parents. As a result, the song carries with it a certain tension that never quite releases, even as the dappling guitar riff breaks through like sunlight in the sardonic-as-hell chorus: "And let's cheers to you/And let's cheers to me."
MARINELLI – PITY PARTY
He recently brought the house down with Wallice on "Hey Michael," and today, Marinelli is tearing sh*t up once again on "Pity Party." If you're getting a little too comfortable with having an empty social diary during lockdown, then this song is for you. "I wrote it last April when I was having to deal with not seeing my friends. I did a lot of reflecting on my social habits around then and decided that I didn't have to let social anxiety rule my life anymore," writes Marinelli of track – a one-and-a-half-minute rager that goes the hell off.
SJOWGREN – HUMAN CONDITION
Just in time for the change in season, Sjowgren is back with the shimmering "Human Condition." From the utter earworm of a vocal line to the gleaming guitars, quite literally everything about this song evokes summer to me – specifically driving along the coast with the ocean breeze susurrating through my hair. It's not entirely happy-go-lucky, however, with the track lyrically examining the lengths people go to hurt each other: "It's the human condition/But nobody mentioned/The eyes the eyes the eyes the eyes."
MOLLY BURMAN – EVERYTIME
Britain's Molly Burman is over seeking the approval of men on the wry, self-mocking "everytime." "'everytime' is about my sad excuse for a love life. I used to be so obsessed with dating and getting validation from guys, but they just kept ghosting me. It got to a point where I realized I needed to accept that I was going to be on my own for a while and might as well start loving my own company," writes Molly the cut, which feels like a more playful spin on the raw, languid jazz transmissions of fellow Londoner King Krule.
JACK LARSEN – SAVING GRACE
This is completely, utterly euphoric. Following on from the release of his debut album Mildew in 2019, Jack Larsen is back and sounding bigger than ever on "Saving Grace." Lifted from his recent EP Running on Mercy, "Saving Grace" is a bombastic, plunderphonic rhapsody that hears Jack addressing a savior of some kind. "You are my saving grace/So restless and unafraid/In these hallways of picture frames/We're recollected and rearranged," repeats the Chicago act with mantra-esque precision on the cut, which'll uplift you like no drug can.
JACKIE HAYES – DEAD END
Having recently made her debut on We Are: The Guard with the gigantic "eye 2 eye," Jackie Hayes is continuing to send earthquakes through the music blogosphere this Monday with her latest single "dead end." "This song is a stream of consciousness of anxious thoughts," explains the Chicago artist of the cut, which was produced by Billy Lemos. Urgent, frenetic, yet entirely resolute, "dead end" is a crunchy grunge ripper that hears Jackie perfectly capturing that feeling of being lost amid a sea of cognitive distortions.
-
Why not follow We Are: The Guard's Weekly Chart on Spotify for more? See you soon, everybody! x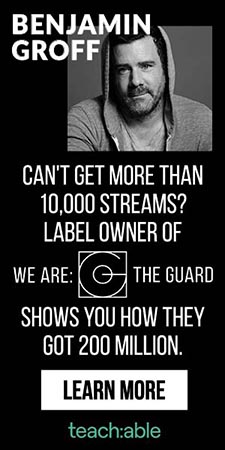 Jess Grant is a frustrated writer hailing from London, England. When she isn't tasked with disentangling her thoughts from her brain and putting them on paper, Jess can generally be found listening to The Beatles, or cooking vegetarian food.