THE 10 TOP INDIE SONGS TO JUMP-START YOUR MONDAY
Photo by Dekler Ph on Unsplash
Hi, everyone! How are you? How was your weekend? If you need help getting out of bed after a couple of days off, then I'm pleased to tell you you're in the right place! From a duet between Phoebe Bridgers and her latest signings MUNA, to a brand new oldie from Radiohead, to a Metallica cover by Cherry Glazerr, this week's edition of We Are: The Guard's Top Indie Songs is guaranteed to jump-start your Monday! Just don't forget to follow us on Spotify for more indie electricity!
-
MUNA (FEAT. PHOEBE BRIDGERS) – SILK CHIFFON
Just a few weeks on from announcing their signing to Saddest Factory, MUNA returns today with "Silk Chiffon" featuring their record label boss Phoebe Bridgers. Described as "a song for kids to have their first gay kiss to," "Silk Chiffon" hears MUNA doubling down on their nostalgic take on power-pop – the kind that pumps the stomach with tickly butterflies. Bridgers, meanwhile, makes a typically memorable cameo, singing at one point: "I'm high and I'm feeling anxious/Inside of the CVS."
GLASS ANIMALS – I DON'T WANNA TALK (I JUST WANNA DANCE)
Glass Animals has enjoyed a curiously unstoppable climb to fame over the last year thanks to "Heat Waves," and today, the Oxford makers of melty plastic bops are finally returning with "I Don't Wanna Talk (I Just Wanna Dance)." According to frontman Dave Bayley, "I Don't Wanna Talk (I Just Wanna Dance)" was written as a kind of remedy to the existential weightiness of lockdown, with groovy, thudding basslines and neon-speckled synthesis backing Bayley as he finds therapy in movement.
DEB NEVER – FUNKY
When I think of Deb Never, I tend to think of dimly lit bedrooms and endless city subways, but the Los Angeles artist is taking a bold step into the light on "Funky." The latest single to be unveiled from Where Have All the Flowers Gone? – an eight-song collection Never started working on after relocating to London – "Funky" has a certain levity about it. With her soft vocals meshing with bright guitars, "Funky" is the audio equivalent of ripping open the curtains after a lifetime of darkness.
RADIOHEAD – IF YOU SAY THE WORD
Coinciding with the announcement of KID A MNESIA – a three-volume collection featuring previously unreleased songs from the Kid A and Amnesiac sessions – Oxford indie masters Radiohead have shared "If You Say the Word." Dating back to 1999, when it was originally titled "C Minor Song," "If You Say the Word" is a drowsy dream of a listen that finds Thom Yorke meditating on gratitude and despair: "When you spend your life wishing on a twinkling star/When you forget how lucky you are."
CHERRY GLAZERR – MY FRIEND OF MISERY (METALLICA COVER)
Cherry Glazerr has been exploring a more dance-oriented sound lately, but the Los Angeles band is returning to their rockier roots with a vengeance on this cover of "My Friend of Misery." Recorded as part of The Metallica Blacklist – a tribute to The Black Album comprising of 50+ covers – "My Friend of Misery" hears Cherry Glazerr offering up an ominous, ferocious rearrangement on the 1991 shredder, with Clementine Creevy clearly in her element as distorted guitars search like battleships beneath her.
SLEIGH BELLS – TRUE SEEKERS
Having reclaimed their title as hyperpop originators on "Locust Laced" and its follow-up "Justine Go Genesis," Sleigh Bells is entering more slow-burning terrain on "True Seekers." Featured on their recent album Texis, "True Seekers" is the kind of inky electronic-pop anthem that can be filed alongside CHVRCHES, Purity Ring, and Phantogram. Opening to a palm-muted guitar, before Alexis Krauss enters to guide the song to its maximalist peaks, "True Seekers" is a dark banger through and through.
YUMI ZOUMA – GIVE IT HELL
Christchurch's Yumi Zouma is bursting back onto the scene this Monday with the radiant "Give It Hell." According to band member Josh Burgess, "Give It Hell" was written after the band was forced to cancel their tour at the start of the pandemic. "This song encapsulates us digging deep, pushing through self-doubt, and being grateful for the purpose and process of making music together," reveals Burgess of the cut, which pairs coruscating synths and Cure-esque guitars to create a tonic of optimism.
SPENCER. – NO DIRECTION
Spencer. is lost in love on the latest single to be unveiled from his recent album Are U Down? The follow-up to "MyLuv" finds the New York City musician depicting the perplexities that come with navigating an early relationship. "I find it hard to tell myself I know my way/Around the ups and downs I'm leaving while you stay/I wish there were road signs for closed minds just like me/Or GPS up on your chest for my display," croons Spencer. over cosmic guitars, drawing us deep into his heady orbit.
SIPPER – CRYBABY
Sipper is nothing short of unstoppable. It was only a few weeks ago the New York City act was dropping Half Young, but Joe Beerman and company are already making their return today with "Crybaby." Opening to an ecstatic salvo of synths, before settling into a more driving groove, "Crybaby" is another rapturous piece of pop that studies the dark side of infatuation: "I hope you're dead, I put a hex/You know I loved you too/And you said, 'I get upset, but mostly obsessed'/And I guess that's true."
LEMONADE BABY – IS IT TOO LATE
With fall approaching in the Northern Hemisphere, Brisbane's Lemonade Baby is bringing a much-needed dose of sunshine on his latest single "Is It Too Late." Coming to us via our friends over at Mammal Sounds, "Is It Too Late" is a glistening groover Lemonade Baby reveals was inspired by everyone from Cut Copy, to Iggy Pop, to Prince. Pairing Lemonade Baby's disco falsetto and funky percussion, "Is It Too Late" is a shimmering ode to forgiveness and making amends that dances into the sunset.
-
Follow We: Are The Guard's Weekly Chart on Spotify for more! xo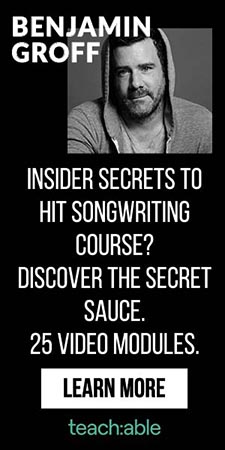 Jess Grant is a frustrated writer hailing from London, England. When she isn't tasked with disentangling her thoughts from her brain and putting them on paper, Jess can generally be found listening to The Beatles, or cooking vegetarian food.