THE 10 BEST INDIE SONGS YOU NEED TO HEAR THIS WEEK
Photo by Abe Camacho on Unsplash
Can you believe we're back living in a time when artists are announcing tours and festivals are revealing lineups? I knew we'd get there eventually, but boy, it feels better than I thought! Of course, the pandemic isn't over yet, but it seems like only a matter of weeks until we're once again getting dehydrated and sunstroke in the name of live music. And I, for one, can't wait! Check out today's edition of We Are: The Guard's Best Indie Songs, featuring St. Vincent, Wild Pink, Jelani Aryeh, and plenty of other favorites!
-
ST. VINCENT – DOWN
She recently found herself in hot water after getting a journalist to kill a moderately unfavorable interview, but St. Vincent's Annie Clark is returning the focus to the most important topic of all – her music – on "Down." The third single to be unveiled from Daddy's Home after "Pay Your Way in Pain'' and "The Melting of the Sun" is funky and bombastic, with St. Vincent and her backing gospel choir singing about getting revenge on an abusive partner atop squelching guitars and deliciously chintzy Wurlitzer keys.
WILD PINK (FEAT. SAMIA) – OHIO
It's only been three months since they shared A Billion Lights, but Wild Pink is already back today with the Samia duet "Ohio." Featured on 3 Songs EP – due out June 25th – it's a soft, gushing ballad about appreciating life's little details that practically made my heart double in size. "It's about getting some comfort from some of the mundane things I took for granted growing up, like daily summer storms and the hum from an oscillating fan at night," writes Wild Pink's John Ross. Enjoy!
JELANI ARYEH – FROM THESE HEIGHTS
He recently shared the gilded, golden "Marigold," but Jelani Aryeh is retreating into the shadows somewhat on his latest single "From These Heights." Backed by a bassline that sounds strikingly similar to Foster the People's "Pumped up Kicks," "From These Heights" is a brooding track about being in conflict with your thoughts. "It's a battle inside/I've never felt so far from something in my life," laments Jelani on the equal part moody and exquisitely, exquisitely catchy bopper.
FANCLUBWALLET – WHAT'S UP
Girl crush klaxon! It's no secret we're big fans of Hannah Judge, better known to most as fanclubwallet, here at We Are: The Guard, with the Canadian act delivering another gleaming lo-fi lullaby this Monday in the form of "What's Up." The latest single to be unveiled from Hurt Is Boring EP hears Hannah making use of her broad array of toy instruments to deliver a playful, fluttering world of her own creation, with the lyrics focusing on that painful feeling of losing connection with someone close to you.
SOCCER MOMMY – WIDE OPEN SPACES (THE CHICKS COVER)
Just over a year on from the release of the brilliant color theory – one of We Are: The Guard's favorite albums of 2020 – Nashville's Soccer Mommy has shared her cover of "Wide Open Spaces" by The Chicks. While the original – from the 1998 album of the same name – makes for a fantastically jaunty country ditty, Sophia Regina Allison manages to infuse the song with a tangible sadness, applying a melancholy lens to the lyrics about a young girl leaving home for a brand new life out west.
GIRLHOUSE – PRETTY GIRL IN LA
There's something fascinatingly opaque about the music of girlhouse, although Lauren Luiz is opening up like never before on "pretty girl in la." Lifted from the girlhouse EP, it's about Lauren's move to Los Angeles and the crushing impact this had on her self-esteem. "This one is very nostalgic of my West Hollywood days, wanting to be an actress and letting people destroy my confidence daily for the sake of the 'craft,' explains Lauren of the track – a shimmeringly catchy nugget of indie-pop gold.
BOYBAND – BY MYSELF
There are no shortage of songs about being in a relationship with a toxic person, but what about when you're the source of the poison? That's exactly what GRAMMY Award-nominated producer boyband attempts to come to terms with on the angsty alt banger "By Myself." "Woke up by myself today/Told me that she needed space," begins the cut – which is taken from his forthcoming album Never Knows Best – with boyband examining his obsessive and destructive behaviors over distorted jet-engine guitar riffs.
WILL ORCHARD – BONES
If there's one album you listen to this week, make it I Reached My Hand Out by Will Orchard. The 10-song collection is nothing short of a modern Americana masterpiece, right down to the final number "Bones." "If these bones could talk, and tell me where they've been/What would they say?" questions Will on the twanging chugger, which concludes the otherwise intimate album on a joyously communal note as Will and his band sing through fits of laughter in the track's closing moments.
NOMBE – TO THE MOON
We Are: The Guard favorite NoMBe is letting us take a ride on his rocket on his electrifying, sexy latest single "To the Moon." Featured on the German singer-songwriter and producer's recent sophomore album CHROMATOPIA, "To the Moon'' is an interstellar rock-and-roll groover through and through. With luminous guitar riffs shooting off into orbit while the 30-year-old assumes the role of a seductive space captain, "To the Moon" is very much the contemporary cosmic love child of Prince and David Bowie.
WALLICE – OFF THE RAILS
She recently set her sights on f*ck boys on "Hey Michael," but Wallice is turning her lens more inward on her latest single "Off the Rails." "'Off the Rails' is about feeling like you don't have any control over your life and that the world is against you – and that you're the only one that feels that way," explains the Los Angeles rising artist of the Marinelli-produced track, which starts off tense, nervy and deeply frenetic, before surging to a place of gilded indie-pop catharsis come the chorus.
-
Don't forget to follow We Are: The Guard's Weekly Chart on Spotify for plenty more! xox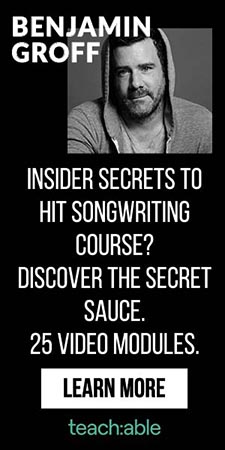 Jess Grant is a frustrated writer hailing from London, England. When she isn't tasked with disentangling her thoughts from her brain and putting them on paper, Jess can generally be found listening to The Beatles, or cooking vegetarian food.