THE 10 BEST INDIE SONGS YOU NEED TO HEAR THIS WEEK
Naitian (Tony) Wang on Unsplash
With Bonnaroo becoming one of the first major festivals to announce its lineup on Wednesday, it's really starting to feel like things are changing for the better. And while it's going to be a far from normal summer, it definitely seems as though live music will be returning sooner than we hoped. I'm not sure about you guys, but I've never been more excited to see a flower crown in my whole entire life. On that note, with the days continuing to get brighter and the vaccinations continuing to roll out, let's check in with the latest edition of We Are: The Guard's Best Indie Songs, featuring Dayglow, Junior Varsity, St. Vincent, and seven other favorites.
-
DAYGLOW – WOAH MAN
Dayglow doesn't miss! Following on from the release of the John Hughes-indebted "Close To You" and the ode to online anxiety "Something," Sloan Struble is returning this Monday with the delightful "Woah Man." The song hears Dayglow's Randy Newman-esque sunshine-pop coming accompanied by some of his most personal, thoughtful lyrics to date, with the 21-year-old letting us in on his mental health battles: "'Woah Man' is one of my favorite songs I've written so far. I initially wrote it for a friend who was going through a hard time, but then later realized that I was really writing about myself."
JUNIOR VARSITY – COLD BLOOD
Junior Varsity has us believing the hype and then some on their latest single "Cold Blood." The rising duo has spent the last couple of years growing their fan base in and around Los Angeles, but Greg Aram and Zach Michel are setting their sights on more viral success with this angst-riddled, distorted banger. Drawing inspiration from a blend of punk, hip-hop, and rap-rock, "Cold Blood" is a song about being down on your luck that nothing short of goes the hell off. Crank it up!
ST. VINCENT – THE MELTING OF THE SUN
St. Vincent Season approaching! Just a few weeks on from returning with the sleazy "Pay Your Way in Pain," the Tulsa native is back in business this Monday with "The Melting of the Sun." The second single to be unveiled from Daddy's Home hears St. Vincent continuing to dabble in a kind of chintzy, vaudevillian glamor, albeit this time with a splash of psychedelia that goes down like honeyed liquor. Lyrically, meanwhile, the song pays tribute to a range of female artists who have struggled against the status quo, with Marilyn Monroe, Joni Mitchell, and Nina Simone among those name-checked by Annie Clark.
COURTNEY BARNETT (FEAT. VAGABON) – DON'T DO IT (SHARON VAN ETTEN COVER)
Having teamed up earlier this year for a cover of Karen Dalton's "Reason To Believe," Courtney Barnett and Vagabon are coming together once again this Monday for a spin on Sharon Van Etten's "Don't Do It." Lifted from the forthcoming 10th-anniversary edition of Sharon's album Epic – due out on April 16th via Ba Da Bing Records – the cover hears Courtney and Vagabond delivering a more loose, slacker-rock take on the ode to a toxic relationship. "In the process of talking vulnerably about the lyrics with Sharon, I had to delve deeper into what the song meant for me," reveals Courtney. Listen!
BRISTON MARONEY – SINKIN'
He recently rocked our world with "It's Still Cool if You Don't," and this Monday, We Are: The Guard regular Briston Maroney is back and sounding bigger than ever on "Sinkin'." The latest single to be unveiled from his debut album Sunflower – due out on April 9th via Atlantic Records – is a fuzzy sucker punch straight to the chest. Bringing together the Knoxville singer-songwriter's emotional, cathartic vocals and distorted, wailing guitars, "Sinkin'" is a crunchy ode to the ups and downs of life ("But some things are out of your hands!") that's almost certainly going to be a fan favorite once live music is finally able to return.
WAXAHATCHEE – STREETS OF PHILADELPHIA (BRUCE SPRINGSTEEN COVER)
Coinciding with the one-year anniversary of her critically acclaimed fifth album Saint Cloud, Waxahatchee's Katie Crutchfield has shared her spin on Bruce Springsteen's "Streets of Philadelphia." Fun fact: I watched Philadelphia for the very first time a couple of weeks ago, so it goes without saying this cover is different! With soft electronics and muted, pattering drums, Waxahatchee's version actually isn't too dissimilar from the original – which won both the Academy Award for Best Original Song and the GRAMMY Award for Song of the Year – with Katie's country twang more than doing The Boss justice.
POTÉ (FEAT. DAMON ALBARN) – YOUNG LIES
It's not every day Blur and Gorillaz legend Damon Albarn agrees to hop on a single, but then again, Poté is far from every day. Born in St. Lucia, the rising experimental producer is inviting us into his post-apocalyptic club world on the thrilling "Young Lies." Opening to a political spoken verse from Damon ("The soul and the kiss of/A crackhead is greater, than the obsequious behavior of your politicians"), "Young Lies" eventually shape-shifts into something far more dark and danceable, with the tropical beat coming rounded off by Poté's chilling falsetto tenor.
ANGEL OLSEN – IT'S EVERY SEASON (WHOLE NEW MESS)
Angel Olsen revisits the devastating "Whole New Mess" this Monday in the form of "It's Every Season (Whole New Mess)." Lifted from her forthcoming box set Song of the Lark and Other Far Memories, it hears the St. Louis singer-songwriter putting a more orchestrated spin on the cut – which originally featured on 2020's Whole New Mess – with a mournful brass arrangement courtesy of Nate Walcott really adding to Angel's crushing narrative about anxiety, depression, and the struggles of drug addiction.
LEO BHANJI – RAW
Just under a year on from mesmerizing us with his breakthrough single "The Wades," British singer-songwriter Leo Bhanji is back this Monday with "Raw." As the title suggests, it's a deeply real, deeply authentic dive into the Dirty Hot signee's sound and vision. "Did I do you wrong, and did I let you down?" questions Leo over a steelpan-esque sample, with his accented vocals and poetic lyricism sharing that same kind of intoxicating cadence as We Are: The Guard favorites King Krule and Bakar.
DRUG STORE ROMEOS – WHAT'S ON YOUR MIND
Ahead of the release of their debut album The World Within Our Bedrooms, Drug Store Romeos has shared the dreamy "What's on Your Mind." Clocking in at just over four minutes, it's a chiffony immersion into this British trio's breed of psilocybin-pop. With basslines softly radiating out from beneath Sarah Downey's sheer topline, it's near impossible not to get lost within the folds of this psychedelic reverie, which Drug Store Romeos describes as a "mental journey through realizations about past situations that send you down rabbit holes of thought that end up linking to other rabbit holes." Tune in and drop out!
-
Until next time, why not follow We Are: The Guard's Weekly Chart for more? Happy Monday! x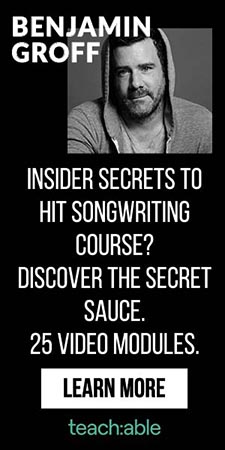 Jess Grant is a frustrated writer hailing from London, England. When she isn't tasked with disentangling her thoughts from her brain and putting them on paper, Jess can generally be found listening to The Beatles, or cooking vegetarian food.