NEW INDIE MUSIC: 10 SONGS TO START YOUR WEEK
Photo by Trevor Buntin on Unsplash
Hi, everybody! How are you? How was your weekend? Did you catch Grimes making her SNL debut on Saturday? I'm sorry, but if that whole "Wario" sketch doesn't confirm we're absolutely living in a simulation, then I don't know what does! Anyways, as we turn our attention to another working week, it's time for the latest edition of We Are: The Guard's New Indie Music! Just grab some AirPods and enjoy the following songs from Rostam, KALI, HEALTH & Nine Inch Nails, and plenty of others!
Wario was my fav haha https://t.co/TNjn3meLVJ

— Elon Musk (@elonmusk) May 9, 2021
-
ROSTAM – FROM THE BACK OF A CAB
Rostam has been on a major winning streak of late, with the former Vampire Weekend multi-instrumentalist continuing the buildup to Changephobia this Monday with the release of "From the Back of a Cab." Described by Rostam as his "favorite song" he's ever written, the track is a wistful, twinkly ballad as supported by some beautifully scratchy drums. The definitive soundtrack to a late-night ride home through the city, "From the Back of a Cab" comes paired with a celebrity-filled video starring HAIM, Charli XCX, and more.
KALI – TOO TIRED
California's KALI is exhausted and quite frankly over it on her latest single "Too Tired." Featured on her recent debut EP CIRCLES, "Too Tired" is sure to resonate with anybody who's ever spread themselves too thin and been left totally burnout as a result. "Everybody wants something/From me/But I'm only human/So tell me when to breathe," sings the 16-year-old on the track, which hears deliciously wonky, fuzz-caked guitars underpinning Kali Flanagan's array of off-kilter vocal harmonies.
HEALTH & NINE INCH NAILS – ISN'T EVERYONE
The fans have been waiting for it, and finally, California noise-rockers HEALTH and 90s titans Nine Inch Nails are coming together as one on the towering "ISN'T EVERYONE." "It's fucking Nine Inch Nails. That speaks for itself. You don't need a clever quote to encapsulate it," write HEALTH in the press release, and honestly? We Are: The Guard couldn't put it better ourselves. A brooding churn that slowly rises from the ground like a steely monolith, "ISN'T EVERYONE" is an industrial rager that hits like a moment of sweet release.
REMI WOLF – WOO! (PANDA BEAR REMIX)
It's no secret we're absolutely massive fans of Remi Wolf here at We Are: The Guard, and clearly, we aren't alone. Just under a year on from the release of her EP I'm Allergic to Dogs!, the California artist returns this May with the remixed accompaniment We Love Dogs!. Featuring Beck, Hot Chip, Nile Rodgers, and more, it's an impressively star-studded affair, with our personal highlight coming in the form of Panda Bear's psychedelic, synapses-melting take on Remi's breakthrough hit "Woo!"
DAYGLOW – BALCONY
Dayglow doesn't miss. Following on from the release of the John Hughes-indebted "Close to You," the funky "Something," and the anxiety-riddled "Woah Man," the Texas native continues his glorious run this Monday with "Balcony." Citing The Cure, BRONCHO, and the Mario Kart soundtrack among its influences, "Balcony" is one of those equal parts joyous and melancholic dance-floor hitters Sloan Struble does so well. Throw some signature heartbreak and nostalgia into the mix, and we have ourselves another immaculate sad banger from Dayglow.
CHEMICAL CLUB – ARM'S LENGTH
There's something about the music of chemical club that fills me with a comforting nostalgia. Perhaps it's the shimmering guitars, or perhaps it's the vocals that paint the sky like an impressionist painting, but there's something about the Canadian indie-pop duo's music that feels like home. Case in point: "Arm's Length." Featured on their recent EP of the same name, "Arm's Length" is a song about the search for identity and the gradual loss of self that takes me back to simpler times.
WAVVES – HELP IS ON THE WAY
The King of the Beach himself, Nathan Williams, is back along with the rest of Wavves on "Help Is on the Way." The latest single to be unveiled from the California band's forthcoming album Hideaway – due out in July via Fat Possum – is a scuzzy surf banger about the search for hope in hard times. "I gotta get away/From the things that bring me," announces Nathan in the second verse, showcasing a renewed sense of optimism to his sound that makes for quite the anthem as we head into summer.
ANJIMILE & LOMELDA – 1978 (REUNION)
Just a few weeks on from sharing Jay Som's take on "In Your Eyes," We Are: The Guard favorite Anjimile returns to our ears this Monday with Lomelda's spin on "1978." Lifted from Reunion EP – a three-song collection of orchestral reimaginings from Anjimile's debut album Giver Taker – it hears Lomelda bringing a fae delicacy to the cut. Combine that with some enchanted string arrangements courtesy of Daniel Hart, and "1978 (Reunion)" sheds whole new light on this ode to opening yourself up to love.
EMPRESS OF – ONE BREATH
Coinciding with Mental Health Awareness Month, Empress Of has shared the stirring "One Breath." Released part of the Sound It Out campaign, which encourages adults to engage in conversations with young people about mental health, "One Breath" was written by Empress Of after speaking with a 14-year-old Honduran girl named Marianne. "What an incredible moment to share my own story with her and how much I could relate to her and her mother," reveals Empress Of, who's transformed their interaction into a gorgeously centering synth-pop hymn.
MADI DIAZ – NERVOUS
Madi Diaz is on the brink of self-destruction and there's nothing she can do about it on her fuzzy latest single "Nervous." "It's about catching yourself acting out, you're crazy and you're finally self-aware enough to see it, but you're still out of your body enough and curious enough to watch yourself do it," explains the Anti- signee of the follow-up to "New Person, Old Place," which hears Madi pairing crunching guitars with her playfully wry, dark humor and glorious ear for melodies.
-
Follow We Are: The Guard's Weekly Chart for plenty more! xox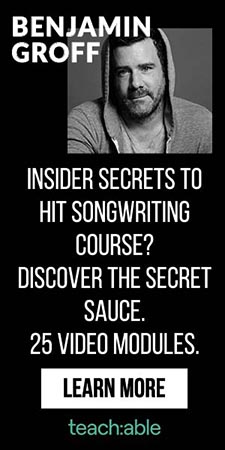 Jess Grant is a frustrated writer hailing from London, England. When she isn't tasked with disentangling her thoughts from her brain and putting them on paper, Jess can generally be found listening to The Beatles, or cooking vegetarian food.