NEW INDIE MUSIC: THE 10 BEST INDIE SONGS OF THE WEEK
Photo by Christin Hume on Unsplash
Happy Adele Week, everyone! Are you ready to feel all of the feelings on Friday? Before everything 30 dominates the headlines, however, it's time for the latest edition of We Are: The Guard's New Indie Music! Speaking of comebacks, I'm excited to say Mitski makes her return this Monday with the killer "Working for the Knife!" That's not all, though, with the following column also bringing you brand new bangers from James Blake, Tame Impala, Porches, and lots more!
-
MITSKI – WORKING FOR THE KNIFE
Mitski is back, baby! Just over three years on from the release of Be the Cowboy, the Japanese-American artist is making her swooning return today with "Working for the Knife." Built on a churning, relentless chug of guitars, "Working for the Knife" sees the 31-year-old quite literally sticking it to The Man. "I start the day high and it ends so low/'Cause I'm working for the knife," croons Mitski – her voice sounding equal parts despairing and desensitized as she studies the horrors of late-capitalism around her.
OBERHOFER (FEAT. SHAMIR & NICK VALENSI) – SUNSHINE
Oberhofer recently announced his first album in six years, Smothered, and today, the New York City-based act is back with the glorious "SUNSHiiNE." Set against a crashing digital pulse, it finds Oberhofer reflecting on a love that brings light in times of darkness: "When I met you/My heart skipped a beat/When I'm with you/I feel so complete/My sunshine." The Strokes guitarist Nick Valensi, meanwhile, rips open the song with his fuzzy licks, before Shamir lends "SUNSHiiNE" a radiant spoken verse.
JAMES BLAKE (FEAT. SZA) – COMING BACK
James Blake is attempting to make amends, but SZA is having none of it on "Coming Back." Featured on Blake's brand new album Friends That Break Your Heart, "Coming Back" opens to a grand cathedral of sound. It's once SZA enters and the bass drops, however, that "Coming Back" really takes its murky shape, with Blake begging a cynical Solána Rowe for forgiveness: "So I'm coming back, coming back, tail between my legs/Forget what I said, what I said, what I said, what I said."
THE BRAZEN YOUTH – I LOVE IT ALL
If you're a regular reader here at We Are: The Guard, you'll undoubtedly be familiar with The Brazen Youth. Earlier this year, we spoke with the New Haven band as part of our "Advice for Indie Artists'' feature, and recently, the trio's very own Micah Rubin started contributing to our Indie Pop column. The Brazen Youth is also a favorite among our Indie pages, with Rubin, Nic Lussier, and Charles Dahlke making their return today with "I Love It All" – a stunningly rustic, homely lament for the ghosts of former lovers.
TAME IMPALA – BREATHE DEEPER (LIL YACHTY REMIX)
They recently announced a deluxe edition of 2020's The Slow Rush, but before all of that, Tame Impala has unveiled Lil Yachty's remix of the bejeweled disco banger "Breathe Deeper." "It was so amazing to work with Kevin Parker as I've been a big fan since high school," Lil Yachty says in a press release. Pairing Miles McCollum's metropolitan flow with scintillant Studio 54 grooves, this remix is certain to have you following the rapper's instructions: "Everybody sh*t the fuck up and start dancin'!"
MAGDALENA BAY – HYSTERICAL US
Magdalena Bay's Mica Tenenbaum and Matthew Lewin are nothing short of masters at transforming existential doom and angst into something vibrant and carnivalesque. Case in point: "Hysterical Us." The latest single to be taken from the Los Angeles duo's brand new album Mercurial World after "Chaeri," "Secrets (Your Fire)," and "You Lose!" finds Tenenbaum and Lewin asking some of life's biggest questions – like "Are we alone?" and "How did we learn to breathe?" – over a funky blanket of psychedelic-soul.
PORCHES – BACK3SCHOOL
Just in time for back-to-school season, Porches has shared the nerve-fried "Back3school." "This song is a mystery to me, impending doom mixed with total bliss," Aaron Maine discusses in a press release. "The 'back-to-school' trope, but with an underlying anxiety that something might be terribly wrong, or maybe everything is just fine." Featuring his monotone voice coming encased in itchy, twitchy electronic-pop, "Back3school '' feels like the audio equivalent of a brain melting through a motherboard.
RITT MOMNEY & SHANE T – SOMETIME
He recently discussed his imposter syndrome on the softly iridescent "Show Runner 99," and today, Ritt Momney continues to detail the impact overnight success had on his mental health on "Sometime." A duet with Shane T, it finds Momney rendering the suffocating side of fame through a wonky indie lens. "Wrappеd in a brand like it's a body bag/Block out the sound, I like thе sound of that," sings Momney over eerily angular riffs on the fifth and final single to be shared from the upcoming Sunny Boy.
TASHA – SORRY'S NOT ENOUGH
It's never easy admitting to your own failures during the breakdown of a relationship, but Tasha is doing that in almost eye-wincingly honest, intimate detail on "Sorry's Not Enough." "Hopefully in time/I'll know what I want/And stop hurting everyone/Who ever cared for my heart," laments the Chicago poet and singer-songwriter at one point – her voice stretching like cloth over a depressive swirl of guitars. "Through the tension and pain comes a great relief," says Tasha in a statement. Listen!
GEORGE CLANTON & NEGATIVE GEMINI – F*CKING UP MY LIFE
There can be something weirdly liberating about f*cking up your life. Perhaps it's because once you hit rock bottom, the only direction to go is skyward, but George Clanton is capturing the strange euphoria that comes with being a hot mess on "F*cking up My Life." "This song is really fast and really loud. It's about f*cking up your life, but it feels okay," Clanton says in a statement of the intensely heavy cut, which features backing vocals from his 100% Electronica co-founder Negative Gemini.
-
Until next week, follow We Are: The Guard's Weekly Chart for lots more! xo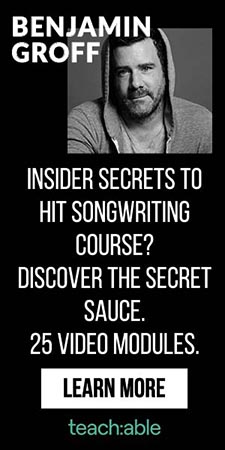 Jess Grant is a frustrated writer hailing from London, England. When she isn't tasked with disentangling her thoughts from her brain and putting them on paper, Jess can generally be found listening to The Beatles, or cooking vegetarian food.