HELLO APRIL: 10 TOP CHILL SONGS TO CELEBRATE SPRING
April is here, spring is in full bloom, and things are most definitely looking up! Whatever your plans are this Easter weekend (Are you safely spending time with family, or are you staying at home and eating all of the Cadbury chocolate bunnies in sight like me?), this playlist will keep you company from Friday night right through to Monday morning! On that note, let's get going with the latest edition of We Are: The Guard's Top Chill Songs, featuring Foushée, Mustafa, Kings Elliot, and seven other favorites! Happy days!
-
FOUSHEÉ (FEAT. LIL WAYNE) – GOLD FRONTS
Foushée is a breath of minty fresh air. From "Deep End," to "single af," to "sing about love," the Los Angeles singer-songwriter has given us vibe after vibe, with the 29-year-old delivering once again on "gold fronts." Clocking in at just over four minutes, it's a tranquil, sublime meditation on resilience ("They can't take our gold fronts away") that hears Foushée coming backed by flamenco-tinged guitars and breathy vocal harmonies. Lil Wayne drops in on a verse at one point, too, demonstrating this TikTok sensation's enviable star-pulling power.
MUSTAFA – ALI
Just over a year on from stopping the blogosphere in its tracks with his debut single "Stay Alive," Canadian poet and purveyor of "inner-city folk music" Mustafa is back today with "Ali." The song is a somber, crushing tribute to Mustafa's close friend Ali Rizeig, who was tragically lost to gun violence in 2017. Woven around light, airy fingerpicked guitars and very little else, it's a tender hymn that hears Mustafa elegantly processing his grief and trauma, while simultaneously paying his highest respects to his late companion.
KINGS ELLIOT – BITTER TONIC
It's no secret we're big fans of Kings Elliot here at We Are: The Guard. Having won us over with "I'm Getting Tired of Me" and "Dancing Alone," the rising artist is making it three out of three with the devastating "Bitter Tonic." "'Bitter Tonic' is about self-sabotage, self-hatred, self-destruction. All the things I've always felt too uncomfortable to talk about," reveals Kings of the cut – a crushing anxiety ballad that hears her delving into the darkest crevices of her mind in order to pull out a song that's as desperately sad as it is infinitely lovely.
FIJI BLUE – WAIT!
We Are: The Guard hasn't stopped listening to "It Takes Two" since it dropped in March, but Fiji Blue is finally giving us something else to tide us over until the release of their debut EP in the form of "Wait!" "This song holds a special place in our hearts as it embodies everything Fiji Blue means to us both," explains the Los Angeles outfit of the cut. With its equal parts sad and romantic feels and coastal beat, it really isn't hard to hear what Fiji Blue is referring to, with the rising duo delivering perhaps their most signature bop to date.
TWO LANES – REFLECTIONS
Coinciding with the announcement of their Reflections EP – due out in June on We Are: The Guard favorite San Holo's record label bitbird – Germany's TWO LANES have shared the title song. The follow-up to the Kwesi-featuring "Another Time" is sure to help you unwind and decompress after five days of Zoom fatigue. Bringing together a soothing mixture of piano motifs and soft, pattering drums, it's a restful landscape that hears TWO LANES continuing to incorporate more organic sounds into their productions. Tune in and drop out this Friday night.
LYDIA KENNIE – MIDDLEFIELD ROAD
There isn't much We Are: The Guard can tell you about Lydia Kennie, but it really doesn't matter. What this New York City singer-songwriter lacks in Internet presence and press materials, she more than makes up for in her latest single "Middlefield Road." "Growing up at home/Before I had my first cell phone /I could look strangers in the eye/It was a simpler time," begins the tender, unassuming acoustic ballad, which hears Lydia tragically reflecting on her journey from childhood to adulthood, and the friends and lovers she's lost along the way.
GALLANT & BRANDY – DYNAMITE.
Gallant proves dreams do, indeed, come true on his latest single "Dynamite." Featured on his recent EP Neptune – his first since leaving his record label in order to return to being an independent musician – the cut hears Gallant teaming up with his childhood hero Brandy for a duet I can only describe as pure opulence. Written about a relationship that's gone to ruins in the wake of Gallant's fame and success, it's a grand, emotionally stirring R&B ballad that allows these two powerhouses to totally bring their A-games.
BENNY BLANCO & OMAR APOLLO – CARE
Omar Apollo takes time out from launching Disha Hot – a habanero hot sauce that the Hobart superstar reveals has been in his family for generations – to join forces with benny blanco on "Care." Featured on benny's recent album FRIENDS KEEP SECRETS 2, it's a sparse, minimal listen that begins with Omar's evocative tenor soaring over flecks of electric guitar. It's not until the chorus that the song reaches its cathartic apex, though, with Omar's voice morphing into a throaty yell as he declares: "You left me out for dead/I probably pushed my luck."
UMI – INTROSPECTION REIMAGINED
Following on from the release of her Introspection EP, UMI returns this April with a companion project Introspection Reimagined. As the name suggests, it hears UMI completely reinventing the material from her previous EP, including the title song "Introspection." Listen as UMI – who cites the live recordings of D'Angelo, Erykah Badu, and Lauryn Hill among the influences behind the companion project – puts a loungey spin on the cut, with the We Are: The Guard favorite transporting us to a jazz cafe on a Sunday afternoon with her smooth vibes.
SUBLAB – ANYTHING FOR YOU
Sublab sampling "Grenade" by Bruno Mars? We love, love, love to see it. Buckle up, as the German hardwave producer is taking us on the definition of an emotional roller coaster on his latest single "Anything for You. The song opens atmospheric and dreamlike enough, with melodic piano and hints of chimes helping to set the scene. It's once the vocal sample and the hard-hitting kicks enter, however, that "Anything for You" really lifts off into the heavens, with the whole thing coming steeped in equal parts melancholy and euphoria. Right in the feels.
-
Don't forget to follow We Are: The Guard on Spotify for more! x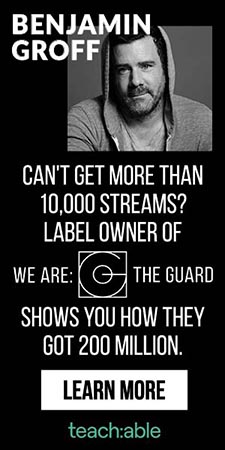 Jess Grant is a frustrated writer hailing from London, England. When she isn't tasked with disentangling her thoughts from her brain and putting them on paper, Jess can generally be found listening to The Beatles, or cooking vegetarian food.