TOP INDIE SONGS: THE 10 BIGGEST BOPS OF THE WEEK
Photo by Superorganism
It's Sunday evening at the time of writing. That means the GRAMMYs haven't aired for me yet, so I'm unable to give any dramatically boring hot takes on unscripted slaps or alternative controversies. Just one question: Did Japanese Breakfast win anything for our little indie community? A girl can hope, okay? Anyways. While the music industry comes to terms with the post-awards fallout, it's time for the latest edition of We Are: The Guard's Top Indie Songs. Featuring Superorganism, spill tab, Warpaint, and lots more, this playlist has something for everyone!
-
SUPERORGANISM (FEAT. DYLAN CARTLIDGE & STEPHEN MALKMUS) – IT'S RAINING
Earlier this year, Superorganism made their comeback with the CHAI and Pi Ja Ma-featuring "Teenager," and this Monday, the global collective is continuing to immerse us in their maximalist macrocosmos on "It's Raining." The latest single to be unveiled from their forthcoming sophomore album, World Wide Pop, "It's Raining" is a glitchy stomp full of hip-hop swagger, with Superorganism enlisting the help of Pavement's Stephen Malkmus, The Mighty Redcar's Dylan Cartlidge, and a certain Scott Walker.
SPILL TAB – SUNBURN
Following on from the announcement she'll be playing headline shows in Paris and London in May, We Are: The Guard favorite spill tab has shared the bombastic "Sunburn." Coming after December's Bonnie EP, "Sunburn" hears Claire Chicha teaming up with Solomonophonic to deliver a dose of glitched-out neurotic-pop that spill tab does so well. Built around a screaming synth line Solomonphonic created through "a weird ass pedal," "Sunburn" is a song of dissatisfaction that goes the hell off.
WARPAINT – STEVIE
Next month, Warpaint will release Radiate Like This, but before all of that, the Los Angeles act is very much living up to their fourth album title on the gleaming "Stevie." With stacks upon stacks of vocal harmonies coming backed by wavy, knotty guitars and softly gurgling basslines, "Stevie" is a dappling letter of devotion. "'Stevie' is a love song, pure and true," explains Warpaint. "A cosmic celebration of the thing we all look for in life. And our contribution to one of the most beloved song genres."
DAY WAVE – PASTLIFE
Just in time for summer, Day Wave is returning to immerse us in his sun-bleached sounds on "Pastlife." Lifted from his forthcoming sophomore album of the same name, "Pastlife" is a gleaming bit of surf-pop nostalgia that finds Day Wave looking back on his adolescence with a hint of wistful melancholy that pairs so well with this weather. "I have so many eras from my past that I miss, and so many friends left behind in those times," writes Day Wave."I wonder if they ever think of those times the way I do."
TORO Y MOI – DÉJÀ VU
Hailing from Columbia, South Carolina, Toro y Moi is tapping into his southern roots on his latest single, "Déjà Vu." Coming after Postman," "Magazine," and "The Loop," "Déjà Vu" is a twangy, psychedelic trip that feels steeped in legend and mythology. "This one's definitely a sort of a slice of American pie, sort of like a collage of Americana imagery, and it's like a, it's an ode to the Southern lifestyle," says Chaz Bear. "And I just really wanted to show some country boy. I never really showed my country boy."
BEACH BUNNY – FIRE ESCAPE
Coinciding with the announcement of their forthcoming sophomore album, Emotional Creature, TikTok sensations Beach Bunny has shared the surging "Fire Escape." The follow-up to "Oxygen" hears the Chicago act continuing to translate their growing pains into college-radio alternative-rock, with Lili Trifilio's urgent, albeit candy-coated kiss to a lover coming backed by pointed riffs: "My heart is tipping over/Pouring out when you say/Gravity couldn't sway/Any placе is the place I'll be/Whеn you're far away."
ALDN – SINK
He recently got off tour with glaive and midwxst, and this April, We Are: The Guard favorite aldn is continuing to shape the future of hyperpop on his crunching latest single, "sink." While hyperpop is generally known for its experimental, forward-thinking twist on mainstream radio fodder, "sink" hears aldn exploring more of an old-school organic sound, with live drums and other instrumentation underpinning him as he sings about struggling to love: "Every time I'm in too deep/But I just can't sink."
THE BLSSM – NOT TODAY
American feminist Audre Lorde once said: "Caring for myself is not self-indulgence, it is self-preservation, and that is an act of political warfare." We Are: The Guard favorite THE BLSSM is very much subscribing to that view on their latest single, "NOT TODAY." Lifted from their forthcoming EP, PURE ENERGY, "NOT TODAY" is an anthemic ode to celebrating the small joys and victories within a world that seems configured to destroy us: "'Cause I know it's up to me if it's a bad day/I say na, na, not today."
GOLDEN VESSEL (FEAT. EMERSON LEIF & MALLRAT) – POCKETS FULL OF ROCKS
Golden Vessel, Mallrat, and Emerson Leif? It doesn't get much better than this, everyone. The latest single to be taken from Golden Vessel's forthcoming third album, everythingeverydayeverything, "pockets full of rocks'' is a deeply radiant, revelatory groove Golden Vessel says he made out of two separate vocal sessions with Mallrat and Emerson. "As soon as I cut the two parts together, I had such a big moment of clarity for the whole album and direction the project was heading in," he adds. Listen.
ROSIE CARNEY – DAD
A couple of years on from covering Radiohead's The Bends in full, Rosie Carney is back this Monday with news of a sophomore album, i wanna feel happy, and a lead single, "dad." Produced alongside JC Mac at London's legendary RAK Studios, "dad" is a gargantuanly grungy confessional that emerges from the ground like an obelisk. "Wish that I was small where the grass felt tall/Hiding on my own, dad, come take me home," sings Rosie over a fuzz-filled riff, evoking a loss of innocence to which we can all relate.
-
Follow We Are: The Guard on Spotify for more! x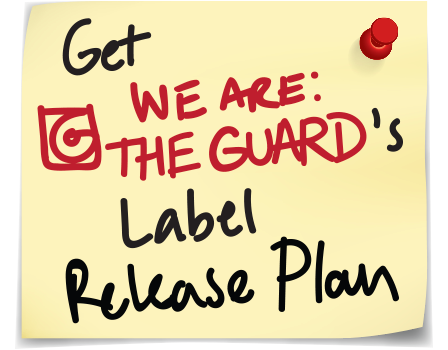 Jess Grant is a frustrated writer hailing from London, England. When she isn't tasked with disentangling her thoughts from her brain and putting them on paper, Jess can generally be found listening to The Beatles, or cooking vegetarian food.