THE 10 BEST INDIE SONGS TO ADD TO YOUR PLAYLISTS THIS WEEK
Photo by Jordan Rodriguez
A whole lot of Big Things™ are happening in the world at the moment. It's during times like this that music can seem small to the point of insignificance, but in reality? It's during times like this that music is more critical than ever. Ahead of the working week, then, check in with the latest edition of We Are: The Guard's Best Indie Songs, featuring JAWNY, Dora Jar, Weyes Blood, and others!
-
JAWNY – ADIOS
Just a few weeks on from channeling Julian Casablancas on "strawberry chainsaw," JAWNY is back this Monday with another blockbuster banger, "adios." "I could sit here and give a really smart sounding press quote where I make up a story to make this song sound really serious and pretentious," JAWNY says in a statement. "But the truth of the matter is I wrote a song that I believe in." With a screamable chorus coming intercepted by a rinky-dink synth motif, "adios" is nothing short of supersized.
DORA JAR – BUMP
Back in August, Dora Jar opened our column with the technicolor pop fantasy "Bumblebee," and today, Dora Jarkowski is returning with "Bump." According to Dora, she wrote "Bump" while based in Poland. "I didn't really know anyone in that city except for the family I was staying with so I wasn't bumping into people I knew anywhere. This song felt like a prayer to encounter a meaningful coincidence," the New York City native adds of "Bump," an intoxicatingly intangible trip-hop dreamscape. Aah.
WEYES BLOOD – IT'S NOT JUST ME, IT'S EVERYBODY
Forget "it's not you, it's me." Weyes Blood romanticist Natalie Mering is reminding us "it's not just me, it's everybody" on the lead single taken from her forthcoming album, And in the Darkness, Hearts Aglow. Produced with Ben Babbitt and Jonathan Rado, "It's Not Just Me, It's Everybody" is a sweeping locket of despair that hears Natalie building on the Karen Carpenter-esque rich, lush grandiosity of Titanic Rising: "Oh, it's not just me/I guess it's everybody/Yes, we all bleed the same way."
JEAN DAWSON – PIRATE RADIO*
There's nobody doing it like Jean Dawson. Following a string of alt bangers, including "MENTHOL*," "PORN ACTING*," and "3 HEADS*," the Mexican-American star is showcasing a more exquisite side to his sound on "PIRATE RADIO*." Lifted from his forthcoming album, CHAOS NOW*, " PIRATE RADIO*" is a quaintly beautiful folk fable that hears Jean singing about perseverance amid a circle dance of Celtic-style strings: "My paddle is broken, I'm out in the open/I'll never die."
THE BRAZEN YOUTH – SPIRIT FINDS YOURS
The Brazen Youth's Eagle, Idaho is finally here, and I'm pleased to say it was totally worth the wait. Case in point: "Spirit Finds Yours," the first song on the album. "'Spirit Finds Yours' introduces the setting of the world that Eagle, Idaho exists in," The Brazen Youth says in a statement. "Nic wrote it about a close friend and a small-town tragedy. That's sort of where the album starts." A vastly emotive, impactful folk ode to life and death, "Spirit Finds Yours" is big music for big feelers.
BJÖRK – OVULE
She recently implored us to seek connection on "Atopos," and this Monday, Björk is exploring what happens when we find it on "Ovule." "'Ovule' for me is my definition of love. It is a meditation about us as lovers walking around this world," the Icelandic oracle reveals on Instagram. With beats spitting and distorting beneath her as her voice stretches out like a poetic tendril, "Ovule" is a brassy ode to the dance of love. Fossora is out on September 30th via One Little Independent Records.
DJO – END OF BEGINNING
DECIDE, the brand new album from Djo's Joe Kerry, is finally here. We've already heard "Change," "Gloom," "Figure You Out," and "Half Life," and today, the Stranger Things actor is back in our ears with "End of Beginning." "'End of the Beginning' is about saying goodbye to a certain part of your life, and it being a sad thing, but also looking onward," Joe tells SPIN. A cosmic, swirling dose of Andy Kaufman-pop that forms the centerpiece of DECIDE, "End of Beginning" packs a surprising amount of heart.
LITTLE DRAGON (FEAT. JID) – STAY
Little Dragon and JID? It doesn't get much better than this. Having recently channeled Janet Jackson circa "Would You Mind" on the sultry bounce "Frisco," Little Dragon is continuing to get their groove on with "Stay." A tribute to "showing your vulnerability and expressing your wishes to keep dreaming and growing with that person," "Stay" is an absurdly funky piece of nighttime-soul that hears Destin Choice Route closing out the song with his critically acclaimed vocal-and-rap chops.
WHITMER THOMAS – EVERYTHING THAT FEELS GOOD IS BAD
Los Angeles comedian Whitmer Thomas continues the countdown to the Jay Som-produced The Older I Get the Funnier I Was with the darkly hilarious, desperately upsetting "Everything That Feels Good Is Bad." Like "Rigmarole" before it, "Everything That Feels Good Is Bad" is very much the audio embodiment of the sad-clown paradox, with Whitmer listing his coping mechanisms against a soft chug: "Is it intermittent fasting or an eating disorder?/Do I need all my old birthday cards or am I a hoarder?"
YOUNG FRIEND – HAND ME DOWN
Introducing young friend, the Canadian upstart placing a distorted spin on the blues on his heavy latest single, "HAND ME DOWN." Lifted from his recent debut album, HOW DID WE GET HERE?, "HAND ME DOWN" hears young friend comparing his role in a relationship to that of a second-hand toy. "And I know that I'm nothing new/I'm second hand/And I'm slightly used," croons the 22-year-old against a backdrop of Black Francis-esque crunch. "I'm used to getting around/Cause I'm just a hand me down."
-
Don't forget to follow We Are: The Guard's Weekly Chart for more! xo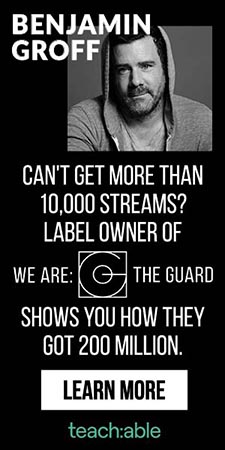 Jess Grant is a frustrated writer hailing from London, England. When she isn't tasked with disentangling her thoughts from her brain and putting them on paper, Jess can generally be found listening to The Beatles, or cooking vegetarian food.