THE 10 BEST INDIE SONGS YOU NEED IN YOUR LIFE THIS WEEK
Photo by Sophia Ragomo
Hi, you guys! How are you doing this Monday? As I type this, the temperature is climbing up to 100°F, and honestly? I've never looked forward to Pumpkin Spice Season more in my entire life. Before I get too ahead of myself, however, it's time for the latest edition of We Are: The Guard's Best Indie Songs. Featuring The Brazen Youth, Young Fathers, Sorry, and seven other faves, this week's column has something for everybody!
Can we just skip to October already

— •Julissa• (@jules_skyee) July 15, 2022
-
THE BRAZEN YOUTH (FEAT. ALIX PAGE) – IF THESE WILD WINDS ARE YOURS
Every time I listen to The Brazen Youth, it feels like returning home, with the rising folk trio continuing to provide us with a place of refuge on their stunning latest single, "If These Wild Winds Are Yours." Featuring Alix Page, "If These Wild Winds Are Yours" is the first taste from The Brazen Youth's forthcoming third album, Eagle, Idaho. Written about reconnecting with lost loved ones through the natural world around us, "If These Wild Winds Are Yours" is an unspeakably gorgeous song for those seeking shelter.
YOUNG FATHERS – GERONIMO
It's been four years since Young Fathers dropped Cocoa Sugar, but finally, the Scottish band is making their return this July with "Geronimo." "It's a track about contrast, because life is contrast – pushing through, giving up, all at the same time," note the Ninja Tune trio of the cut, a song that feels raw, wild, and untamed around the edges. "Wanting everything and then wanting nothing, then wanting everything again. It's kind of reflective of where we are at the moment, trying to remember how to do this again."
SORRY – LET THE LIGHTS ON
Ahead of dropping their sophomore album, Anywhere but Here, in October, British indie-rock outfit Sorry is back this Monday with the frenetic "Let the Lights On." The follow-up to "There's So Many People That Want To Be Loved," "Let the Lights On" is a nervy dance-floor banger that Sorry describes as "a fun love song for the club." "It kinda touches on how you want to be honest and say things directly, but in the end that can also ruin them," adds Sorry of the anxiety-filled ode to a new crush. Listen.
ÁSGEIR – SNOWBLIND
Coinciding with the announcement of his fourth album, Time on My Hands, Iceland's Ásgeir is back this July with the crystalline "Snowblind." Written during a period of "self-reflection and experimentation, having spent much of the last few years in his home and in the studio deeply engrossed in writing, recording, translating and producing," "Snowblind" hears Ásgeir exploring a more synth-based sound. The final result towers like a glacier, with Ásgeir overseeing the whole thing with icy abandon.
DOG ORCHESTRA – HOURS
We Are: The Guard's very own Dog Orchestra continues to transport us to a parallel universe where basement clubs are open around-the-clock on "HOURS." The final taste from Daniel De Pierre and Niklas Malmborg's forthcoming EP, the Jeremy Dawson of MXMS-produced Meow, "HOURS" is a pummeling electronic-pop banger about finding escape and catharsis through human connection. "And I need you to say/That you'll stay for another hour," pleads Daniel, before basslines surge up like high-rises.
MCCALL – EASY
Los Angeles singer-songwriter McCall takes time out from being one of our favorite TikTokers to deliver another sparkling banger in the form of "Easy." The final single to be taken from her recent EP, ...to be a dream..., after "Famous," "What Then," "Hair Salon Gossip," and "Perfect Timing," "Easy" is a big explosion of emotional glitter about the freedom that comes with giving up. "Right when I decided I was done/Then it all came so easy/So easy," belts McCall in the chorus of the summer. Crank. It. Up.
BRISTON MARONEY – PARADISE
He recently announced he's hosting his very own music festival at Nashville's Brooklyn Bowl, Paradise, and to celebrate, Briston Maroney is sharing his new single of the same name. "Without a doubt this song and video and chapter of life is one I am excited and thankful for in a way I didn't know I could be," writes Briston on Instagram of the big, scuzzy ode to authentic living. "This song will always represent a deliberate choice to be myself and I hope you also can feel seen and loved enough to do that."
GORDI – INHUMAN
Back in June, Gordi dropped our Bop of the Week in the form of "Way I Go." Fast forward a few weeks, and the Australian singer-songwriter is continuing to immerse us in her vast, full-bodied breed of folktronica on "Inhuman." According to Gordi, "Inhuman" was written about the Australian bushfires of 2019 and 2020. "Hearing one story after the next made me numb, and being numb to that sort of tragedy feels like forgetting to be human," adds Gordi of "Inhuman," a song that feels ironically full of emotion.
IAN SWEET – DIE A MILLION TIMES
Following on from the release of 2021's Show Me How You Disappear, IAN SWEET's Jilian Medford is returning today with "DIE A MILLION TIMES." Lifted from her recent EP, STAR STUFF, alongside the previously featured "FIGHT," "DIE A MILLION TIMES" is a dazzling dose of dance-floor vertigo that hears Jilian struggling to move on from a toxic lover: "'DIE A MILLION TIMES' is about being stuck in a negative thought loop that you know you could escape from if you really tried but you're not willing to let go yet."
BEL – JET LAG
We've already heard "Big City," "PBR," "Cake," and "Paul BigDawg," and this Monday, Los Angeles singer-songwriter BEL is back with the title cut from her new EP, Jet Lag. Produced alongside Jack Laboz, "Jet Lag" is an otherworldly indie-rock ode to a long-distance lover. "I blamе it on the jet lag/Livin' in a carry-on-bag/I'm not thinkin' right/But I think I want you so bad," sings BEL, her husky, ramshackling voice channeling Stevie Nicks against an ethereal chug of guitars. Jet Lag EP is out now.
-
Follow We Are: The Guard's Weekly Chart for more faves! xo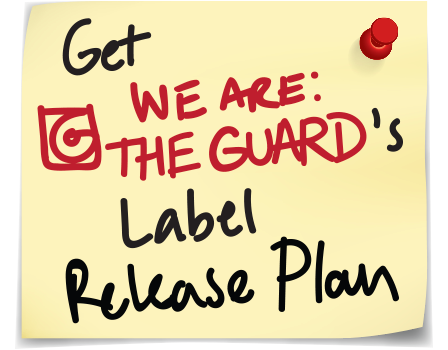 Jess Grant is a frustrated writer hailing from London, England. When she isn't tasked with disentangling her thoughts from her brain and putting them on paper, Jess can generally be found listening to The Beatles, or cooking vegetarian food.