BEST CHILL MUSIC: THE 10 TOP VIBES OF THE WEEK
Photo by you_alien
Let's face it, there's probably one album and one album only that's going to be occupying our thoughts over the next few days. However, if you're looking for something a little more easygoing before diving into Kendrick Lamar's much-anticipated Mr. Morale & the Big Steppers, then you're in the right place. Just slip on some headphones and enjoy the latest edition of We Are: The Guard's Best Chill Music, featuring Hovvdy, Monét Ngo, Tim Bernardes, and plenty of others.
-
HOVVDY – HIDE
Back in October, Hovvdy shared their critically acclaimed fourth album, True Love. Fast forward seven months, and the Austin pair is back today with "Hide." Featured on their forthcoming EP, billboard for my feelings, alongside the previously heard "Town" and "Everything," "Hide" is a honey-dipped lullaby that makes for a perfect side to summer evenings spent chilling on the terrace. "'Hide' is a lighthearted song about learning when to let your thoughts run wild and when to batten them up," says Hovvdy. Listen.
MONÉT NGO – RUBY SPARKS
He recently made his debut on the blogosphere with "Lonestar," and this month, Vietnamese-American artist Monét Ngo is back with the mesmerizing "Ruby Sparks." With its title coming from the Paul Dano-starring movie of the same name, "Ruby Sparks" is all about the dangers of having unrealistic standards in love. "I saw you in my dreams/Floating in the blue/There's nothing else to do/But fall in love with you," sings Monét – his velvety crooner voice concealing a sinister, but still intoxicating undertone.
TIM BERNARDES – NASCER, VIVER, MORRER
Next month, Tim Bernardes is hitting the road with Fleet Foxes, but before all of that, the Brazilian act is sharing "Nascer, Viver, Morrer." Featured on his forthcoming sophomore album, Mil Coisas Invisíveis, "Nascer, Viver, Morrer" is a softly tender study of the three stages of the human experience –  birth, life, and death – as united by a trilogy of lilting verses. "To live/In reality that's where it's possible/Sometimes without even realizing you're alive," sings Tim in the second chapter. Gorgeous.
BENJI LEWIS – JUMP THIS TRAIN
As we grow up and older, we can become a lot more cautious in life, but Benji Lewis is reminding us of the importance of taking risks well into adulthood on "Jump This Train." "This is a song about freedom, trust, and living life as if it were one big adventure," says Benji. "As I reflect on this song it makes me think of the animated Disney film Aladdin, and specifically where he asks Jasmine, 'Do you trust me?'" With his soulful tones melting over deep, throbbing beats, "Jump This Train" is a tribute to courage.
KYGO – FREEZE
Just a few months on from teaming up with the Joe Jonas-fronted DNCE on the chart-topping "Dancing Feet," Norwegian star Kygo is returning this May with "Freeze." "'Freeze' is a really special record to me," Kygo explained in a statement. "I always try experimenting with new sounds and styles and feel that this song is different than anything I've ever released." An emotive ode to learning to savor life's most impactful moments, "Freeze" is a slow-burning epic that builds to a deeply cathartic climax.
WARPAINT – SEND NUDES
There's a deep sense of joy and sensuality running throughout the entire of Radiate Like This, the fourth album from Los Angeles band Warpaint, with both of these feelings very much coming to a head on the closer "Send Nudes." Coming after the previously featured "Champion," "Stevie," and "Hips," "Send Nudes" is an intricate, understated acoustic lullaby packed full of sexual longing. "Send a couple nudes, baby/Have a cup o' noodles with me, baby," sings Warpaint – their harmonies equally erotic and playful.
YUNA – MAKE A MOVE
She recently made a guest appearance during TOKiMONSTA's set at Coachella, and today, Malaysia's Yuna is back with "Make a Move." Featured on her recent EP, Y2, "Make a Move" is a glistening low-key vibe Yuna says is "about meeting someone for the first time and you find yourself constantly thinking about them." With her breathy voice dancing over the iridescent hip-hop beats like the softest of apparitions, "Make a Move" is dedicated to anybody hoping to come on to a crush over the weekend.
SAN HOLO (FEAT. BIPOLAR SUNSHINE) – FIND YOUR WAY (SAN HOLO LOFI REMIX)
Dutch producer San Holo's bb u ok? is a gift that keeps on giving. Just under a year from its original release, the bitbird founder's sophomore album is returning in deluxe form this Friday, as headed by this stunning remix of the Bipolar Sunshine-featuring "find your way." While the original sounded like a trip to the firmament, "find your way (San Holo Lofi Remix)" transforms the cut into something far more emotionally intimate and grounded, with the final result making for nothing short of a gorgeous listen.
FROGI – PRAIRIE
While this is our first time covering frogi, something tells me it isn't going to be our last time. Hailing from Los Angeles, frogi is immersing us in her quietly emotional cinematic universe on "prairie." Lifted from her recent EP, space to grow a garden, "prairie" is a devastatingly tender ode to a love coming to an end. "This one made me cry when I wrote it," reveals frogi on Instagram. "It's about going through something sad with someone and losing the closeness you had before instead of becoming closer from it."
TEFLON SEGA – DAY 'N' NIGHT (KID CUDI COVER)
Kid Cudi's "Day 'N' Night" is one of those songs that seems to mean something to everybody. Until today, it felt like one of those sacred, untouchable classics, but Teflon Sega is proving the hip-hop hit still has much more to give on this captivating cover. The self-produced cut hears Teflon lending "Day 'N' Night" his signature chill-trap spin, with his voice quivering atop a hypnotic harp arrangement courtesy of Max Michael Jacob: "'Cause day and night/The lonely stoner seems to free his mind at night."
-
Follow We Are: The Guard on Spotify for even more chill vibes. xo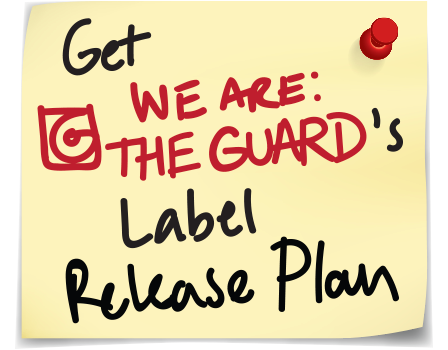 Jess Grant is a frustrated writer hailing from London, England. When she isn't tasked with disentangling her thoughts from her brain and putting them on paper, Jess can generally be found listening to The Beatles, or cooking vegetarian food.