NEW INDIE MUSIC: THE 10 BEST SONGS OF THE WEEK
Photo by Silken Weinberg
Just in case you doubted the real-world impact of sea shanties on the music industry, then you need to listen to the new Red Hot Chili Peppers song. I'm personally feeling the ShantyTok vibe. Anyways, Anthony Kiedis and company weren't the only ones making their comeback this week, as we're about to find out in the latest edition of We Are: The Guard's New Indie Music. February is always a big month for indie music, and if the following songs from Lou Roy, Luna Li & beabadoobee, Mitski, and more are anything to go by, 2021 will be no exception!
-
LOU ROY – UPPERCUT
Lou Roy might be the coolest person in the goddamn business on her ebullient latest single, "Uppercut." Produced with Sarah Tudzin of Illuminati Hotties, "Uppercut" is described by Lou as "a song that celebrates the particular joys in my life while touching on the inescapable horse shit of the world at large." With her vibrant energy and hilarious personality bouncing further off the page with every crashing verse and chorus, "Uppercut" is a song for screaming into the void with unbridled optimism.
LUNA LI & BEABADOOBEE – SILVER INTO RAIN
Luna Li and beabadoobee? This. Is. Everything. Ahead of the release of her debut album, Duality, Luna is teaming up with Beatrice Kristi Laus for the glistening "Silver into Rain." According to Luna, "Silver Into Rain" is a song about those negative thought patterns that can hold us back in life. "Sometimes it can feel like everything you touch turns bad, turns to rain," adds Luna of the cut, a surrealist dreamscape that hears her scintillant vocals coming set against a bed of Link Wray-esque riffs.
MITSKI – STAY SOFT
Laurel Hell is finally here, and to celebrate, Mitski is sharing another single from her sixth album in the form of "Stay Soft." Coming after "Working for the Knife," "The Only Heartbreaker," "Heat Lightning," and "Love Me More," "Stay Soft" is a theatrical piece of powerhouse-pop that hears Mitski's melodrama coming embraced by Jim Steinman-esque flourish. Lyrically, meanwhile, "Stay Soft" appears to be a comment on sex and vulnerability, with Mitski flirting with innuendo with the wink of an eye.
WET LEG – OH NO
Just a few weeks on from offering up their dry-as-hell spin on Madonna's "Material Girl," Wet Leg is back today with "Oh No." The latest single to be unveiled from the Isle of Wight duo's forthcoming self-titled debut album, "Oh No" is a punishing stomp that finds Rhian Teasdale and Hester Chambers falling down a rabbit hole of paranoid doom scrolling. "I went home, all alone/I checked my phone and now I am inside it," sighs Rhian in her signature deadpan voice, before being consumed by a blast of knotty riffs.
LUCY DACUS – KISSING LESSONS
The countdown to Valentine's Day is officially on, and here to get us in the mood for love is Richmond native Lucy Dacus with "Kissing Lessons." Written five years ago and recorded during the recent session for 2021's Home Video, "Kissing Lessons" is a delightfully sweet vignette about Lucy and an old school pal practicing the art of flirtation. "We'd take turns being seduced/Imagining the day it would come into use," croons Lucy against chugging riffs packed full of breathless nostalgia.
ARLO PARKS – SOFTLY
It's been a year since Arlo Parks won over fans and critics alike with her scintillant glow of a debut album, Collapsing in Sunbeams, and this February, the London poet is making her return with "Slowly." Produced by Adele collaborator Paul Epworth, "Slowly" is a jazzy cratedigger gem that finds Arlo mourning the slow death of a partnership. "The song is about how it feels to brace yourself before the blow of a breakup and reminisce about the days where it all felt luminous," adds Arlo. Enjoy.
ANIMAL COLLECTIVE – WE GO BACK
Animal Collective's Avey Tare, Panda Bear, Geologist, and Deakin are back to their lush best on the fourth and final single to be shared from Time Skiffs, "We Go Back." The follow-up to "Prester John," "Walker," and "Strung With Everything," "We Go Back" is an immersive listen that sees Avey Tare and Panda Bear's verdant vocal harmonies and all-around time-shifting antics coming set atop a rich forest of enchantment: "Over and over our song on my brain/I go back/We go back and I play it again."
BRIGHT EYES (FEAT. PHOEBE BRIDGERS) – HALIGH, HALIGH, A LIE, HALIGH (COMPANION VERSION)
Coinciding with the announcement of their forthcoming reissue series, Companion, Bright Eyes has shared a new version of "Haligh, Haligh, a Lie, Haligh" featuring Conor Oberst's Better Oblivion Community Center collaborator, Phoebe Bridgers. Originally featured on 2000's Fevers and Mirrors, "Haligh, Haligh, a Lie, Haligh" is here transformed from an acoustic lament for an ex-lover into a stomping, reverberating anthem of survival, with Conor and Phoebe's vocals weaving like thread into each other.
SASAMI – CALL ME HOME
Domino's SASAMI continues to build up to the release of her forthcoming sophomore album, Squeeze, this Monday with "Call Me Home." While her previous single, "Say It," assumed the form of a crunchy industrial rager, "Call Me Home" instead hones in on the romantic ache forever pulling at SASAMI's music. "'Call Me Home' is dedicated to anyone who has blown up their life just to remember what it's like to feel something," explains SASAMI of the swelling ballad, which has a Beatles-esque lilt about it.
CIB – MOTT ST
Every once in a while, a song comes along that quite frankly stops me in my tracks. "Mott St" by New York City's CIB is most definitely one of those songs. The follow-up to her debut single, 2021's "Viagra," "Mott St" is the kind of hopeless teenage anthem that resonates deep in my chest. "I don't know why it feels like I'm wasting my life," sings the former Voice contestant over a soaring indie stomp, her voice reaching the kind of despairing levels previously heard on a certain "drivers license."
-
Follow We Are: The Guard on Spotify for more new music! xo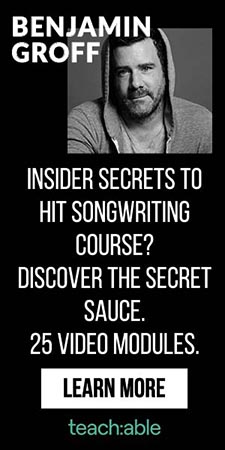 Jess Grant is a frustrated writer hailing from London, England. When she isn't tasked with disentangling her thoughts from her brain and putting them on paper, Jess can generally be found listening to The Beatles, or cooking vegetarian food.