NEW INDIE MUSIC: THE 10 BEST SONGS OF THE WEEK
Photo by Carter Howe
Gonna make a record in the month of May
In the month of May
In the month of May
Gonna make a record in the month of May
When the violent wind blows the wires away!
Happy "Month of May," everybody! Can you believe we're almost midway through 2022? It's been an incredible year for music so far, but it's looking like it's only going to get bigger and better from here on out. As I hinted above, Arcade Fire is back back, but that isn't all I have for you in the latest edition of We Are: The Guard's New Indie Music, featuring MUNA, beabadoobee, Briston Maroney, and lots more!
-
MUNA – KIND OF GIRL
We've already heard the Phoebe Bridgers-featuring "Silk Chiffon" and "Anything but Me," and today, MUNA is once again reminding us why their self-titled third album is shaping up to be one of the best of the year with "Kind of Girl." Described by MUNA as "the heart of the record," "Kind of Girl" is a gut-wrenching country beauty about learning to be kinder to the self. "Even though it is a happy, hopeful song, I shed the most tears of the record in the vocal booth recording this chorus," adds MUNA's Katie Gavin. Gulp.
BEABADOOBEE – SEE YOU SOON
Fresh off making her debut at Coachella, beabadoobee's Beatrice Laus is sharing the delightfully dreamy "See You Soon." The second single to be taken from her forthcoming sophomore album, Beatopia, after "Talk," it's a gleaming college-rock ode to clarity that the Filipino-British act wrote after a shroom trip. "I was away a lot and making a lot of mistakes and doing a lot of things to help me figure a lot of stuff out," adds Bea of the track, which boasts the kind of cloud-parting chorus that warms the skin.
ARCADE FIRE – UNCONDITIONAL I (LOOKOUT KID)
Earlier this year, Arcade Fire signaled their intention to reclaim their title as the Biggest Band on Earth with "The Lightning I, II." Today, the Canadian outfit is once again going after headline slots everywhere with "Unconditional I (Lookout Kid)." Written for Win Butler and Régine Chassagne's son, Eddie, "Unconditional I" is a tribute to loving in a world collapsing around us, with the track surging to the kind of Funeral-esque orchestral jubilance that held so many of our hearts in its clutches.
BRISTON MARONEY – BOTTOM OF THE OCEAN
Just over a year on from the release of his critically acclaimed debut album, Sunflower, Briston Maroney is returning to We Are: The Guard with the mammoth "Bottom of the Ocean." Featured on the recent deluxe edition of Sunflower, "Bottom of the Ocean" hears Briston continuing to reconcile feelings of sadness, confusion, and loneliness with the resounding joy of quite simply being alive, with Knoxville native telegramming these emotions through the kind of gargantuan grunge-pop that sends listeners sailplaning.
SUPERORGANISM – CRUSHED.ZIP
They recently teamed up with Pavement legend Stephen Malkmus on "It's Raining," and today, Superorganism is back with more mutant-pop to overwhelm our senses in the form of "crushed.zip." According to Superorganism's bandleader, Orono Noguchi, "crushed.zip" took inspiration from both Kanye West and Elliott Smith. "I wanted to do like a really depressing and personal song but with the most deliciously obnoxious pop packaging," adds Orono of "crushed.zip" – a wonky, bizarro spin on an existential crisis.
MXMTOON – VICTIM OF NOSTALGIA
Oakland, California's mxmtoon continues her transition from YouTube ukulele princess to indie-rock queen on the glorious "victim of nostalgia." Featured on her forthcoming sophomore album, rising, "victim of nostalgia" hears mxmtoon coming to terms with both growing up and feeling held back by her past. "Will I always be the words I wrote when I was 17/Will the world still be around when I turn 63?" questions mxmtoon at one point on the track – an angsty chugger that nevertheless bends toward the sunlight.
THE WRECKS (FEAT. GIRLHOUSE) – WHERE ARE YOU NOW?
Later this year, Los Angeles band The Wrecks will be taking girlhouse on the road, but before that, both artists are uniting on the bombastic "Where Are You Now?" Coming ahead of Nick Anderson, Nick Schmidt, Aaron Kelley, and Billy Nally's sophomore album, Sonder, "Where Are You Now?" is a cathartic breakup track about seeking closure from a toxic relationship. With The Wrecks and girlhouse trading perspectives atop huge rock drums, "Where Are You Now?" is a cut made for screaming at the moon.
LET'S EAT GRANDMA – SUNDAY
Two Ribbons, the third album from Let's Eat Grandma, is a deeply emotional study of grief, growth, and the resilience of friendship, with Rosa Walton and Jenny Hollingworth bringing these themes together in warm, glowing pop glory on "Sunday." Coming after "Hall of Mirrors," "Two Ribbons," "Happy New Year," and "Levitation," "Sunday" is an earnest eighties-tinged ballad that sees the British duo finding strength in distance: "If you wanna go then I will/If you wanna go then I will be right there for you."
HETHER – CHEM BATH
Q: What do you get if you take MGMT circa Oracular Spectacular and Unknown Mortal Orchestra circa Sex & Food and sink them both into a bubbling, overflowing vat of lysergic acid diethylamide? A: "chem bath" by Hether. The latest single to be taken from Dominic Fike's former guitarist's forthcoming EP, Play It Pretty, after "Photograph" is a lo-fi groover that spins in technicolor. "You slide on/Your chemical fantasy," sings Hether, his effeminate vocals echoing out over bluesy riffs and scratchy hip-hop drums.
TORO Y MOI (FEAT. THE MATTSON 2) – MILLENNIUM
Toro y Moi's seventh album, MAHAL, is a damning critique of the digital age, but the record closes on a note of positivity on "Millennium." A duet with Los Angeles jazz duo The Mattson 2 and featuring synths from Neon Indian's Alan Palomo, "Millennium" is a fun, squelchy bop that feels full of hope and optimism for the future: "Silver lining makes the perfect souvenir/With champagne dripping down from every chandeliеr/I know at times you wish you could just disappear/But maybe just tonight wе'll celebrate the year."
-
Follow We Are: The Guard's Weekly Chart for lots more music! x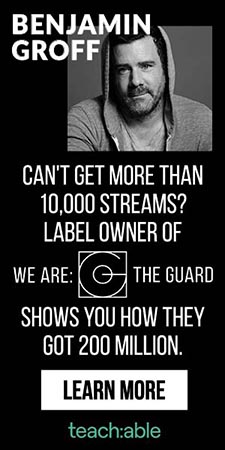 Jess Grant is a frustrated writer hailing from London, England. When she isn't tasked with disentangling her thoughts from her brain and putting them on paper, Jess can generally be found listening to The Beatles, or cooking vegetarian food.