BEST INDIE SONGS: THE 10 TOP BANGERS OF THE WEEK
Photo by Anna Koblish
IT HAPPENED!
Danny Elfman performs "This Is Halloween" from "The Nightmare Before Christmas" at #Coachella. @jeffmillerla) pic.twitter.com/y7T6j91kCg

— Variety (@Variety) April 17, 2022
Best. Coachella. Ever.
Check out the latest edition of We Are: The Guard's Best Indie Songs, featuring Boyish, fanclubwallet, Jordana, and lots more, below!
-
BOYISH – I THINK I HATE IT HERE
Ahead of the release of their forthcoming EP, My Friend Mica, New York City's Boyish is once again delivering an anthem capable of selling out arenas in the form of "I Think I Hate It Here." Following on from "Congratulations," "I Think I Hate It Here" is a fuzzy head rush that was written about Claire Altendahl's battle with anxiety. With despairing vocals about trying and failing to live up to a lover's expectations coming set against distorted riffage, "I Think I Hate It Here" is a sonic shot of epinephrine. 10/10.
FANCLUBWALLET – TRYING TO BE NICE
The countdown to fanclubwallet's highly anticipated debut album, You Have Got To Be Kidding Me, continues this Monday with "Trying To Be Nice." Coming after "That I Won't Do" and "Gr8 Timing," "Trying To Be Nice" is a driving, propulsive banger about Hannah Judge's struggle with self-loathing. "I don't think we should hang out/I think I hate myself a little more than you right now," sings Hannah in the opening verse, before lighting the entire thing up like a fairground ride with a dose of neon synthesizers.
JORDANA – TO THE GROUND
She recently tried her hand at hyperpop on "Pressure Point," but today, Jordana is returning to pure indie-pop melodicism on "To the Ground." According to Jordana, "To the Ground" is all about the difficulties of adulting. "With the path to growing up, it's wanting to not ask for any help on any growth to feel accomplished and self-brought-up," says Jordana. Built around a bright chorus that parts the clouds like the early morning sun, "To the Ground" is among her most immaculate offerings to date.
MAUDE LATOUR – LOLA
I've long maintained there aren't enough songs celebrating female friendships, but Maude Latour is putting that to rights with her thumping latest single, "Lola." "Keep my girls protected/I'm turned on when I'm respected," sings the New York City act and Columbia University senior. "For my planet, for my daughters/Make my music, drink my water." An electrifying dedication to ladies everywhere, "Lola" doubles up as a stomping anthem for a safer, kinder world that treats females with the consideration they deserve.
GIRLHOUSE – COOL GUY
Just a few weeks on from teaming up with BEL on "PBR," girlhouse is back today with the ethereal "cool guy." Featured on the forthcoming the third EP alongside "paul blart mall cop," "cool guy" serves as a searing takedown of influencer culture, while also admitting to being defenseless to its charms. "You're not a tastemaker/But I want that flavor," sings Lauren Luiz, her voice effortlessly soaring atop and dissolving into the dreamy distortion. "Raise a glass to the/Life I can't have/You're such a cool guy."
PHOEBE BRIDGERS – SIDELINES
Phoebe Bridgers has an interesting relationship with sentiment, often concealing her feelings in dark humor, but the Los Angeles act is no longer holding back her emotions on "Sidelines." Written for Hulu's upcoming adaptation of Sally Rooney's Conversations With Friends starring Sasha Lane and Joe Alwyn, "Sidelines" is a love song through and through, with Phoebe singing about a relationship that fills her with reason: "Watch the world from the sidelines/Had nothing to prove/'Till you came into my life."
SUPERFLIRT – SOBER
Introducing superflirt, the San Diego act "making music for the indie kids stuck in the eighties'' on "Sober." Written alongside Noah Andrea D'Ambrosi, "Sober" is a softly gleaming chugger about the struggle of being the only sober person at a party. "When I wrote this I was so over people acting like I owed them an explanation for why I didn't want to drink," says superflirt. A sparkling exploration of a topic rarely touched on in music, "Sober" is a clever, thoughtful bop that can be filed alongside The 1975.
JOCKSTRAP – CONCRETE OVER WATER
When you fall in love, it can feel as though every waking moment hums with potential, with British duo Jockstrap capturing that overwhelming sense of awe on their latest single, "Concrete Over Water." Clocking in almost seven minutes, "Concrete Over Water" is an experimental opus that hears Georgia Ellery and Taylor Skye combining club beats with operatic ambition, all the while Georgia paints impressionistic images of a late-night rendezvous: "Oh what night/On the bridge we stood/Concrete over water."
TOMBERLIN – SUNSTRUCK
Every time I listen to Tomberlin, I feel like my emotional wounds are slowly but surely stitching themselves back together again. Case in point: "sunstruck." The latest single to be lifted from her forthcoming sophomore album, i don't know who needs to hear this…, after "idkwntht," "happy accident," and "tap," "sunstruck" is an ode and tribute to self-care, with delicately fingerpicked folk acoustics weaving like gold thread around Tomberlin as she sings about the growth that comes when we put ourselves first.
WET – WHERE DID THE DAY GO
There's nothing quite as difficult as a long-distance relationship, with Wet depicting the pain that can form in the space between lovers on "Where Did the Day Go?" Featured on Letter Blue (Reprise) EP, a five-song collection that follows on from 2021's Letter Blue, "Where Did the Day Go?" is a glassy reverie that feels like it was formed from the shards of a broken heart. "Where did the day go?/I never get to see you/I never get to feel you," sings Kelly Zutrau in the chorus, her voice fragmenting with emotion.
-
Follow We Are: The Guard's Weekly Chart on Spotify for lots more! xo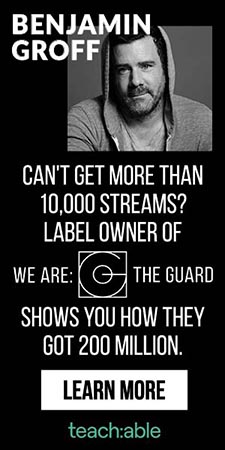 Jess Grant is a frustrated writer hailing from London, England. When she isn't tasked with disentangling her thoughts from her brain and putting them on paper, Jess can generally be found listening to The Beatles, or cooking vegetarian food.