NEW INDIE MUSIC: 10 SONGS TO BE GRATEFUL FOR THANKSGIVING
Photo by Samuel Rios on Unsplash
The countdown to Thanksgiving is on, but before I dig out my eating pants, it's time for the latest edition of We Are: The Guard's New Indie Music. That's right – I'm pleased to say I've managed to take a break from sobbing on my kitchen floor to Adele's 30 to curate the best songs this side of "I Drink Wine." Just don't forget to send me some mashed potatoes in return for serving you the following tracks from Wallice, Jensen McRae, Big Thief, and seven other favorites!
-
WALLICE – WISDOM TOOTH
Having recently signed to Dirty Hit – the musical home to the likes of The 1975 and Rina Sawayama – Los Angeles act Wallice is back today with the crunching "Wisdom Tooth." Produced by We Are: The Guard favorite Marinelli, "Wisdom Tooth" is a coming-of-age anthem set ablaze by fuzz and teenage angst, with Wallice comparing the loss of her relationship to the loss of her third molars: "You got me so messed up/I'm so bad at love/You're like a wisdom tooth/You hurt so much out of the blue."
JENSEN MCRAE – MY EGO DIES AT THE END
In January, Jensen McRae went viral on Twitter with a Phoebe Bridgers parody song about getting the COVID-19 vaccine. Since then, the Santa Monica singer-songwriter has released a debut EP and collaborated with the likes of Joy Oladokun and Chiiild, and today, Jensen is rounding out 2021 with "My Ego Dies at the End." Produced alongside Rahki, it's an anguished ode to the loss of self that a lot of us have felt over recent months, with Jensen's mellifluous croon coming set against a lilt of Americana.
BIG THIEF – TIME ESCAPING
Coinciding with the announcement of their double album Dragon New Warm Mountain I Believe In You – a 20-song collection due out on February 11th – Brooklyn's Big Thief has shared "Time Escaping." The follow-up to October's "Change" is a ramshackling expedition through Adrianne Lenker's musings on time, nature, and existence. "Everything, everything, everything for free/As it all eventually/Turns to dust and petal/Molten rock and meadow," sings Adrianne against a backdrop of careening riffs.
OLIVER MALCOLM – ROLLING STONE
Oliver Malcolm is embracing his inner bad boy on his latest single "Rolling Stone." Having won the blogosphere over with his debut EP Are You Living in the Real World? – an eight-song collection that featured hits such as "Helen" and "Skywalker" – the Swedish-born, Britain-based artist is continuing to hone his strange breed of soul on "Rolling Stone." With groovy licks and Vangelis-esque electronics underpinning his rasp, "Rolling Stone" sounds like the workings of a twisted rock star in the making.
FKA TWIGS (FEAT. CENTRAL CEE) – MEASURE OF A MAN
It's been over two years since FKA twigs released MAGDALENE. While we're still holding out for further news on the follow-up that she reportedly recorded while in lockdown, Tahliah Barnett is nevertheless making her return today with "Measure of a Man." Written for the upcoming movie The King's Man, "Measure of a Man" is a lush, theatrical listen that sounds like a trip-hop answer to James Bond. "Only you can truly understand/The measure of a hero is the measure of a man," sings Tahliah. Enjoy!
100 GECS – MEMEME
Just under a year on from releasing their Christmas song "sympathy 4 the grinch," St. Louis outfit 100 gecs is back today with a far less festive bop in the form of the frenetic "mememe." The first single to be lifted from their forthcoming album 10000 gecs finds Dylan Brady and Laura Les doubling down on their chaotic glitchcore, with 100 gecs coming for undeserving lovers in the absolute rip of a chorus: "You'll never really know, know-know-know, know-know-know/Anything about me, me-me-me, me-me-me."
GORDI – GRASS IS BLUE (DOLLY PARTON COVER)
Earlier this year, Gordi teamed up with Alex Lahey on "Dino's," and today, the Australian singer-songwriter is back with an absolutely gorgeous cover of Dolly Parton's "The Grass Is Blue." "I wanted to cover it because Dolly funded the Moderna vaccine and is an all-around queen," Gordi says. While the original is a string-swept country lament, listen as Gordi transforms it into a resounding, piano-driven indie hymn, with Sophie Payten plunging into the song's bottomless pit of despair. Just gorgeous!
ALICE GLASS – BABY TEETH
Halloween is over, but Alice Glass is keeping the spooky season going with "BABY TEETH." The latest single to be taken from Alice's forthcoming debut album PREY//IV – due out on January 28th – "BABY TEETH" is a throbbing exploration of trauma. "'Baby Teeth' is about embracing despair," says Alice. "It understands that violence against the vulnerable is inevitable, and it probably always will be." With Alice's vocals shattering like glass against pulsating laser beams, "BABY TEETH" is a darkcore essential.
JACKIE – MY BEST YEARS
The last few years have been a blur for so many of us, but Canada's jackie is reminding us that there are better times ahead on the ecstatic "My Best Years." Featured on jackie's forthcoming EP Hey Angel, "My Best Years" is about that moment when you decide to rise above the toxic human beings in your life. "My best years are callin'/My fears are far behind/And I loved you, but I'm sorry/You can't have me anymore," belts Jackie Mohr on the rhapsodic rocker – the kind made for stadium-sized sing-alongs.
HORSEGIRL – BILLY
Introducing Horsegirl, the Chicago outfit making their debut on We Are: The Guard today with the clamorous "Billy." "There was a period of last year where the three of us spent every day together writing and recording," says Horsegirl. "It was during this time, when we practically lived in Penelope's basement, that 'Billy' was written." With three-part harmonies fusing with detuned guitars, "Billy" is a tumultuous din that submerges you in fuzz and distortion until there's no room for other thoughts.
-
Have a fantastic Thanksgiving, everyone! xox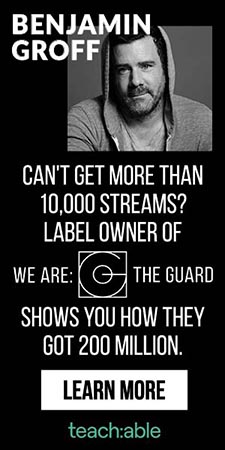 Jess Grant is a frustrated writer hailing from London, England. When she isn't tasked with disentangling her thoughts from her brain and putting them on paper, Jess can generally be found listening to The Beatles, or cooking vegetarian food.