BEST CHILL MUSIC: 10 SONGS FOR GETTING COZY
Photo by Callum Walker Hutchinson
It's official, everybody: "It's time!" While I love Mariah Carey Season, I'm not going to lie, I'm currently in no mood for decorating or gift shopping. Just let me sip on my Eggnog Latte and binge on Jack Frost in peace! Before I get into my Christmas cozies this weekend, however, it's time for the latest edition of We Are: The Guard's Best Chill Music. Discover the following songs from Emilia Ali, Phoebe Go, Jude Korab, and more!
-
EMILIA ALI – EXISTENTIAL BITCH
Emilia Ali is delivering an anthem for overthinkers everywhere in the form of the airy "Existential bitch." Coming alongside an official video directed by Maya Sassoon that sees Emilia glittering like a Cullen, "Existential bitch" is an ode to self-sabotaging thoughts and behaviors in a relationship. "Doesn't have to be so deep/You existential bitch/Why can't I just open my mouth/And tell you how it is?" sings Emilia at one point, with her breathy voice sounding weightless to the point of dissociation.
PHOEBE GO – BE THE PLAYER, NOT THE POET
Australia's Phoebe Go continues to come to terms with her transition from Snakadaktal frontwoman to solo artist on the steeply gorgeous "Be the Player, Not the Poet." "This song is kind of a conversation with myself," notes Phoebe. "It's about me understanding my relationship with songwriting on my own terms. It's about letting go of expectations and getting on with doing what I love." A love letter to the comfort and safety of the creative process, "Be the Player, Not the Poet" is pure beauteousness.
JUDE KORAB – DROWNING
Introducing Jude Korab, the Australian singer-songwriter taking us back to the early days of James Blake on his latest single, "DROWNING." Coming to us via our friends over at Mammal Sounds, "DROWNING" is a soulfully cinematic, intoxicating cut that genuinely has all of the hallmarks of a post-dubstep classic in the making. "The track is about the feeling of being both deadweight and poison in the life of someone you care about," notes Jude of the follow-up to "Shadowfell." "It's sad shit o'clock."
HOLLY HUMBERSTONE – CAN YOU AFFORD TO LOSE ME?
We Are The Guard regular Holly Humberstone concludes a whirlwind few years with the brutally hard-hitting "Can You Afford To Lose Me?" Featured on the British singer-songwriter's recent retrospective collection of the same name, "Can You Afford To Lose Me?" hears Holly comparing the destruction of the planet to the dying days of a relationship. "You were my home planet/You were my stars, my holy place," laments Holly. "Hmm, but you took me for granted/Right from the start now/Didn't you, babe?"
ELDERBROOK – BEAUTIFUL MORNING
Elderbrook's Alexander Kotz revels in the joy of the early hours spent in the company of loved ones on "Beautiful Morning." Produced alongside ODESZA's Clayton Knight and Harrison Mills, "Beautiful Morning" is nothing short of rapturous, with Alexander's poetic, heartfelt lyrics backed by glorious synth pyrotechnics. "'Beautiful Morning' is simply about two people spending time together," writes Elderbook. "A day where nothing matters other than each other." Little Love is out February 24, 2023.
MOUNT KIMBIE & DOM MAKER (FEAT. CHOKER) – DVD
Having recently taken us on a cruise around the Circuit de Monaco on "f1 racer," Mount Kimbie's Dom Maker and Kai Compos are back in our ears with "dvd." Featured on the Die Cuts side of their new double album, MK 3.5: Die Cuts City Planning, "dvd" is a ghostly, haunting late-night hymn that hears Choker giving a lover a talking to atop creaking floorboard beats: "If a fire starts at your feet/Let it burn 'til someone sees/Though I'm here for you, don't think/I won't be holding you accountable."
SONDER – MAKE ME STAY
With the evenings closing in around us, Brent Faiyaz's Sonder is providing us with the ultimate lullaby for late-night hours in the form of the achingly sensual "Make Me Stay." Lifted from Sonder's recent EP, Too Late To Die Young, "Make Me Stay" is a classic R&B ballad that hears Brent channeling his soulful heartache. "Don't make no mistakes/You can't have your way/Fuck that shit you think/You can't make me stay," sings Brent, with his longing croon making for perfect post-midnight listening.
NOSAJ THING (FEAT. PANDA BEAR) – ALL OVER
Nosaj Thing's Continua is finally here, and I'm pleased to say it doesn't disappoint. Following collaborations with Julianna Barwick, HYUKOH, and Toro y Moi, Jason W. Chung is sharing another highlight from the album in the form of the Panda Bear-featuring "It's All Over." Co-produced alongside Sunny Levine, "It's All Over" is a dark dystopian landscape that hears Panda Bear exploring the lower end of his vocal range: "And the feeling of the squeeze is over/And the violence in the breeze is over."
MONROE JORDAN – GROWING UP
Just a few months on from immersing us in his fragile world of heartache on "Jody," Columbus musician Monroe Jordan is making his devastating return with "Growing Up." Released alongside an official video directed by Moodie, "Growing Up" is a melancholy ode to becoming an adult and losing connection with childhood friends. "Try to cherish the feeling/Will never be those kids/Part of growing up is growing apart," sings Monroe, with the shattering cut making for an essential addition to any Rainy Day Playlist.
CLN (FEAT. PX) – THAT PLACE
He recently opened our column with "Endlessly," which heard him sampling a threatened songbird from Australia's rainforests called an Albert's lyrebird, and today, cln is returning to our ears with the px-featuring "That Place." With px's potent lyrics about familial and generational trauma set against cln's spacey beats, "That Place" is a composition that's equal parts intense and gravity-defying: "And every time I see your face/I wanna help you find that place." Over, All Again is out December 8, 2022.
-
Follow We Are: The Guard's Weekly Chart on Spotify for more! xo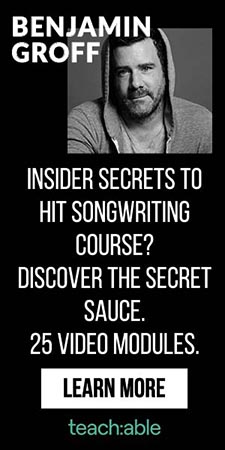 Jess Grant is a frustrated writer hailing from London, England. When she isn't tasked with disentangling her thoughts from her brain and putting them on paper, Jess can generally be found listening to The Beatles, or cooking vegetarian food.