THE 10 BEST INDIE SONGS IN THE WORLD THIS WEEK
Photo by Haley Elise
Can you believe we're finally getting ourselves a Taylor Swift and Lana Del Rey collaboration? Something tells me October 21st is going to be A Big Day for Annoying People (It's me! I'm annoying people!)! Meanwhile, however, it's time for the latest edition of We Are: The Guard's Best Indie Songs! Check out the following tracks from Jordana, Alvvays, Jadu Heart, and lots more!
-
JORDANA – SYT
Back in September, Jordana took her life into her hands on the joyful "Is It Worth It Now?" Fast forward a few weeks, and the New York City-based star is continuing to settle into the driving seat of her existence on the cathartic "SYT." "It channels the feelings of empowerment and emotional awareness after a tough breakup," explains Jordana. With brooding verses leading into a chorus made to be screamed at maximum volume, "SYT" is a glorious moment of growth for Jordana as a human and a musician.
ALVVAYS – AFTER THE EARTHQUAKE
They recently paid tribute to a Go-Go's icon on "Belinda Says," and this Monday, Canadian act Alvvays is back with another banger from their recent album, Blue Rev. "After the Earthquake" is a shimmering shot of jangle-pop named after the Haruki Murakami short stories collection After the Quake. "After the earthquake/Pictures hanging diagonally/Drive through crying in a milkshake/It wasn't built to last," sings Molly Rankin, rendering her breathless heartache with Morrissey-esque aplomb.
JADU HEART – I SHIMMER
Coinciding with the announcement of their third album, Derealisation, and their first North America tour, Jadu Heart is back with "I Shimmer." "'I Shimmer' is about that mania you can feel after a low. We can both go to dark places from time to time but there's always a moment where you see a light and you're like, 'Fuck it, let's go toward it,'" explains Jadu Heart. With dreamy melodies breaking free from their thick, concrete walls of distortion, "I Shimmer" is a message of hope for a loveless world.
NICK HAKIM – M1
He recently sang about a human connection that defied the law of physics on "Vertigo," and this October, Washington D.C. musician Nick Hakim is continuing to sing about "floating in the greatest love" on his brand new single, "M1." Produced alongside the GRAMMY Award-winning DJ Dahi, best known for his work with Drake, Big Sean, and Kendrick Lamar, and the GRAMMY Award-nominated Andrew Sarlo, "M1" hears Nick's soulful, mellifluous croon enclosed in a ghostly choir sample and a rattling hip-hop beat.
ELIZA MCLAMB – DOING FINE
Los Angeles act Eliza McLamb is unable to outrun the dark shadow of depression on "Doing Fine." Produced by Sarah Tudzin of Illuminati Hotties, "Doing Fine'' hears Eliza singing starkly about the curse of constant sadness. "It's eerie. You're full of resentment. And every day you just put on your perfume and run your errands and try to live as though it's not living right alongside you," notes Eliza of the track, with the Royal Mountain Records signee striving for relief in the second half of the song.
ARIMA EDERRA – STEEL WING
She previously made her debut on We Are: The Guard with the lush, dreamy "Portals," and this October, Arima Ederra is returning with the sailing "Steel Wing." Featured on her recent debut album, An Orange Colored Day, "Steel Wing" hears Arima touching on her refugee roots and the determined, unshakeable sense of freedom she feels as a result of her upbringing, with Arima sounding quite frankly resolute in the paraglide of a chorus: "I'm a bird with a steel wing soaring/A refugee blood born in me."
DAYGLOW – RADIO
Freddie Mercury once sang, "Radio, someone still loves you," with Dayglow's Sloan Struble echoing a similar sentiment on his latest single, "Radio." Lifted from his recent album, People in Motion, "Radio" is a joyously funky pop bop about finding escape through the airwaves. "On the radio, you just listen to music/You don't need some video/Just gotta get yourself home," declares Sloan in the gloriously finger-clicking chorus, with the Aledo, Texas singer-songwriter dancing through the despair.
POM POM SQUAD – RIVER
Just over a year on from Death of a Cheerleader and that subsequent cover of Nada Surf, New York City trio Pom Pom Squad is back in our ears with "River." A hauntingly desolate dose of desert-rock, "River" is Pom Pom Squad's contribution to Song Confessional, a podcast that gives "anonymous stories to songwriters who turn them into original songs." Based on a story about a man whose marriage ended after his father died, "River" was written and recorded in a day in a mobile studio in Austin.
WHITMER THOMAS – STICK AROUND
We've already heard "Rigmarole" and "Everything That Feels Good Is Bad," and today, Gulf Shores, Alabama comedian-turned-musician Whitmer Thomas continues to count down to his Jay Som-produced album The Older I Get the Funnier I Was with "Stick Around." "'Stick Around' is about hanging with someone you care about through a dark period in their life," says Whitmer of the lovely, careening acoustic ballad, which sounds like a wayward Tom Petty. "This song is just a long way to tell my friends I love them."
ETTA MARCUS – NOSEBLEED
British singer-songwriter Etta Marcus isn't afraid to turn to face the darker side of life on her brand new single, "Nosebleed." The follow-up to "Crown" is an inky blast of indie-rock catharsis that Etta reveals was inspired by a nightmare "filled with stark imagery and uncomfortable scenarios that made me second guess things." "I would ask myself, 'Is my brain trying to hatch an evil plan against me? Or is it trying to tell me something?'" adds Etta. Heart-Shaped Bruise EP is out November 4th.
-
Follow We Are: The Guard's Weekly Chart on Spotify for lots more! xo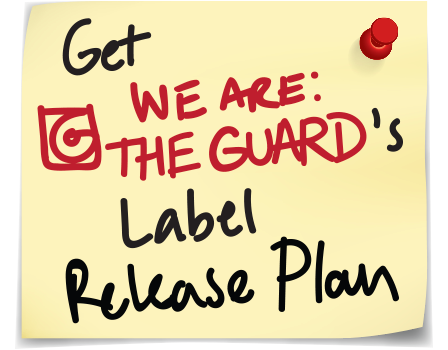 Jess Grant is a frustrated writer hailing from London, England. When she isn't tasked with disentangling her thoughts from her brain and putting them on paper, Jess can generally be found listening to The Beatles, or cooking vegetarian food.